NEXT STORY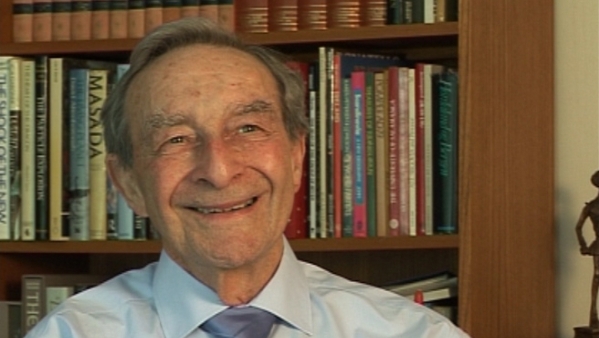 A party on Fløyen mountain
Making friends en route to Newcastle
Norman Greenwood
Scientist
1
...
4
5
6
7
8
...
26
So we start on the train going up to Newcastle – the boat train – leaving from King's Cross, and my wretched travel agent hadn't told me that it would be wise to book a seat, and the net result was that the train was crowded. I had a big rucksack, as you could imagine, and I walked the length of the train and couldn't find an empty seat anywhere. In those days, the seating compartments to one side – there was a corridor down the length of one side of the train, and then there were doors leading into little compartments that seated six people, and I walked up and down – no luck.
So in the end I was walking back and I thought, well, I might as well enjoy my trip, so I sat – or I didn't sit, I actually stood outside, where there was a gorgeous-looking blonde young lady. And I thought she looked terrific, so I was just taking in this apparition when the conductor came along. 'You can't stand there, sir', he said. And I said, 'Well, there are no seats'. 'Oh, we'll soon fix that', he said. And he opened the door and pulled up the arm-rests, thus converting three seats per side to four seats per side.
So I sat down next to this person, but of course said nothing; this is 1949 now we're talking about. So after a little while the conductor came along and said, 'Coffee.' And a chap who hadn't said a word to anyone from the far corner leant over to Kirsten and said, 'Shall we go for coffee?' And she said, 'Yes, all right'. And I thought, gosh, I've missed my chance there. But, it turned out later, much later, that she knew this chap, who was married to her best friend, but she didn't particularly like him, though he's a well-known architect. So when lunchtime came – there were two sittings – and this chap opted for first sitting, and Kirsten said second sitting. So I thought, ah, well that didn't work out, I will say second sitting. So I did, and when the time came to go to second sitting I said to Kirsten, as her name was, 'Shall we go to lunch?' And she looked absolutely stunned, because we'd hardly said a word before, and she very sensibly leant over to a chap who'd also said nothing, a fine-looking African man, who turned out – to cut a long story short – to be called Endalkachew Makonnen, who was of the royal family of Haile Selassie in Ethiopia, or Abyssinia as it then was, and he became the United Nations representative for Abyssinia and took control of his turn of the Security Council when it came round, and he was a student at Oriel College in Oxford. And we formed a good group of three people. We had a marvellous trip over, Endalkachew was a wonderful companion, though I have to say sadly that with the coup, the communist coup that happened... that killed Haile Selassie, it also – he was by that time Prime Minister, Endalkachew was – and they killed him as well. So he didn't survive for very long, which was sad, but he was a student, as I say, from Oriel College.
Norman Greenwood (1925-2012) was born in Australia and graduated from Melbourne University before going to Cambridge. His wide-ranging research in inorganic and structural chemistry made major advances in the chemistry of boron hydrides and other main-group element compounds. He also pioneered the application of Mössbauer spectroscopy to problems in chemistry. He was a prolific writer and inspirational lecturer on chemical and educational themes, and held numerous visiting professorships throughout the world.
Title: Making friends en route to Newcastle
Listeners: Brian Johnson
Professor Brian FG Johnson FRS, FRSE, FRS Chem, FAcad Eu, FAS. Professor of Inorganic Chemistry University of Edinburgh 1991-1995, Professor of Inorganic Chemistry University of Cambridge 1995-2005, Master Fitzwilliam College Cambridge 1999-2005. Research interests include studies of transition metal carbonyls, organometallic chemistry, nano- particles and homogeneous catalysis. Professor Johnson is the author of over 1000 research articles and papers.
Tags: Newcastle, King's Cross, 1949, Ethiopia, Abyssinia, Oriel College, University of Oxford, Endalkachew Makonnen, Haile Selassie
Duration: 4 minutes, 8 seconds
Date story recorded: May 2011
Date story went live: 25 November 2011