NEXT STORY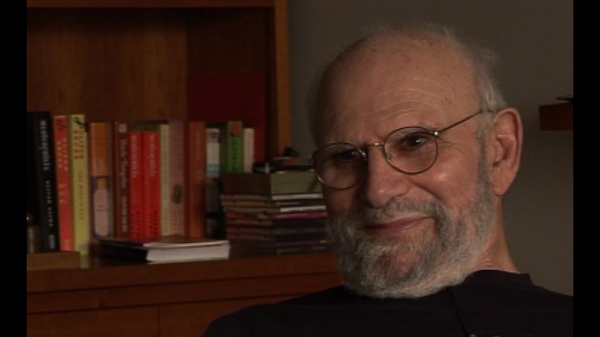 Awakenings proof and WH Auden's compulsions
Additions to Awakenings
1
...
12
13
14
15
16
...
36
Colin [Haycraft] didn't trust my... he knew of my mischievous and... and writing-destroying proclivities, so I was basically locked in the office with pen and paper, and I had to slip the manuscript under the door, page by page, as I wrote it. And by... something occurs to me in relation to that, but I will keep it for the moment. Anyhow by December the book was written. The last page had been given to Colin, and it was time to go back to New York, and I... I took a taxi to the airport feeling that the book was done. But then, in the taxi – and I snapped my fingers when I thought of it – I realised that something absolutely crucial had been missed out. Something, without which, the entire structure would collapse. And so I hastily wrote that, and this was the beginning of a period of feverish, feverish footnote writing, which continued for two months. This was long before the era of Xerox but I would send my footnotes express mail to Colin.
And then he said to me, in February 1973, I had sent him more than 400 footnotes. He said 'They are all fascinating,' he said, 'but in aggregate they come to three times the length of the book, and they will sink it'. He said, 'You can have a dozen', and I said, 'Okay, you choose them'. He said, 'No, you choose them, because otherwise you'll be angry with me for my choice'. And so the original Migraine [sic] had a dozen footnotes. When it... when it came out, the original Migraine had a dozen footnotes.
[Q] The original...
Sorry?
[Q] The original Awakenings?
Oh I'm sorry, yes. So the original Awakenings had a dozen footnotes. When the American hardback came out I snuck in another dozen footnotes. But when the paperback came out, which Penguin published in '75, I... I who had been so submissive and surrendering became slightly aggressive, and... and I think Julia Vellacott, my then editor, was steamrollered a bit and I had about 100 footnotes or whatever in the book.
Oliver Sacks (1933-2015) was born in England. Having obtained his medical degree at Oxford University, he moved to the USA. There he worked as a consultant neurologist at Beth Abraham Hospital where in 1966, he encountered a group of survivors of the global sleepy sickness of 1916-1927. Sacks treated these patients with the then-experimental drug L-Dopa producing astounding results which he described in his book Awakenings. Further cases of neurological disorders were described by Sacks with exceptional sympathy in another major book entitled The Man Who Mistook His Wife For A Hat which became an instant best seller on its publication in 1985. His other books drew on his rich experiences as a neurologist gleaned over almost five decades of professional practice. Sacks's work was recognized by prestigious institutions which awarded him numerous honours and prizes. These included the Lewis Thomas Prize given by Rockefeller University, which recognizes the scientist as poet. He was an honorary fellow of both the American Academy of Arts and Letters and the American Academy of Arts and Sciences, and held honorary degrees from many universities, including Oxford, the Karolinska Institute, Georgetown, Bard, Gallaudet, Tufts, and the Catholic University of Peru.
Title: Additions to "Awakenings"
Listeners: Kate Edgar
Kate Edgar, previously Managing Editor at the Summit Books division of Simon and Schuster, began working with Oliver Sacks in 1983. She has served as editor and researcher on all of his books, and has been closely involved with various films and adaptations based on his work. As friend, assistant, and collaborator, she has accompanied Dr Sacks on many adventures around the world, clinical and otherwise.
Tags: Awakenings, Colin Haycraft, Julia Vellacott
Duration: 3 minutes, 4 seconds
Date story recorded: September 2011
Date story went live: 02 October 2012