NEXT STORY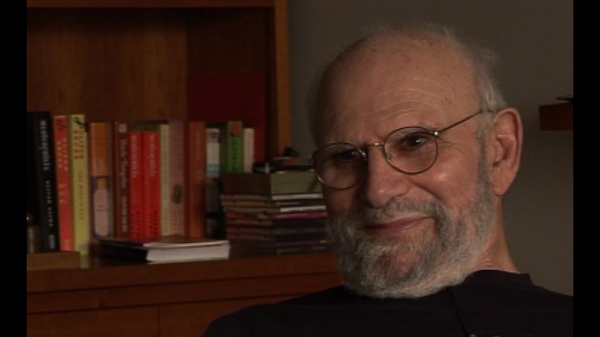 Robert De Niro's acting style for Awakenings
Robert De Niro and Robin Williams visit me for Awakenings
1
...
15
16
17
18
19
...
36
Then there was more work on the script, and then in '89 I was contacted and told that Penny Marshall would direct the film and that she would be visiting me with De Niro who would play the patient.
It's as well... it's as well that Penny was there because otherwise with De Niro's shy silence and my shy silence, not a single word... we would have sat in silence for four hours, and not a single word would have been exchanged, but bird-like, sort of, Penny... Penny kept the conversation going. I think at that time perhaps Bob was already absorbing the... the silence and inwardness of one of these patients prior to L-DOPA, and... but a very powerful presence. I was told that Robin Williams would... would be me. He couldn't come at the time because he was about to father a child. I had very much liked the film which Peter, I'm sorry, which Robin had made with... with Peter Weir. I didn't like the Vietnam film so much. So I... I was excited by having actors of this calibre, and various changes were made in the script and then Robin appeared, I think, probably the following month, and... I was intoxicated by Robin as I was awed by Bob. Robin wanted to come around with me to see patients but also to... to go to restaurants, and... so we spent a lot of time together, he hung out, if that's the right phrase. We hung out together. I've never been sure what 'hanging out' means. And I forgot that, I didn't realise or forgot that during this time I was in fact the subject of his continuous, minute, professional scrutiny, though a scrutiny which I think was, fortunately, affectionate and sympathetic.
And it was only about three weeks later when we were chatting in the street, and one isn't too conscious of one's own postures, but I got into something which I'm told was one of my pensive postures, something like this, and I realised that Robin was in exactly the same posture. He wasn't imitating me at that point, but I think he had got my postures and my turns of speech and my idiosyncrasies, and it was very extraordinary, it was like having a sudden, instant, younger twin. And I think that it... it disquieted us both a bit and we decided that there needed to be some space and time so that he could disburden himself of any imitation and let things go down to a deeper level and meet his own feelings and experiences so that he could then create a character of whole cloth, a... a Robin-like character though one based on me, and not, as it were, an instant mirroring.
Oliver Sacks (1933-2015) was born in England. Having obtained his medical degree at Oxford University, he moved to the USA. There he worked as a consultant neurologist at Beth Abraham Hospital where in 1966, he encountered a group of survivors of the global sleepy sickness of 1916-1927. Sacks treated these patients with the then-experimental drug L-Dopa producing astounding results which he described in his book Awakenings. Further cases of neurological disorders were described by Sacks with exceptional sympathy in another major book entitled The Man Who Mistook His Wife For A Hat which became an instant best seller on its publication in 1985. His other books drew on his rich experiences as a neurologist gleaned over almost five decades of professional practice. Sacks's work was recognized by prestigious institutions which awarded him numerous honours and prizes. These included the Lewis Thomas Prize given by Rockefeller University, which recognizes the scientist as poet. He was an honorary fellow of both the American Academy of Arts and Letters and the American Academy of Arts and Sciences, and held honorary degrees from many universities, including Oxford, the Karolinska Institute, Georgetown, Bard, Gallaudet, Tufts, and the Catholic University of Peru.
Title: Robert De Niro and Robin Williams visit me for "Awakenings"
Listeners: Kate Edgar
Kate Edgar, previously Managing Editor at the Summit Books division of Simon and Schuster, began working with Oliver Sacks in 1983. She has served as editor and researcher on all of his books, and has been closely involved with various films and adaptations based on his work. As friend, assistant, and collaborator, she has accompanied Dr Sacks on many adventures around the world, clinical and otherwise.
Tags: Robert De Niro, Robin Williams, Penny Marshall
Duration: 4 minutes, 20 seconds
Date story recorded: September 2011
Date story went live: 02 October 2012