NEXT STORY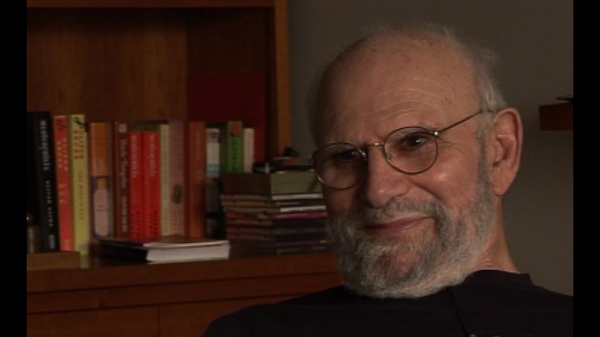 Ralph Siegel's interesting work
Colour blindness, Isaacson and achromatopsia in Pingelap
1
...
17
18
19
20
21
...
36
I'd been interested in vision and how we see things, I think since... since boyhood, and this had been stimulated by doing colour photography and stereo photography and time-lapse photography, and by having visual migraines, where over a few minutes, all sort of visual changes could occur, including loss of colour. And so, I... I had a little sense from my own experience of how it must have been for Isaacson. It's interesting to lose colour totally for 15 minutes and know you're going to get it back. It's no fun if you think it's going to be permanent.
Although interestingly, with Isaacson, three or four years later a suggestion was made, an intriguing suggestion, that it might be possible to re-programme another part of his brain to perceive and construct colour. This was a far out suggestion, but I mentioned it to Isaacson because I wondered how he would respond, whether he would say, whoopee, you know, do it. His response astounded me. He said that, 'If you had come up with this, you know, when I first saw you, I would have said, hallelujah, because I hungered and panted for colour and my world was deficient and abnormal and horrible'. He said, 'But now my world has been reconstructed, and what I see seems to be delicate and refined, and I think I have a heightened sense of boundary and contrast and movement and depth'. In fact, Isaacson had had an exhibit, at which his black-and-white paintings – because he couldn't do any more colour paintings – his black-and-white paintings had been exhibited and many people have said, the old man has got into a remarkable black-and-white phase. And no one knew that this phase was in fact a very creative adaptation to a neurological or perceptual disaster.
Anyhow, when we made the suggestion to Isaacson that he might... might be possible to give him colour back, he said he didn't want it. He said, now his world was complete, and he liked it very much, and if colour were to come back, it would be an intrusion. Later, I asked some people who had been congenitally colour-blind, and this was another visual adventure I went on. I went with Bob Wasserman, and we visited a small island, a coral atoll in Micronesia where a seventh of the population was born without any colour receptors in the eyes, without any cones, and they were congenitally [colour] blind. This had been going on for several generations and there was an entire achromatopic culture or subculture there. And Bob Wasserman and I investigated this in detail, and we went with another colleague, a Norwegian colleague, Knut Nordby, who himself was a congenital achromatope, like his brother and sister. I often like to have... I was going to say, a sort of ambassador with me. I'm very conscious of the gulf which may occur between doctor and patient. And having my colleague, my learned colleague, with me, whom the islanders instantly recognised as achromatopic, they saw that he was wearing two pairs of sunglasses, and that he immediately made for the shadow, and so... it wasn't just the poor colour-blind natives and the... the learned investigators, one of the investigators was himself totally colour-blind.
But anyhow, on one occasion I asked Knut, in fact, several times I asked him... because he was very interested in colour, and peoples' reactions to colour, and the use of colour metaphors, and he was endlessly inquisitive as to what a colour world was like, what it was like for the rest of us. And I said, 'Well, would you like, if... if you could be given colour, would you like it?' And... and he said, 'No'. He said he had... his brain had constructed a complete world as it was, and colour would be unintelligible and intrusive and anarchic. And when I had asked him the same question for the nth time, he said to me, 'Would you like X-ray vision?' And I thought, and I said, 'No, I'm... I'm fine as I... I wouldn't like it, I'm fine as I am', and he said, 'So am I'. And that was the end of that conversation. But this colour-blind painter, and meeting Ralph Siegel, and meeting Crick and having a collaboration with Siegel and Wasserman, this went on for 20 years and we saw many people together, the most recent of them whom I wrote about being a woman who... who was born with cross eyes and... and had no stereo vision – but perhaps I'll come back to her.
Oliver Sacks (1933-2015) was born in England. Having obtained his medical degree at Oxford University, he moved to the USA. There he worked as a consultant neurologist at Beth Abraham Hospital where in 1966, he encountered a group of survivors of the global sleepy sickness of 1916-1927. Sacks treated these patients with the then-experimental drug L-Dopa producing astounding results which he described in his book Awakenings. Further cases of neurological disorders were described by Sacks with exceptional sympathy in another major book entitled The Man Who Mistook His Wife For A Hat which became an instant best seller on its publication in 1985. His other books drew on his rich experiences as a neurologist gleaned over almost five decades of professional practice. Sacks's work was recognized by prestigious institutions which awarded him numerous honours and prizes. These included the Lewis Thomas Prize given by Rockefeller University, which recognizes the scientist as poet. He was an honorary fellow of both the American Academy of Arts and Letters and the American Academy of Arts and Sciences, and held honorary degrees from many universities, including Oxford, the Karolinska Institute, Georgetown, Bard, Gallaudet, Tufts, and the Catholic University of Peru.
Title: Colour blindness, Isaacson and achromatopsia in Pingelap
Listeners: Kate Edgar
Kate Edgar, previously Managing Editor at the Summit Books division of Simon and Schuster, began working with Oliver Sacks in 1983. She has served as editor and researcher on all of his books, and has been closely involved with various films and adaptations based on his work. As friend, assistant, and collaborator, she has accompanied Dr Sacks on many adventures around the world, clinical and otherwise.
Tags: Micronesia, Ralph Siegel, Robert Wasserman, Francis Crick
Duration: 6 minutes, 20 seconds
Date story recorded: September 2011
Date story went live: 02 October 2012