NEXT STORY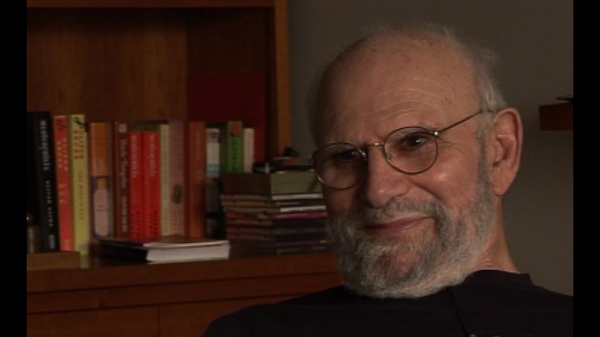 Kate Edgar
What happens to the brains of deaf people?
1
...
18
19
20
21
22
...
36
Meeting deaf people and encountering sign language didn't just make me think about language and culture, although this was an entirely new thing for me, it made me wonder what is going on in the brain? Is the brain of someone who is born deaf, who has no auditory input, well, what's going on? Do they have auditory parts of the brain, have the auditory parts atrophied and... and shrunk, or are the auditory... or what would be the auditory parts, being utilised for something else? This was a subject which had been very much investigated by a neuroscientist called Helen Neville, who worked with Ursula Bellugi at one point and then moved to Oregon. And Helen Neville showed very clearly that the… what would be auditory areas in a hearing person had been reallocated – this was a term she used – had been reallocated for vision, and that deaf people were in a sense hyper-visual, in particular they had much greater acuity for analysing what went on in the peripheral visual field. And with signing, you look at someone's face, but the actual signs are peripheral. This is one of the things which makes it difficult for people like myself who... who are not born deaf, to learn it, because our vision is not good enough. At one time deaf people were denied driving licenses. In fact, they're the safest drivers on the road because they are much more conscious of things happening in the periphery than... than any hearing driver.
The… now, this again, is a somewhat Edelmanian thing. The old notion was that on a genetic and molecular basis you had visual cortex and auditory cortex and tactile cortex, and that was that. But now, it was clear that experience could alter this, and the cortex would take on – would not shrink but would take on – whatever functions experience needed. And given a world of extreme visual attention, hyper attention such as congenitally deaf people have, then, you know, then other parts of the brain are... are converted to visuality, and so this is about the plasticity of the brain, and how uncommitted certain things are, and the way in which they assume function based on experience. And in fact, the first time I mentioned Edelman in a book was in my 1988 book, Seeing Voices, and in precisely this... this context of a different brain because of a different experience. And here, the... the difference is so sharp and the experiences are so sharply different.
Oliver Sacks (1933-2015) was born in England. Having obtained his medical degree at Oxford University, he moved to the USA. There he worked as a consultant neurologist at Beth Abraham Hospital where in 1966, he encountered a group of survivors of the global sleepy sickness of 1916-1927. Sacks treated these patients with the then-experimental drug L-Dopa producing astounding results which he described in his book Awakenings. Further cases of neurological disorders were described by Sacks with exceptional sympathy in another major book entitled The Man Who Mistook His Wife For A Hat which became an instant best seller on its publication in 1985. His other books drew on his rich experiences as a neurologist gleaned over almost five decades of professional practice. Sacks's work was recognized by prestigious institutions which awarded him numerous honours and prizes. These included the Lewis Thomas Prize given by Rockefeller University, which recognizes the scientist as poet. He was an honorary fellow of both the American Academy of Arts and Letters and the American Academy of Arts and Sciences, and held honorary degrees from many universities, including Oxford, the Karolinska Institute, Georgetown, Bard, Gallaudet, Tufts, and the Catholic University of Peru.
Title: What happens to the brains of deaf people?
Listeners: Kate Edgar
Kate Edgar, previously Managing Editor at the Summit Books division of Simon and Schuster, began working with Oliver Sacks in 1983. She has served as editor and researcher on all of his books, and has been closely involved with various films and adaptations based on his work. As friend, assistant, and collaborator, she has accompanied Dr Sacks on many adventures around the world, clinical and otherwise.
Tags: Seeing Voices, Ursula Bellugi, Helen J Neville
Duration: 3 minutes, 42 seconds
Date story recorded: September 2011
Date story went live: 02 October 2012