NEXT STORY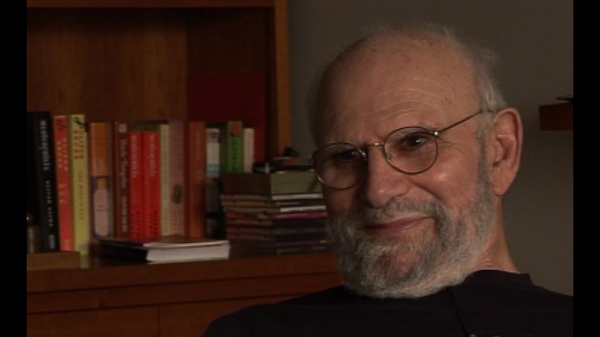 The artist, Stephen Wiltshire
Franco Magnani: The memory artist
1
...
23
24
25
26
27
...
36
Then there was the memory artist, Franco Magnani, one of his pictures is hanging up here. The Exploratorium in San Francisco had an astonishing exhibit called The Memory Artist, in which pictures of Pontito, the little Tuscan village where Franco had been born, were apposed to photographs taken from the same viewpoint, and there was an astounding accuracy of these paintings, and I got to meet Franco. I visited his house, which was full of paintings and I got his story, which was a very singular one. He told me how the Nazis had entered Pontito in... in the war and done a lot of damage there, and how upset his mother had been and how he, as a child, had said, 'I shall make it again for you'.
And then he described his early life, he'd been a sailor, he'd roved to and fro, he hadn't really known what he was to do, where he was to live, he didn't know himself. And then his decision to live in America, to live in San Francisco and the strange crisis which befell him when there was high fever, there were nightmares, maybe there were seizures, and in these he would see Pontito as it had been before the Nazis came. And when he left hospital he continued to have visions of Pontito. I would... sometimes when I was with him, he would lean forward and his pupils would dilate and he would stare at something and perhaps move around and he would tell me then that a three-dimensional, sort of holographic model of Pontito had risen in front of his eyes and then he started to paint what he could see so clearly. This, I think, was the first time I had… so I didn't think of Franco as a neurological patient, but he was an artist, and yet he was being inspired by something very extraordinary in neurological terms, an amazing power of reminiscence. He didn't have a prodigious memory in... in other ways, but... but his memory of Pontito... his memories consumed him, I mean, there were clearly obsessive things, but the sheer power of, whether it was imagination or hallucination, and of ability to actualise this in painting.
So, this was a new departure for me and my story of Franco, I'm not sure that case history is the correct term, it may have been more like a novella, although I think it was full of careful observations that appeared in The New Yorker in, I forget, the... the early 90s. So, there was the... the colour-blind painter, there was the man given vision in middle life, there was Franco with his visions and there was Stephen Wiltshire in England. One of my Hat pieces had been about an autistic boy who had an amazing talent for accurate drawing.
Oliver Sacks (1933-2015) was born in England. Having obtained his medical degree at Oxford University, he moved to the USA. There he worked as a consultant neurologist at Beth Abraham Hospital where in 1966, he encountered a group of survivors of the global sleepy sickness of 1916-1927. Sacks treated these patients with the then-experimental drug L-Dopa producing astounding results which he described in his book Awakenings. Further cases of neurological disorders were described by Sacks with exceptional sympathy in another major book entitled The Man Who Mistook His Wife For A Hat which became an instant best seller on its publication in 1985. His other books drew on his rich experiences as a neurologist gleaned over almost five decades of professional practice. Sacks's work was recognized by prestigious institutions which awarded him numerous honours and prizes. These included the Lewis Thomas Prize given by Rockefeller University, which recognizes the scientist as poet. He was an honorary fellow of both the American Academy of Arts and Letters and the American Academy of Arts and Sciences, and held honorary degrees from many universities, including Oxford, the Karolinska Institute, Georgetown, Bard, Gallaudet, Tufts, and the Catholic University of Peru.
Title: Franco Magnani: The memory artist
Listeners: Kate Edgar
Kate Edgar, previously Managing Editor at the Summit Books division of Simon and Schuster, began working with Oliver Sacks in 1983. She has served as editor and researcher on all of his books, and has been closely involved with various films and adaptations based on his work. As friend, assistant, and collaborator, she has accompanied Dr Sacks on many adventures around the world, clinical and otherwise.
Tags: The Man Who Mistook His Wife For a Hat, Exploratorium, San Francisco, The Memory Artist, Pontito, Tuscany, World War II, Franco Magnani, Stephen Wiltshire
Duration: 4 minutes, 15 seconds
Date story recorded: September 2011
Date story went live: 02 October 2012