NEXT STORY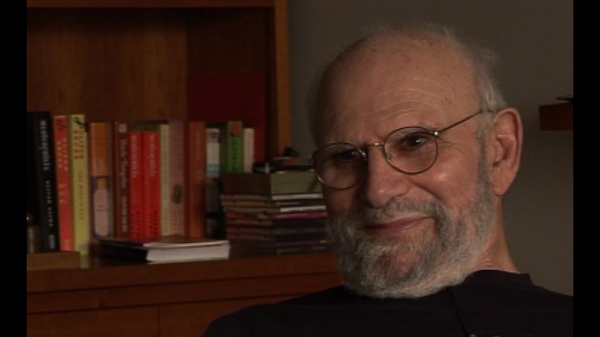 The World's Only Flying Touretter Surgeon
The artist, Stephen Wiltshire
1
...
23
24
25
26
27
...
36
After the Hat book came out I got a letter from England, speaking of a... a boy in England, also autistic, also a savant, with an even more amazing power of drawing. And indeed his drawings had been published; I think a book of his drawings had been published and... and I was asked if I would see him when he was brought... when he came to New York. A visit had been scheduled for him largely to... to draw New York. Stephen was fascinated by buildings above all – the more complex the better.
And so then... I met Stephen, he was about, I think, 11 or 12 at the time. He... he wasn't too verbal then. He never seemed to look at one directly; his... his eyes wandered off. He had some repetitive stereotyped movements of his head. He visited me in my little house in City Island where I lived. And I asked him if he would draw the house. I think he... he sniffed a little bit because his earlier drawings had been of St Paul's, of the Natural History Museum, of huge Gothic... huge Baroque buildings and my little house wasn't much. But he... he threw a brief indifferent glance at the house and then started drawing. He didn't, sort of, do an outline, he started at one edge of the paper and just moved over. And unfortunately the drawing was taken from him at that point because I think he would have moved on and drawn the rest of the street. I think that single indifferent glance had taken in the entire street. And I saw this sort of thing again and again.
I was to do some travelling with Stephen. I went... I went with him and his agent/teacher, Margaret Hewson, a very remarkable woman who... who had taken Stephen under her wing. They had travelled together to... to Amsterdam, where Stephen loved the houses, the tall, narrow Rembrandt-like houses, where there are hooks at the top. And so I went with Stephen and Margaret… so, I went with Stephen and Margaret Hewsen and a film crew to Russia. First to Moscow and then we took a train to Leningrad which had just reverted to the name of St Petersburg. And... it was amazing and wonderful to see Stephen's drawings, but it was extraordinary to see, in a way, his own indifference to them. If a drawing blew away I don't think it would affect him too much, he might do it again. He didn't do drawings spontaneously, he did them on direction. I don't know if there was any spontaneous initiative there, but his style was there in every drawing and also some idiosyncrasies. When I asked him to draw my house a year later, he drew it again but he gave it an American flag. I think he felt it should have an American flag. He had been charmed by the onion domes in the Kremlin and after that he started putting onion domes on every structure, whether or not it had an onion dome. Anyhow, I wrote about Stephen and... and writing about Stephen, as writing about Franco, as writing about the colour-blind painter, involved illustration. Their... their work had to be seen; there were essentially no illustrations in, in any of my earlier books, so... so these were four visual people.
Oliver Sacks (1933-2015) was born in England. Having obtained his medical degree at Oxford University, he moved to the USA. There he worked as a consultant neurologist at Beth Abraham Hospital where in 1966, he encountered a group of survivors of the global sleepy sickness of 1916-1927. Sacks treated these patients with the then-experimental drug L-Dopa producing astounding results which he described in his book Awakenings. Further cases of neurological disorders were described by Sacks with exceptional sympathy in another major book entitled The Man Who Mistook His Wife For A Hat which became an instant best seller on its publication in 1985. His other books drew on his rich experiences as a neurologist gleaned over almost five decades of professional practice. Sacks's work was recognized by prestigious institutions which awarded him numerous honours and prizes. These included the Lewis Thomas Prize given by Rockefeller University, which recognizes the scientist as poet. He was an honorary fellow of both the American Academy of Arts and Letters and the American Academy of Arts and Sciences, and held honorary degrees from many universities, including Oxford, the Karolinska Institute, Georgetown, Bard, Gallaudet, Tufts, and the Catholic University of Peru.
Title: The artist, Stephen Wiltshire
Listeners: Kate Edgar
Kate Edgar, previously Managing Editor at the Summit Books division of Simon and Schuster, began working with Oliver Sacks in 1983. She has served as editor and researcher on all of his books, and has been closely involved with various films and adaptations based on his work. As friend, assistant, and collaborator, she has accompanied Dr Sacks on many adventures around the world, clinical and otherwise.
Tags: New York, City Island, St Paul's, The Natural History Museum, Amsterdam, Russia, Moscow, Leningrad, St Petersburg, Kremlin, Isaacson, Stephen Wiltshire, Margaret Hewson, Franco Magnani
Duration: 4 minutes, 53 seconds
Date story recorded: September 2011
Date story went live: 02 October 2012