NEXT STORY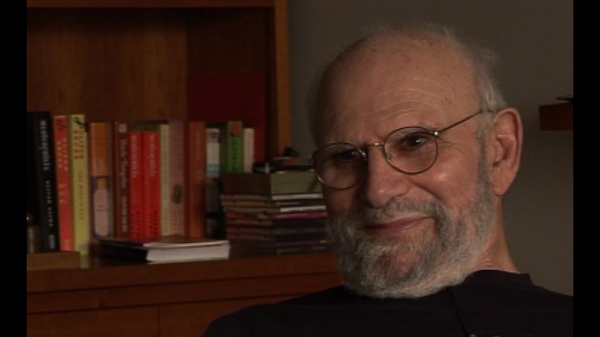 Using HG Wells's stories in my own work
Love of HG Wells and using Country of the Blind
1
...
28
29
30
31
32
...
36
Beside more serious reading, Dickens and Thackeray and Trollope and Pope – I loved Pope as a poet, I... I had huge swathes of Pope, The Epistle to Arbuthnot [sic], and whatnot, and The Dunciad by heart – but there was also lighter reading of one sort or another. Although, maybe this isn't a fair word, but like Eric [Korn] and like so many of my generation I was enamoured of HG Wells, or I should say the early HG Wells. The HG Wells of The Time Machine, of The War of the Worlds, of The Invisible Man, of The First Men in the Moon, and of wonderful short stories, Pollock and the Porroh Man, The Moth, The New Accelerator, the… I'm blocking on a title. Not... ah, The Country of the Blind.
I have in fact referred to many of these things of Wells in my own work. In The Country of the Blind – I may have the title slightly wrong there – an intrepid traveller gets separated from his companions. I think they are all killed in an avalanche. He survives, and somehow or another he ends up, to his own surprise, in an inhabited valley – a rather puzzling valley. He looks around. He notices that the houses are parti-coloured with patches of... of indiscriminate colour, and he thinks to himself: these people must be as blind as bats! Bats aren't blind, by the way. Anyhow, when... when he meets them he finds they are indeed blind, and... and that there had been an eye disease. He realises – he puts things together – that there was an eye disease 300 years earlier when the valley was first inhabited, and bit by bit and generation by generation, the eyes atrophied and so did the idea of the visual and the visible.
And he... on the other hand, these people have preternaturally sensitive senses of... of hearing, of touch, and so forth. He imagines that he, as a normal human being, can take over, and... you know, and rule the village, but he soon finds that things are absolutely… he is absolutely mistaken, because when night comes the blind people move around with their usual facility, and of course, there are no lights anywhere and he is totally helpless in the dark. And the story... so he is regarded as a sort of pathetic invalid by the blind, but there is one girl who loves him, and marriage is considered. And the elders say they will permit the marriage if the traveller allows these... these pathological organs, which are producing hallucinations and delusions – these strange twitchy organs, tumours, these soft things which he calls eyes – if he consents to have those removed then he might be sane like the rest of them.
I didn't mean to tell the story, but... but this was very much in my mind when I went to Pingelap, and at one point found myself surrounded by people who were born colour-blind, and who said very strongly to me that far from having a sense which they didn't have, they thought that I was markedly defective in my appreciation of texture and boundary and contrast and... and movement and depth and all that.
Oliver Sacks (1933-2015) was born in England. Having obtained his medical degree at Oxford University, he moved to the USA. There he worked as a consultant neurologist at Beth Abraham Hospital where in 1966, he encountered a group of survivors of the global sleepy sickness of 1916-1927. Sacks treated these patients with the then-experimental drug L-Dopa producing astounding results which he described in his book Awakenings. Further cases of neurological disorders were described by Sacks with exceptional sympathy in another major book entitled The Man Who Mistook His Wife For A Hat which became an instant best seller on its publication in 1985. His other books drew on his rich experiences as a neurologist gleaned over almost five decades of professional practice. Sacks's work was recognized by prestigious institutions which awarded him numerous honours and prizes. These included the Lewis Thomas Prize given by Rockefeller University, which recognizes the scientist as poet. He was an honorary fellow of both the American Academy of Arts and Letters and the American Academy of Arts and Sciences, and held honorary degrees from many universities, including Oxford, the Karolinska Institute, Georgetown, Bard, Gallaudet, Tufts, and the Catholic University of Peru.
Title: Love of HG Wells and using "Country of the Blind"
Listeners: Kate Edgar
Kate Edgar, previously Managing Editor at the Summit Books division of Simon and Schuster, began working with Oliver Sacks in 1983. She has served as editor and researcher on all of his books, and has been closely involved with various films and adaptations based on his work. As friend, assistant, and collaborator, she has accompanied Dr Sacks on many adventures around the world, clinical and otherwise.
Tags: An Epistle to Arbuthnot, The Dunciad, The Time Machine, The War of the Worlds, The Invisible Man, The First Men in the Moon, Pollock and the Porroh Man, The Moth, The New Accelerator, The Country of the Blind, Pingelap, Island of the Colourblind, HG Wells, Charles Dickens, William Makepeace Thackeray, Anthony Trollope, Alexander Pope, Eric Korn
Duration: 4 minutes, 23 seconds
Date story recorded: September 2011
Date story went live: 02 October 2012