NEXT STORY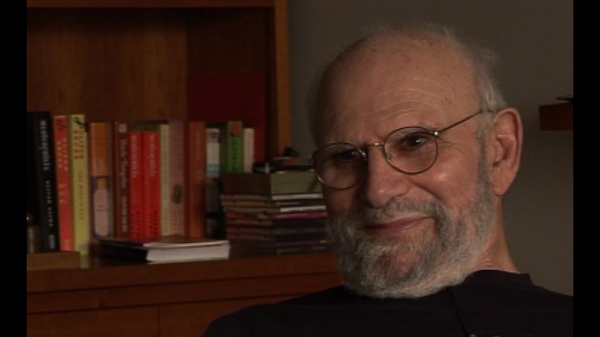 How I first met 'Stereo Sue'
An aphasia case: Patricia
1
...
29
30
31
32
33
...
36
Then there was a patient at hospital, who had had a stroke and was aphasic, profoundly aphasic, and... who at first had been absolutely devastated, and horribly isolated, as people with aphasia can be. They may have all their intellectual powers, but they can't… they don't have language to express themselves with, or sometimes they can't understand language, or both. Both were impaired with Pat, but one way and another, she found and was helped to find an extraordinary facility in gesture, in pointing, in understanding other people's gesture, and also using a lexicon of words. She knew the individual meaning of words, or she got to know it, although she couldn't get syntax, she couldn't put a sentence together. But, Pat, although there was no, or very little neurological recovery, really had the most extraordinary personal recovery – became a very vivid figure. She had very good daughters, who took her out, and she went to art shows. She had herself been a... an entrepreneur of art, and had art galleries of her own before this happened, and she went to theatres and films, and she went swimming. This hemiplegic woman went swimming.
She was full of life, and I felt I couldn't appreciate the fullness of her life sufficiently in a hospital room. What can you do in a hospital room? So one Saturday afternoon I arranged to go for a walk with her. She was in her wheelchair, one of her daughters was wheeling. We went down Allerton Avenue, which is a busy shopping avenue in the Bronx. It was obvious that Pat knew everyone, and... and they knew her, and that somehow she could have a pretty full communication with people, despite being profoundly aphasic. I found all of this extraordinary, and inspiring, and I wrote about Pat, and I became very fond of her too, and in fact, her photo is still up in the office, just above my desk, as... as some of Lilian Kallir's CDs are with me, including one very special thing.
Once Lilian played a piece, which puzzled me. I said, 'It's familiar, but... but it's not familiar. You know, I don't understand'. And she said, 'It's simple'. She said, 'Last night I heard a Haydn quartet and I arranged it for piano in my head, overnight', and this was the piano transcription of it. She... as her ability to read music and look at printed music diminished, she got more and more heightening of her power to deal with music in her mind. So, I... but anyhow, to go back, I wrote about Pat as well. I think this may have been published a year or two later.
Oliver Sacks (1933-2015) was born in England. Having obtained his medical degree at Oxford University, he moved to the USA. There he worked as a consultant neurologist at Beth Abraham Hospital where in 1966, he encountered a group of survivors of the global sleepy sickness of 1916-1927. Sacks treated these patients with the then-experimental drug L-Dopa producing astounding results which he described in his book Awakenings. Further cases of neurological disorders were described by Sacks with exceptional sympathy in another major book entitled The Man Who Mistook His Wife For A Hat which became an instant best seller on its publication in 1985. His other books drew on his rich experiences as a neurologist gleaned over almost five decades of professional practice. Sacks's work was recognized by prestigious institutions which awarded him numerous honours and prizes. These included the Lewis Thomas Prize given by Rockefeller University, which recognizes the scientist as poet. He was an honorary fellow of both the American Academy of Arts and Letters and the American Academy of Arts and Sciences, and held honorary degrees from many universities, including Oxford, the Karolinska Institute, Georgetown, Bard, Gallaudet, Tufts, and the Catholic University of Peru.
Title: An aphasia case: Patricia
Listeners: Kate Edgar
Kate Edgar, previously Managing Editor at the Summit Books division of Simon and Schuster, began working with Oliver Sacks in 1983. She has served as editor and researcher on all of his books, and has been closely involved with various films and adaptations based on his work. As friend, assistant, and collaborator, she has accompanied Dr Sacks on many adventures around the world, clinical and otherwise.
Tags: Bronx, Allerton Avenue, Lilian Kallir, Joseph Haydn
Duration: 3 minutes, 38 seconds
Date story recorded: September 2011
Date story went live: 02 October 2012