NEXT STORY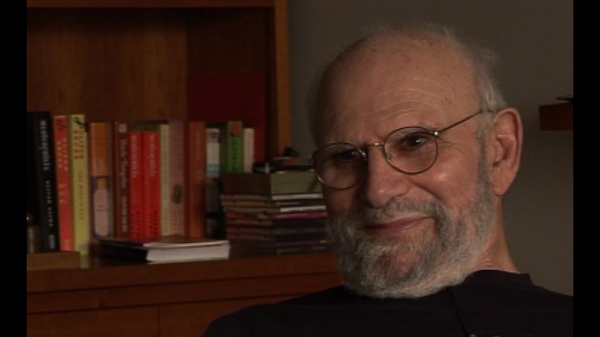 My first encounter with evolution
1
...
31
32
33
34
35
36
So here I am now in September of 2011, having completed my 12th book, or rather, the 12th book which will see publication, because of course, there have been the books which have been lost or destroyed en route, the myoclonus book which may still be in someone's drawer, the autism book which, alas, consists of ashes somewhere up in the stratosphere, the Tourette book which was never written. But this will be the 12th book to hit the public and I am not sure what comes next.

Auden always used to say, I know what comes next. I never quite know what comes next until I do know what comes next, but there are frightening gaps in which... in which I'm in a, sort of, limbo and don't know what comes next. I feel I could fill the gap with... I've... I've written biographical studies, I've written some memoirs, I've written occasional pieces on everything from herrings to ferns. There's... there's plenty of material which could be clapped between book covers, but the real challenge is going to be a new subject. Whether it will be the book on schizophrenia or whether it will be a book of essays on memory, imagination, creativity, consciousness, you know, the big C, I... I don't know. And this is where I stand at ten past five on September 23rd 2011.
Oliver Sacks (1933-2015) was born in England. Having obtained his medical degree at Oxford University, he moved to the USA. There he worked as a consultant neurologist at Beth Abraham Hospital where in 1966, he encountered a group of survivors of the global sleepy sickness of 1916-1927. Sacks treated these patients with the then-experimental drug L-Dopa producing astounding results which he described in his book Awakenings. Further cases of neurological disorders were described by Sacks with exceptional sympathy in another major book entitled The Man Who Mistook His Wife For A Hat which became an instant best seller on its publication in 1985. His other books drew on his rich experiences as a neurologist gleaned over almost five decades of professional practice. Sacks's work was recognized by prestigious institutions which awarded him numerous honours and prizes. These included the Lewis Thomas Prize given by Rockefeller University, which recognizes the scientist as poet. He was an honorary fellow of both the American Academy of Arts and Letters and the American Academy of Arts and Sciences, and held honorary degrees from many universities, including Oxford, the Karolinska Institute, Georgetown, Bard, Gallaudet, Tufts, and the Catholic University of Peru.
Title: My books to date
Listeners: Kate Edgar
Kate Edgar, previously Managing Editor at the Summit Books division of Simon and Schuster, began working with Oliver Sacks in 1983. She has served as editor and researcher on all of his books, and has been closely involved with various films and adaptations based on his work. As friend, assistant, and collaborator, she has accompanied Dr Sacks on many adventures around the world, clinical and otherwise.
Tags: Myoclonus, Tourette's, schizophrenia, consciousness
Duration: 2 minutes, 7 seconds
Date story recorded: September 2011
Date story went live: 02 October 2012