NEXT STORY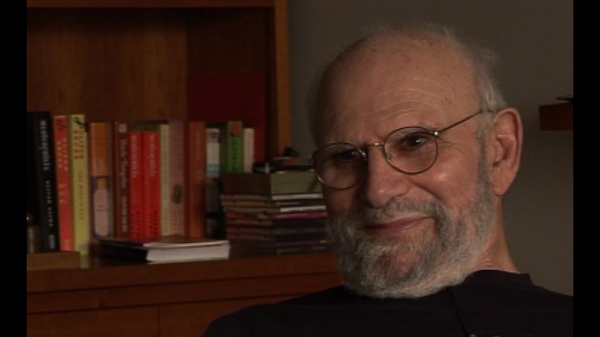 Studs Terkel
A tribute to Richard Gregory
1
...
32
33
34
35
36
He bubbled with ideas, he was ebullient, but there was this... this bubbling, this ebullition of ideas all the while. I don't think he ever stopped thinking until that... until the final day, alas, last year when it happened. Kate, you and I had dinner with... with Richard. I think he'd had a small stroke then, and lost a little bit of visual field, but it... it made no difference to him. And... and I think that the two of us were both a bit bubbly, and... and we sort of, played ball together all the while. I have many, many letters to and from Richard, and I would... I would love to write about him some day. I miss him greatly. Not only that, there is no one like him, I couldn't imagine anyone like him existing anymore. And of course, he came from a great, great line, Galton, Darwin's cousin, wrote a book called Hereditary Genius, and here he mentions the Gregory family going back to James Gregory, who was Newton's contemporary, and invented a... or devised, improved, the reflecting telescope. Interestingly, all the Gregorys for 300 years were interested in light, sight, vision, optics; Gregory's, Richard Gregory's father was an astronomer... was an Astronomer Royal. I think the interest sort of, sometimes went outwards to telescopes in the sky, or it sometimes went inwards to vision and visual imagery.
But I... I do think Richard was a sort of genius, and his very inventiveness and ebullience, I think might have retarded recognition in some ways. It... he did get his Fellowship of the Royal Society, and I think a Chair at Oxford, but this came later, later than it should be, but I certainly think his works will be read and absolutely memories of him will be... will be cultivated. Just as I used to make phone calls to him at any time, whenever I have illusions, and I have many of them now my own eyesight has become a bit questionable, I think: what would Richard have said. I don't have anyone now to talk to about that except... except the still living, still bubbling ghost of Richard.
Oliver Sacks (1933-2015) was born in England. Having obtained his medical degree at Oxford University, he moved to the USA. There he worked as a consultant neurologist at Beth Abraham Hospital where in 1966, he encountered a group of survivors of the global sleepy sickness of 1916-1927. Sacks treated these patients with the then-experimental drug L-Dopa producing astounding results which he described in his book Awakenings. Further cases of neurological disorders were described by Sacks with exceptional sympathy in another major book entitled The Man Who Mistook His Wife For A Hat which became an instant best seller on its publication in 1985. His other books drew on his rich experiences as a neurologist gleaned over almost five decades of professional practice. Sacks's work was recognized by prestigious institutions which awarded him numerous honours and prizes. These included the Lewis Thomas Prize given by Rockefeller University, which recognizes the scientist as poet. He was an honorary fellow of both the American Academy of Arts and Letters and the American Academy of Arts and Sciences, and held honorary degrees from many universities, including Oxford, the Karolinska Institute, Georgetown, Bard, Gallaudet, Tufts, and the Catholic University of Peru.
Title: A tribute to Richard Gregory
Listeners: Kate Edgar
Kate Edgar, previously Managing Editor at the Summit Books division of Simon and Schuster, began working with Oliver Sacks in 1983. She has served as editor and researcher on all of his books, and has been closely involved with various films and adaptations based on his work. As friend, assistant, and collaborator, she has accompanied Dr Sacks on many adventures around the world, clinical and otherwise.
Tags: Hereditary Genius, Astronomer Royal, Fellow of the Royal Society, Oxford University, Richard Gregory, Kate Edgar, Francis Galton, Charles Darwin, Isaac Newton
Duration: 3 minutes, 1 second
Date story recorded: September 2011
Date story went live: 02 October 2012