NEXT STORY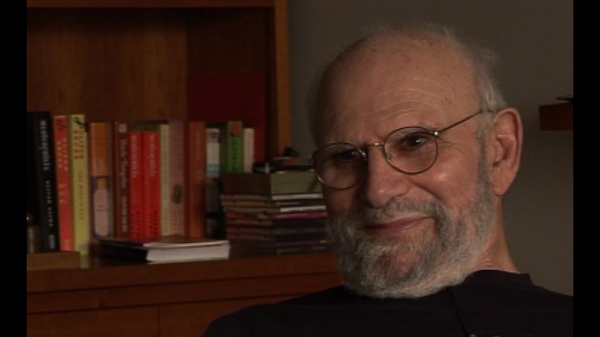 The size of my extended family
'There isn't a week that I don't swim'
1
...
6
7
8
9
10
...
36
There was swimming before the war, and this little anecdote I mentioned when I was five and when we were at Felpham. I don't recollect any swimming at Brafield, although there was a pond, the Delamere Pond and, I think, I'd at least got in there in the summer; but it was a shallow pond with reeds in it. I very much enjoyed swimming, especially with my father; sometimes all of us would go... we'd go to the Finchley Pool, which was... I seem to recollect it being somewhere up... high up Edgware Road, towards Stanmore.
I would... I then, with adolescence developed this very unpleasant skin condition where I would have weeping eczematous patches on my... on the flexor aspects of my arms and legs. And... and I felt that I... they would exude a horrible sticky pus and spoil my clothing and I... I didn't dare strip, and so, I think, the skin thing removed me from swimming and from a lot of other physical and social... activities. I mean, I felt I was... I felt I stank, and, indeed, I did stink. It's some... Updike, I think, describes how he had been cut off from a lot of things by having psoriasis which occurs on the extensor side of the limbs.
But, somehow, this skin condition, which had been given all sorts of ornate Latin names, the... cleared up by... by itself when I went to Oxford and then I loved swimming there. I went to sometimes swim at Parson's Pleasure, I don't know if people still swim there; one could swim naked there, and... but I also swam in the... in the Cherwell and along a canal which.. which ran by the side of Christchurch. And swimming... back in London as a medical student I like the Gospel Oak Pool, a big open air pool on Hampstead Heath. But also I love the ponds on Hampstead Heath. I don't know if people still... still swim there. And I... but I've... there hasn't been a month of my life, or even, I think, a week of my life... the only weeks of my life without swimming have been immediately following orthopaedic procedures when I... I have an open wound.
I'm a different person after a swim, I'm much nicer, I'm told, I'm relaxed and amiable. I get very furious if... if a swim is thwarted.
Oliver Sacks (1933-2015) was born in England. Having obtained his medical degree at Oxford University, he moved to the USA. There he worked as a consultant neurologist at Beth Abraham Hospital where in 1966, he encountered a group of survivors of the global sleepy sickness of 1916-1927. Sacks treated these patients with the then-experimental drug L-Dopa producing astounding results which he described in his book Awakenings. Further cases of neurological disorders were described by Sacks with exceptional sympathy in another major book entitled The Man Who Mistook His Wife For A Hat which became an instant best seller on its publication in 1985. His other books drew on his rich experiences as a neurologist gleaned over almost five decades of professional practice. Sacks's work was recognized by prestigious institutions which awarded him numerous honours and prizes. These included the Lewis Thomas Prize given by Rockefeller University, which recognizes the scientist as poet. He was an honorary fellow of both the American Academy of Arts and Letters and the American Academy of Arts and Sciences, and held honorary degrees from many universities, including Oxford, the Karolinska Institute, Georgetown, Bard, Gallaudet, Tufts, and the Catholic University of Peru.
Title: 'There isn't a week that I don't swim'
Listeners: Kate Edgar
Kate Edgar, previously Managing Editor at the Summit Books division of Simon and Schuster, began working with Oliver Sacks in 1983. She has served as editor and researcher on all of his books, and has been closely involved with various films and adaptations based on his work. As friend, assistant, and collaborator, she has accompanied Dr Sacks on many adventures around the world, clinical and otherwise.
Tags: Brafield on-the-Green, Felpham, Finchley Lido, Oxford University, River Cherwell, Oxford, Hampstead Heath
Duration: 3 minutes, 46 seconds
Date story recorded: September 2011
Date story went live: 02 October 2012