NEXT STORY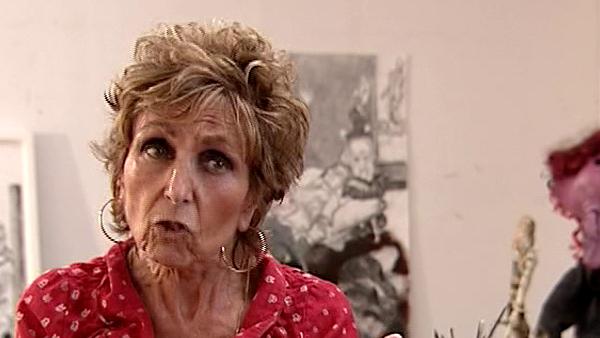 A difficult period for my work
The Firemen of Alijo
1
2
3
4
5
6
There was one large... one big one called The Firemen of Alijo, which now belong to the... to the Tate Gallery, and that picture... we went — that Christmas — we went to spend New Year's Eve up in the north of Portugal in a town called Alijo, which is very, very cold, and it was snowing. And we were staying in a pousada — a very small hotel — Vic, my mother, my father, just us. The children had stayed behind. And it was dismal. It was a dismal, sad, cold place. And we went outside, and we saw the... the chaps — men — standing there, dressed in straw. That's how they dress; to keep warm they dressed in straw. Traditional costume, but they still had it, to keep them warm. And in the snow, with bare feet. And they're all standing outside... outside the...outside the station, just out the fire station and some were outside the tavern, and the firemen were coming out. There had been some accident, or something, and it was horrifying to see these... poverty and everything. It was a very uncomfortable experience. Not just from seeing this poverty, and... and... but also from the uncomfortable hotel and also my father not being well, already. There was a... there was a... the grim... the grim reaper was already smelling around there somewhere, that's for sure. And I... as I came back to London, I did that picture, The Firemen of Alijo. Yeah, and that was... and... and that was actually shown at the London Group, because I'd been... made a member by... by Claude Rogers, who was a... who was... wonderful, actually. And his wife, Elsie Few, bought it. Bought it for... for some collection she was making, which ended up at Kingston College, you know, and it was discovered years later. It disappeared, you know — years later — down there in a cellar somewhere. And they hung it up on the wall, and then the Tate bought it, which was good. It's quite a nice picture. That was the last. That was the last picture of that lot. After that it was general decline for years, that's what it was. Just... just lost for years. Because my... my father died and all those things happened.
Portuguese painter Paula Rego (1935-2022) became part of the London Group in 1965, was shortlisted for the Turner Prize in 1989 and became the first Associate Artist of the National Gallery in London in 1990. Her work is strongly influenced by folk and fairy tales, especially those of her homeland.
Title: "The Firemen of Alijo"
Listeners: Catherine Lampert
Catherine Lampert is an independent curator, art historian and Visiting Professor at the University of the Arts. She was director of the Whitechapel Art Gallery (1988-2001) and has been a model for Frank Auerbach since 1978. Her recent projects include exhibitions of Rodin (Royal Academy 2006) and Lucian Freud (Dublin, Denmark and The Hague 2007-2008) as well as a book on Francis Alys (Turner Libros) and a catalogue raisonné of Euan Uglow's paintings (Yale University Press 2007).
Duration: 2 minutes, 22 seconds
Date story recorded: August 2007
Date story went live: 02 October 2009