NEXT STORY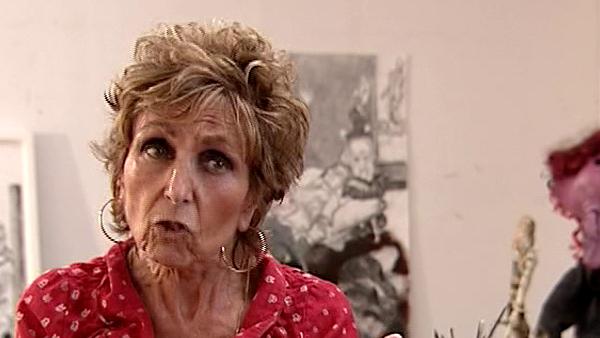 'Look out, here comes great-grandfather!'
1
2
3
4
5
6
My mother was called Maria São José, which means Mary of St Joseph; Figueiroa because my... she married my father called Joseph Figueiroa. And then when she was expecting me... she was tiny. My mother was about 5'2", if that. She might have been under 5', she was so small. But very full of energy and she was very... pert and so-on. Anyway, she got pregnant and you can imagine the size of the tummy was colossal. And when it came to giving birth it was a hell of a bad time. She was three days in labour and she was in a... she didn't think it was strange. She thought that was normal. And when they came to... to pull this creature out — which I still have these... these little dents there from being pulled out from in there — because she'd had so much calcium, you see. It was good for the bones. It was good for my bones but not good for hers. And they dragged this carcass out and ripped her bladder. Yeah. So she was incontinent, poor cow, for ages and ages and she was... was a great... she was a great... she'd been to art school; not... that's got nothing to do with my birth. Anyway, so that was... I was born and then I was brought up, you know, build, that sort of thing. And... and eventually she was saved, because her bladder was saved, cauterised by a great surgeon called... Reynaldo dos Santos who was Bartolomeu dos Santos's grandfather. Yeah, the... the printmaker. And she was saved and she was so happy. She went off. And my father was an electronic engineer, so he had... he was still studying. And I think my grandfather — his father — because my... my mother's parents were dead. Her mother died when she was five and her father was shot under her window; she saw her father die, collapse, when she was 14. And that was a time of a great deal of unrest and revolution in Portugal and that's some... I don't quite know the reason, but she watched this. And anyway she married... she'd had a very traumatic childhood and... and youth and when she found my father they got married and were... were well-adjusted, I think, quite happy. My father was tolerant. He was a... a liberal, he... at the time we had a... we lived under a dictatorship. For 28 years Portugal had a dictatorship of António de Oliveira Salazar who was supposed to be a good dictatorship... a good dictator. Doesn't... there doesn't exist such a thing as a good dictator, or even a benevolent dictator, it doesn't exist. It was oppressive; he shut down all the teacher training schools, he... people stopped school. The school was between six years old and 10 years old, that's all you did. And you learnt the kings of Portugal and... and the rivers. And even... even the railways and all that, that's all you learnt. Anyway, we lived under a very, very oppressive regime for 28 years. My father was very much against the regime. He... my grandfather... my father was against the regime. My grandfather had been against the monarchy, as a matter of fact. And then when he... when I was very little, he decided to take my mother and carry on his studies in Marconi in England.
Portuguese painter Paula Rego (1935-2022) became part of the London Group in 1965, was shortlisted for the Turner Prize in 1989 and became the first Associate Artist of the National Gallery in London in 1990. Her work is strongly influenced by folk and fairy tales, especially those of her homeland.
Title: A Portuguese childhood
Listeners: Catherine Lampert
Catherine Lampert is an independent curator, art historian and Visiting Professor at the University of the Arts. She was director of the Whitechapel Art Gallery (1988-2001) and has been a model for Frank Auerbach since 1978. Her recent projects include exhibitions of Rodin (Royal Academy 2006) and Lucian Freud (Dublin, Denmark and The Hague 2007-2008) as well as a book on Francis Alys (Turner Libros) and a catalogue raisonné of Euan Uglow's paintings (Yale University Press 2007).
Duration: 4 minutes, 7 seconds
Date story recorded: August 2007
Date story went live: 17 July 2008