NEXT STORY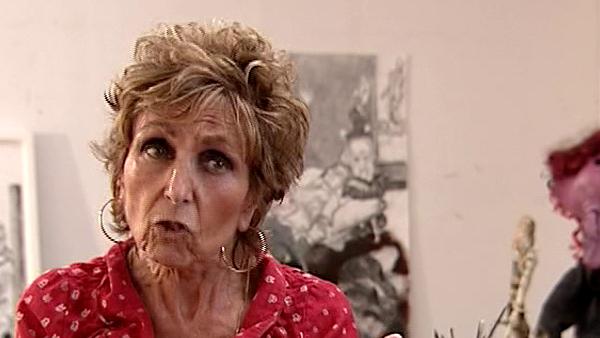 Moving out of collages gets me an exhibition
Getting back into work with sculptures
1
2
3
4
5
6
I had to go through a whole process of still doing art, using collage and painting it, which I couldn't get out of, until my friend said: 'Why do you have to cut it up?' Freedom. That's it. Simple as that. It wasn't simple. You need the right person at the right time. And I was very, very lucky to have had that piece of advice, because I don't think Vic... Vic was noticing. He was...had too many problems of his own. And... but Juão noticed, and helped me. Really helped me. And then slowly, when I began to draw again, that was okay. That, you know, just one thing led to another, led to another, and so on. So drawing's always been a kind of line out of... out of trouble, really. One hopes. Oh my God. But I never show those pictures. Will never show them. It's so embarrassing. I also did some sculptures; do you know? I did dolls. Dolls. Not proper dolls. I did a pregnant princess, which is a... a grotesque girl with an enormous tummy. And I had a show of them in Lisbon in my gallery. And when my dealer was carrying this... this incredible horror, a woman went by and looked at it and crossed herself. She was so horrified by what she'd seen she thought it was real. And I did the one... I did... they were all sewn, in a machine, and sewn, did all sorts of creatures. And... and showed them. But I was deeply embarrassed afterwards. I would never... never show them again. I saw one the other day. It wasn't as bad as all that, actually, but I know, particularly as now I do these things. So there is a connection somewhere. One doesn't change that much, really.
Portuguese painter Paula Rego (1935-2022) became part of the London Group in 1965, was shortlisted for the Turner Prize in 1989 and became the first Associate Artist of the National Gallery in London in 1990. Her work is strongly influenced by folk and fairy tales, especially those of her homeland.
Title: Getting back into work with sculptures
Listeners: Catherine Lampert
Catherine Lampert is an independent curator, art historian and Visiting Professor at the University of the Arts. She was director of the Whitechapel Art Gallery (1988-2001) and has been a model for Frank Auerbach since 1978. Her recent projects include exhibitions of Rodin (Royal Academy 2006) and Lucian Freud (Dublin, Denmark and The Hague 2007-2008) as well as a book on Francis Alys (Turner Libros) and a catalogue raisonné of Euan Uglow's paintings (Yale University Press 2007).
Duration: 1 minute, 59 seconds
Date story recorded: August 2007
Date story went live: 17 July 2008