NEXT STORY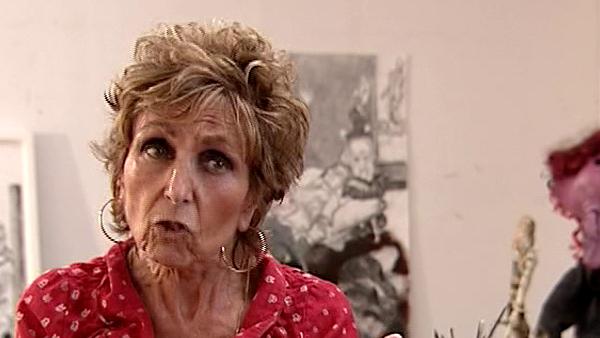 Visiting the room of Harry Darger
My growing success leads to my own version of the Vivian girls
1
2
3
4
5
6
The show at the Air Gallery got reviewed by John McEwen in The Spectator, and it was well received and had quite a few visitors. And I think some pictures were bought from there. And then I was approached by Alexis Hunter — a conceptual artist — and she was with Edward Totah, the Gallery, and she asked me would I show with her at Edward Totah, which was very nice. Oh, I was so happy. So we had a show together and with somebody else, with Mike... Mikey Cuddihy and we showed a show at Edward Totah in Floral Street. And I did a series of pictures of... with rabbits... rabbit cutting off his carrot, which was like a phallic thing, the cabbage ironing and the cabbage was my mother. And I said to her, this is... she said to me, 'Oh, that's nice'. I said 'That's you', and she... you know, she said, 'You make me look so young'. My mother knew a lot about... about pictures, you know, she really could tell what I'd done, one of the few people. And she always said to me, 'Oh, my daughter does these things...' and then she's embarrassed. It's true, so true... so true. And I showed at Totah, I showed several times with him.
I did a series of operas that were shown in New York. Moira Kelly took a lot of artists to New York to celebrate the 8 in the '80s which was some... something to do with... I can't remember why. Arno [sic] and... and I remember... and anyway... because I... there was a short time. She said, 'Can we have...' I don't know how many pictures. I said, 'Oh God, it's not long, four months'. So I not... I managed to do quite a lot of operas. I think there were about eight very, very large 2.5m high, 1.5m wide, operas because I was given the subject matter, all the operas I'd seen with my dad. My father had had a box in Lisbon and he'd taken... he used to take me to the opera sometimes. And I did all the operas that we'd seen. It was quite easy because you have a book with the story, you'd have the story, and you'd start putting the characters down and you'd draw them. So I had the paper on the floor, I started on the left-hand side up there, and I drew with a brush... with a brush I drew the very... Rigoletto and Aida, La Boheme, all those well-known operas, I drew them. So I had... in no time at all, I had all these pictures ready to go to New York. They went to New York and they were hung in a gallery in... Princes Street, or something. And... and so then they came back again. I don't think anybody bought them, nobody took much notice of them, I don't think. Anyway, the Totah... then Lewis Biggs showed them in... down at... in the Arnolfini in... in Bristol, which was very nice, know when they came back from America, and then I had another show at to... at Totah with the Vivian Girls, because the Vivian Girls are an invention of an outside... I got very interested in outsider artists.
Outsider artists are artists that have an inner compulsion to do pictures and to show things that are special to them and they haven't had any... any training of any sort. Some of them are mental patients, some of them are... are people who live in a strange way and so-on, and they're compulsive. And there was one artist called Henry Darger, who actually was... worked in a hospital, cleaning the floors, and he did a series of paintings which are truly marvellous on Vivian Girls. The Vivian Girls were a group of girls that lived in this... he also wrote a novel of I don't know how many thousands of words to accompany that. Vivian Girls lived in this country and they were occupied by some alien soldiers, some nasty soldiers that, if they got hold of them, would actually beat them, crucify them and tear them to bits. And they were helped in their fight by magical animals, birds with wonderful wings and creatures — half bird, half insect — invented... invented magical creatures. And they were shown in 1979, I think it was, was it? At the Hayward Gallery. It was done... a show done by Victor Passmore... by Victor Musgrave... Yup. Victor Musgrave. And then I got very friendly with... because I... I'd known Victor Musgrave before because he wanted to give me a show once, and he didn't; he showed... in fact he showed Bridget Riley. Opposite. We are opposite. So he, he told me about these Vivian Girls and... and then I became very involved with Monika's Outsider Archive and I... I saw all the books, everything there was to be seen of the Vivian Girls. I even... and I did a lot of pictures of my own stories, my own version of all these girls running wild, breaking the china, being eaten by their mothers, as windmills, at the end of the world, all this... all this magic. They were quite big pictures and they were painted in acrylic so they were drawn... drawn and quite, quite heavily painted, in the garden. And all these pictures were shown at Totah and I... I sold a couple, I think. They were also shown in New York in a gallery called Art Palace, but nothing was sold there.
Portuguese painter Paula Rego (1935-2022) became part of the London Group in 1965, was shortlisted for the Turner Prize in 1989 and became the first Associate Artist of the National Gallery in London in 1990. Her work is strongly influenced by folk and fairy tales, especially those of her homeland.
Title: My growing success leads to my own version of the Vivian girls
Listeners: Catherine Lampert
Catherine Lampert is an independent curator, art historian and Visiting Professor at the University of the Arts. She was director of the Whitechapel Art Gallery (1988-2001) and has been a model for Frank Auerbach since 1978. Her recent projects include exhibitions of Rodin (Royal Academy 2006) and Lucian Freud (Dublin, Denmark and The Hague 2007-2008) as well as a book on Francis Alys (Turner Libros) and a catalogue raisonné of Euan Uglow's paintings (Yale University Press 2007).
Duration: 6 minutes, 34 seconds
Date story recorded: August 2007
Date story went live: 17 July 2008