NEXT STORY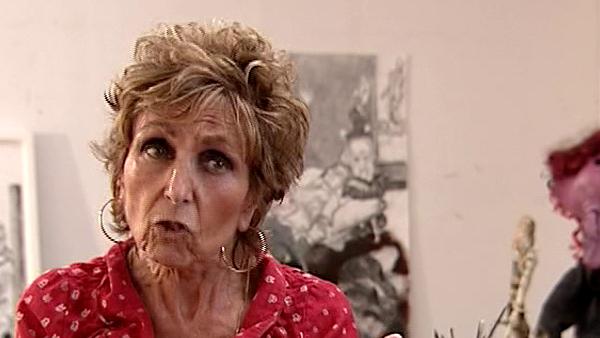 Becoming a businessman's wife
Visiting the room of Harry Darger
1
2
3
4
5
6
I was asked to teach at the Slade, which I... I did because I needed the money. And I had tutees. Charlotte Hodes was one of mine. And I used to hide in her room so that I wouldn't have to go and talk to a lot of people because, you know, I was not a good teacher, didn't know what to say. I'd just say if I didn't like the work. I... I didn't want to say, I wasn't quite sure anyway. I can't tell good from bad, you see, it's very difficult. So I didn't like it, but I did teach a lot at... I did teach a bit at the Slade. And then later on, when I'd shown these pictures, I went with Monika to Chicago, did a pilgrimage to Harry Darger's room; Harry Darger had died and they'd found him in the room and his... his landlord had been... Lerner... Lerner is his name. And he... he was married to a Japanese lady. And they let me... we went into his room and it was still packed. He still had folded... folded books and things and drawings on the bed. I believe he used to sleep on the chair because he had no room to sleep on the bed because it was covered with stuff. And there were pictures on the walls of Shirley Temple. What he used to do, he used to take photographs, take pictures from magazines of little girls and then have them blown up to fit the picture, the space in the picture, and trace them. And then he'd join everything together and colour it. And he was the most marvellous colourist you can imagine, marvellous. So I saw this. I went into his room; I stayed there for a bit. It was, oh, God, and then as I went out, I remember the door closed on my hand. I thought, he doesn't like me there, this is no good, I'm not doing any more of them, and never did, no. That's interesting. Absolutely, no more. And I remember then being shown afterwards in the house drawings that had never been shown before. They were unrolled in front of me, these drawings of these girls crucified with all their intestines taken out, and brutally... brutally torn up. And all these extraordinary scenes of violence. And I thought they were extraordinary and... and wonderful. I imagine that people would be shocked by them but I thought they were marvellous and made sense. I think they won in the end; the magical animals managed to make them win in the end of the book. That... I finished that... then I finished with them.
Portuguese painter Paula Rego (1935-2022) became part of the London Group in 1965, was shortlisted for the Turner Prize in 1989 and became the first Associate Artist of the National Gallery in London in 1990. Her work is strongly influenced by folk and fairy tales, especially those of her homeland.
Title: Visiting the room of Harry Darger
Listeners: Catherine Lampert
Catherine Lampert is an independent curator, art historian and Visiting Professor at the University of the Arts. She was director of the Whitechapel Art Gallery (1988-2001) and has been a model for Frank Auerbach since 1978. Her recent projects include exhibitions of Rodin (Royal Academy 2006) and Lucian Freud (Dublin, Denmark and The Hague 2007-2008) as well as a book on Francis Alys (Turner Libros) and a catalogue raisonné of Euan Uglow's paintings (Yale University Press 2007).
Duration: 3 minutes, 1 second
Date story recorded: August 2007
Date story went live: 17 July 2008