NEXT STORY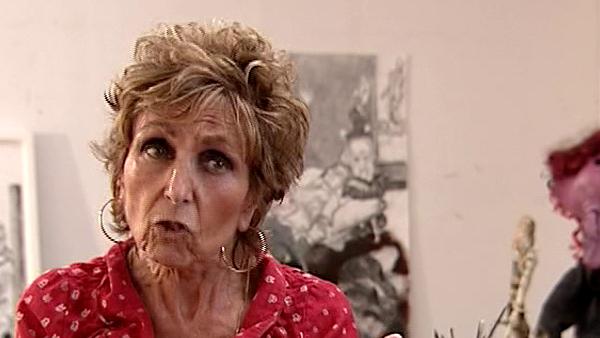 An only child gets more attention
'Look out, here comes great-grandfather!'
1
2
3
4
5
6
So I was left with my grandmother and my grandfather in Lisbon... in a flat, but it had a garden. You go... went down some steps and there was this... this big garden with chickens in it. And Lucia, who looked after the house, was the maid there and she... she looked after the chickens, looked after all of us. And in that house, in that magical flat which I shall never forget, because I loved being with my grandmother, there lived my grandfather when he was home, because he went out a lot. He was very... and his own father, very, very old — bisavô — who was bald. And that was it. And my great-grandfather lived at a... in a room at the end of a corridor where he was surrounded by saints because he was some kind of lay monk or something. And he had a oratório. What is that? That's a kind of... a cupboard full of saints. What... Wooden carved things? Yes, or I don't know what you call... what you called that. And they... he had this in his room, a huge one packed with saints in there. And he just lived in there and all he did was write prayer books. And he prayed. And then they would say, 'Look out, here comes great-grandfather'. And he had a potty. My dear, the potty was as tall as a chair, so that he didn't have to bend down very low. And he'd crap in there and then he'd bring it across, down the corridor, to empty it in the bathroom. And they'd say, 'Look out, look out, here comes great-grandfather'. And I was supposed to run into the library or something and... 'cause he'd come down and empty it and take it back again. And that was... I'll never forget that. He also had a brother, Miguel, that used to cut his teeth and scare me, you know, when I was a kid. I was very little; I was like one and a half, to two. And he used to scare me. And they used... used to play cards with my great-grandfather, so it was a wonderful place. It had a pig that moved its head in... not a real pig, a toy that moved its head in the dining room and it had... it was a magical place. I loved being there with my grandmother; she was very kind and cosy and my grandfather spoilt me a great deal, which I loved and... until my parents came back. When I was three they returned. I didn't know who the hell they were... didn't know who the hell they were. And yet my grandfather had kept a diary of all the time I'd stayed with him and used to send it off to Chelmsford and... saying, everything that I'd done. I don't know, I've never read it. I won't read it; I can't bear to read old letters. But that... so the... then they took me away; they found out I had TB, the beginning of TB, so we left Lisbon and we went to Estoril, up the coast, to a house that my parents hired, a big house. And that was in 1938.
Portuguese painter Paula Rego (1935-2022) became part of the London Group in 1965, was shortlisted for the Turner Prize in 1989 and became the first Associate Artist of the National Gallery in London in 1990. Her work is strongly influenced by folk and fairy tales, especially those of her homeland.
Title: 'Look out, here comes great-grandfather!'
Listeners: Catherine Lampert
Catherine Lampert is an independent curator, art historian and Visiting Professor at the University of the Arts. She was director of the Whitechapel Art Gallery (1988-2001) and has been a model for Frank Auerbach since 1978. Her recent projects include exhibitions of Rodin (Royal Academy 2006) and Lucian Freud (Dublin, Denmark and The Hague 2007-2008) as well as a book on Francis Alys (Turner Libros) and a catalogue raisonné of Euan Uglow's paintings (Yale University Press 2007).
Duration: 3 minutes, 41 seconds
Date story recorded: August 2007
Date story went live: 17 July 2008