NEXT STORY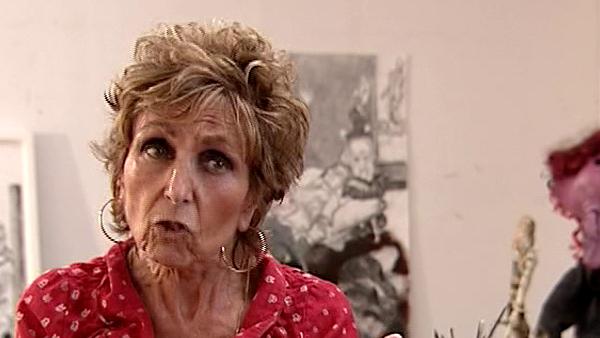 Creating subjects for my work
The process of creating a picture
1
2
3
4
5
6
I think that, first of all, you've got to have a subject matter. Before you start, you've got to have a subject matter. It's terribly important to have what I call a story. Once... and then sometimes you have to do studies, and... and... I used to do lots of drawings from my head, to try and find out what it was that I wanted to say, and... and then I would then get models and set them up, and copy those, and put them in pictures. Get the setting... the setting which would... often would be of houses I had — like my house in Ericeira — not knowing where else to put the scenes, and then, more recently, where I have actually found that it's more difficult to... to draw from my head, I've actually set up scenes in here, and built up things from props that I've hired, from... for, you know, for television props and all that, and I've hired all these things. I've even hired trees I've had in here, and then I set it all up, and... and copy that. Once you're... you're involved in that... well, I mean you're desperate to... to finish it, really. And the... the transformations that it goes through are colossal. You take the most enormous risks, in the sense that, for instance, in one picture, there was a girl falling out of the window, and you're... you're taken with... with bizarre wishes to do. For instance, I had a bizarre wish to do the girl huge, very huge, you know... and I did it huge, and then I had to undo it, and then I did it again. And even the little — this is Celestina's House — even the little figure in front, was actually the mother holding... asking to be picked up. Well, she can't be picked up, because her daughter's falling, you know, it's one of those things. And even the mother... I had to do it dozens of times, before I got the right character, the right position, the right story, the right meaning there. And it was an ambiguous thing, you see, and... so that takes a lot... a lot of changes take place in the pictures, a lot, a lot, a lot, a lot, a lot... yeah... and they... they, you know. And then, and whilst doing it, you see, you very often find out, my dear, you find out that it's not what you intended in the first place. And that is why it's so fascinating, 'cause you discover that, you know, you're sometimes ambiguous about things that you didn't think you were, you know that? Because there is a picture many, many, many, many years ago; I did a Salazar vomiting the mother country, okay, and there's this... this horrible monstrous idiot, and I put him bending down, throwing up this... this sausage, which was his mother country. But... this was so long ago, but even doing that, my dear, I even then sadly felt, a bit sorry for him, you know. I felt... I felt a feeling for him that wasn't allowed, and it certainly wasn't even in real life, true. But in the picture it was allowed. So the picture actually allows you to feel all sorts of forbidden things, and that is why you do pictures, because you... you get at things that you didn't realise, actually, and you're allowed to do, even outrageous things and everything.
Portuguese painter Paula Rego (1935-2022) became part of the London Group in 1965, was shortlisted for the Turner Prize in 1989 and became the first Associate Artist of the National Gallery in London in 1990. Her work is strongly influenced by folk and fairy tales, especially those of her homeland.
Title: The process of creating a picture
Listeners: Catherine Lampert
Catherine Lampert is an independent curator, art historian and Visiting Professor at the University of the Arts. She was director of the Whitechapel Art Gallery (1988-2001) and has been a model for Frank Auerbach since 1978. Her recent projects include exhibitions of Rodin (Royal Academy 2006) and Lucian Freud (Dublin, Denmark and The Hague 2007-2008) as well as a book on Francis Alys (Turner Libros) and a catalogue raisonné of Euan Uglow's paintings (Yale University Press 2007).
Duration: 3 minutes, 34 seconds
Date story recorded: August 2007
Date story went live: 17 July 2008