NEXT STORY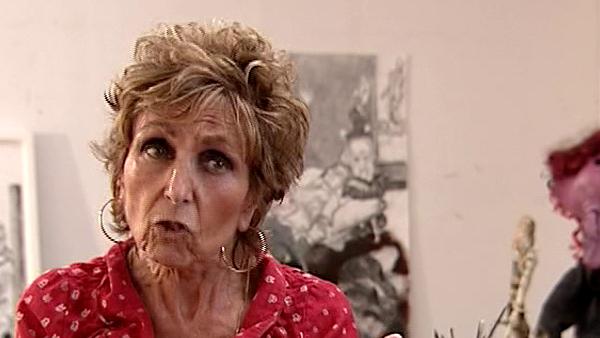 Living without Victor Willing
I hate doing self-portraits
1
2
3
4
5
6
I think that it would have been a lot easier doing those drawings, to have used photographs, for instance, but I've never, ever used photographs. You can't see anything in photographs at all. You don't see. And, I can… I've never, I've never used photographs. I… I used once of a… a cow, I used a photograph of a face of a cow, for one of the Virgin Mary pictures, but that's all, but I've never used photographs, ever. You can't, no. You can't… you can't see anything. Even if you blew it up, you couldn't see… the form or… can't even see the outline, it's all blurry. I don't like it. Do you use mirrors or anything like that, in the studio, to see the back or the side or the… or… or have you painted yourself? Have I painted myself? I have painted myself; no! I don't like painting myself. I hate painting myself. I can't bear to look at myself, and I have other people that stand in for me, and that's what Lila does. She is me in lots of pictures, although better than me. I'm doing things that… that I don't do, you know, that I think she stands in for me. But I never paint myself; I hate it. Hate it. Once I tried to do a self-portrait and it… it was disgusting, and I hope I don't look like that, but it looked horrible. No, I never do. I did once… I did a… actually, I did do a lithograph for Jane Eyre, called Self Portrait with Grandchildren, and I did do myself in it, 'cause it needed another figure and I said I might as well, so I plopped myself in there, yeah, Lovers and Dogs, yes, I did do that, but normally I don't… I don't. Never.
Portuguese painter Paula Rego (1935-2022) became part of the London Group in 1965, was shortlisted for the Turner Prize in 1989 and became the first Associate Artist of the National Gallery in London in 1990. Her work is strongly influenced by folk and fairy tales, especially those of her homeland.
Title: I hate doing self-portraits
Listeners: Catherine Lampert
Catherine Lampert is an independent curator, art historian and Visiting Professor at the University of the Arts. She was director of the Whitechapel Art Gallery (1988-2001) and has been a model for Frank Auerbach since 1978. Her recent projects include exhibitions of Rodin (Royal Academy 2006) and Lucian Freud (Dublin, Denmark and The Hague 2007-2008) as well as a book on Francis Alys (Turner Libros) and a catalogue raisonné of Euan Uglow's paintings (Yale University Press 2007).
Duration: 1 minute, 58 seconds
Date story recorded: August 2007
Date story went live: 17 July 2008