NEXT STORY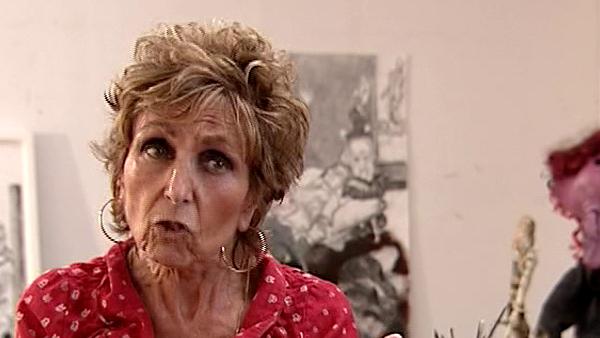 Portuguese folk tales
19th century costumes in my Jane Eyre pictures
1
2
3
4
5
6
Sometimes, when I do pictures, like Jane Eyre, for instance, which is... takes place in the 19th century. I love the 19th century, 'cause it's like Portugal; Portugal's like the 19th century, or was, 'til recently. And I think, the thing about using, I mean, only thing that's of that century are the costumes, because the rest is like today. I mean, Jane Eyre herself, could very well be a Portuguese girl, and how, and... and it could take place even now, you know. Boarding school being, you know, being badly treated by her aunt, all that. I think I see Jane Eyre, as a... very... very much like... she could be very much Portuguese, identify with her rather a lot. So the... the clothes are... are the added bonus, because you can dress them up, in these big skirts, and just doing the... the materials, is a delicious thing, that you can get all the foldings and everything, in place. And it's delicious, really, it makes it... makes the picture more... more full. The men are good too, men... well, Tony dressed up as Mr Rochester, of course, I got a plastic horse; I had to get a plastic horse. The only trouble was, they couldn't get a bit in it, 'cause its teeth were all clunked together, and so the bit was hanging outside, and he was sitting on this plastic horse, of course it was very slippery, and extremely uncomfortable. But he did all right, and I managed to draw a horse. Doing a horse is the most difficult thing there is really, and I couldn't get a stuffed horse in here, so I got a plastic one, which was pretty good. It was a pretend horse; anyway, he could have been sitting on a pretend horse. It's pretend Mr Rochester, pretend everything. And you read the book again and again. You read the book... I read the book endless times. I read Jane Eyre over and over and over again. And over and over and over again. I had... — I don't know how many copies — one here and one at home and everywhere, and I just, yeah, I got right in there with... with her, and... and Bertha, poor Bertha. And I got the monkey; that was Bertha's monkey when she only... the only creature she could get, so... so that she could kiss, was this monkey. And it's... actually the monkey I bought, is from 1840, so it's exactly coincides with the book, and it's beautiful, that monkey. You get in there with the book, you get in there with them, and everything. I can't make up my own, I mean, it's either autobiographical, using animals, or then you get into some kind of story.
Portuguese painter Paula Rego (1935-2022) became part of the London Group in 1965, was shortlisted for the Turner Prize in 1989 and became the first Associate Artist of the National Gallery in London in 1990. Her work is strongly influenced by folk and fairy tales, especially those of her homeland.
Title: 19th century costumes in my "Jane Eyre" pictures
Listeners: Catherine Lampert
Catherine Lampert is an independent curator, art historian and Visiting Professor at the University of the Arts. She was director of the Whitechapel Art Gallery (1988-2001) and has been a model for Frank Auerbach since 1978. Her recent projects include exhibitions of Rodin (Royal Academy 2006) and Lucian Freud (Dublin, Denmark and The Hague 2007-2008) as well as a book on Francis Alys (Turner Libros) and a catalogue raisonné of Euan Uglow's paintings (Yale University Press 2007).
Duration: 2 minutes, 54 seconds
Date story recorded: August 2007
Date story went live: 17 July 2008