NEXT STORY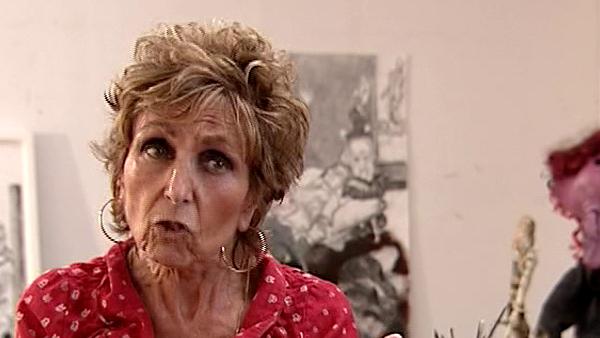 How my work changed after 1993
My commission for Crivelli's Garden at the National Gallery
1
2
3
4
5
6
I was asked to go to the National Gallery, to be an Associate Artist, and I was…I… I liked being there. I was… I mean they were very nice to me, and Colin Wiggins was very helpful, and he took me in front of pictures. I didn't know which pictures to choose, because I… I liked The Battle of [sic] the Lapiths and the Centaurs, by Piero di Cosimo. That's the only picture I used to go and look at, before, was that picture. You know, they're biting the ears off the…. and I love that picture, but the… but there were other things that I… I copied, and then he took me in front of the Crivelli, the Crivelli's Garden. He said, you know, you can tell what Crivelli's house was like, what, from the garden... from the… you can tell what it was like from looking at it, because it had… it had, ah, his garden, and little niches, and little rooms, where the… each one had a saint in it, and it had the lives of the saints were sort of in it, so I thought: oh, that's a good idea. So that's what I decided to do. They asked me to do this… this thing for the coffee…coffee-house there, and I thought: well, let's do something that's unobtrusive. You don't want to have dinner with a lot of flashy paint around, do you really? So let's pretend they're Portuguese tiles, which are beautiful — blue and white — and discreet. So I decided to do it all like that, and then I put in the stories of all the saints — women saints — in the pictures, in the National Gallery, and I did the drawings for that in Portugal, as a matter of fact, and I did the first painting in Portugal, big painting in Portugal. And then I got to the third picture, and I got into dreadful trouble. I couldn't make it work. And my dear friend Tilly said: 'Well, it's no good throwing good work after bad. Better start again'. Well, I said, 'Well, yeah, you're right. And… and she's so right, you know, she knows… she knows. And so I did. I started all over again. There weren't enough saints to go round, so I decided to put in mythological stories, and even folk… and little pictures of folk stories, with the woman, putting the baby on to the pond, on to that… fountain. So that's all covered. The whole thing is full of stories. It's just story after story after story. And I did other pictures at the National Gallery, including Rudy's picture. And then after I left there and I went to Islington to a small… a small —belonging to Stephen Cox— in a studio there. It was difficult as well to get started again. And… and so I did a few pictures there and… and then came here.
Portuguese painter Paula Rego (1935-2022) became part of the London Group in 1965, was shortlisted for the Turner Prize in 1989 and became the first Associate Artist of the National Gallery in London in 1990. Her work is strongly influenced by folk and fairy tales, especially those of her homeland.
Title: My commission for "Crivelli's Garden" at the National Gallery
Listeners: Catherine Lampert
Catherine Lampert is an independent curator, art historian and Visiting Professor at the University of the Arts. She was director of the Whitechapel Art Gallery (1988-2001) and has been a model for Frank Auerbach since 1978. Her recent projects include exhibitions of Rodin (Royal Academy 2006) and Lucian Freud (Dublin, Denmark and The Hague 2007-2008) as well as a book on Francis Alys (Turner Libros) and a catalogue raisonné of Euan Uglow's paintings (Yale University Press 2007).
Duration: 3 minutes, 2 seconds
Date story recorded: August 2007
Date story went live: 17 July 2008