NEXT STORY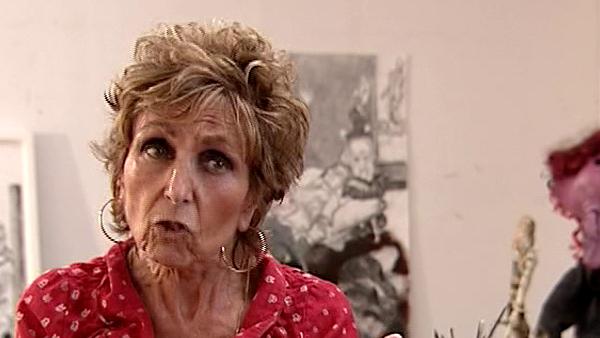 Why I chose to use pastels in Dog Women
How my work changed after 1993
1
2
3
4
5
6
I came to this studio in '93, which was... which was marvellous, because then here I could really, you know, do everything. I think of... almost from '93, is a whole 'nother kind of work, too, that changed. The work changed completely. I brought... when I came in here, I brought a picture called The Barn, which is based on a painting by Tintoretto, of the Nativity in a barn, and a composition, it's got the creatures below — cows or something below — then the...the Nativity, and then the sk..., the roof of the barn. And I put... I had just read a book by Joyce Carol Oates that I liked very much, called Haunted, and it told a story about these girls being... I can't remember the story now, but I did a picture based on that story. And it's got a girl lying down being beaten by two girls, and I threw everything in there. Everything. The perspective was... was that. I wanted... I wanted to have to see above, and to see below, and to see across and to see over to the other side, so that you had this kind of feeling of... of depth and...and then I tucked things everywhere. I put chickens there, I even put my mother in her dressing gown, going out at the top there, and then I put a melon hanging down below, a really sexy melon, all cut up and bleeding, you know, with its black pips. And... and then next to it, I put a little doll, Portuguese doll, dressed up in a Portuguese way, and... and lots of straw, and...and that... that finished... I finished that in a year. And that's at the Berardo now. But... it was quite...it was quite...it took me quite a long time to do that. And after that, I started Dog Woman. It was after that I started Dog Woman.
And you got a model? For it?
No. It wasn't after that I started Dog Woman. I made a mistake. Because I did characters after that, of the girl suckling the man, giving him her... her milk. And... but, yes. And then I...then I done the... that Dog Woman. I... I brought her in here, the... the little sketch. And I... and I squared it up, and put it on a pic... on a picture, and tried to do a picture. And then that... that just...then I got... I got hooked on pastels, you see, doing it on... with pastels, it was quite, quite different from acrylic. Quite different.
Portuguese painter Paula Rego (1935-2022) became part of the London Group in 1965, was shortlisted for the Turner Prize in 1989 and became the first Associate Artist of the National Gallery in London in 1990. Her work is strongly influenced by folk and fairy tales, especially those of her homeland.
Title: How my work changed after 1993
Listeners: Catherine Lampert
Catherine Lampert is an independent curator, art historian and Visiting Professor at the University of the Arts. She was director of the Whitechapel Art Gallery (1988-2001) and has been a model for Frank Auerbach since 1978. Her recent projects include exhibitions of Rodin (Royal Academy 2006) and Lucian Freud (Dublin, Denmark and The Hague 2007-2008) as well as a book on Francis Alys (Turner Libros) and a catalogue raisonné of Euan Uglow's paintings (Yale University Press 2007).
Duration: 2 minutes, 39 seconds
Date story recorded: August 2007
Date story went live: 17 July 2008