NEXT STORY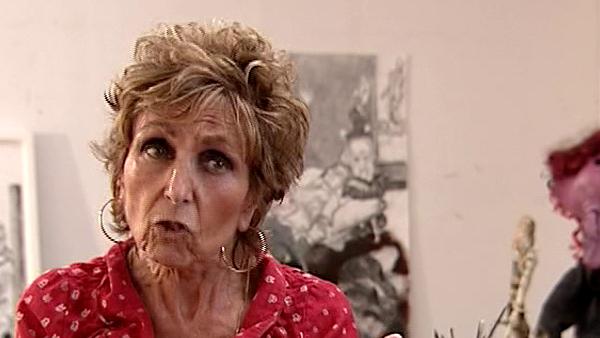 I've loved film all my life
Why I chose to use pastels in Dog Women
1
2
3
4
5
6
First of all you didn't have to use brushes, which is always a temptation, the brushes you've got. You've got the brush mark, and you've got to... you know, brush marks... are very evident. You... you look at brush marks, because you think that they're expressing something, now, don't you? And you think that they're... they're, you know, they... they've got some kind of life... that they give some kind of life to what you're doing. And the emotion comes across in brush marks, so that's... so many expressionist artists are... couldn't do it without brush marks. And...I didn't want to have brush marks, you see, because I... that would have taken me in a way that I couldn't do properly, I don't think. You never know. You never know. I didn't. And so...I thought, well if I draw, the pastel is drawing. You draw...around the figure, and you draw inside the figure, you draw everything in the figure, you draw the knees, the thighs, the clothes, everything is drawing. You don't fill in. You draw. And painting seemed to me like either you fill in and then you're kind of like colouring prints, right? Which is a lot easier, or then you have to consider how you're going to make the shapes with the brush, and all that, and I'd rather do it with... with the pastel — with the sticks — with the pigment sticks. Some... I bought all different kinds. Hard ones, soft ones. I preferred the really hard ones, because they gave you resistance, so you could actually push, and... and scratch with them, which was very nice, and... and draw, and... and then you'd... you'd use the softer ones for later, for the top layer or something like that. So I began... I did one, I did the first Dog Women, and then I did the second Dog Women, which is Waiting for Food. They're sitting there, in a... in a dog pound, waiting to be fed, you know, like this, oh, please. And, but you know that once they're fed they might get up and do something horrible. And then sleeping on her owner's coat, and... and grooming. Grooming one is the really sexy one, where she's, you know, licking herself, getting ready... getting ready. And to appear for her lover, etc. She's licking herself, and that... I did one of each. I did one of each. I'd even done a drunk one. A drunk Dog Woman.
Portuguese painter Paula Rego (1935-2022) became part of the London Group in 1965, was shortlisted for the Turner Prize in 1989 and became the first Associate Artist of the National Gallery in London in 1990. Her work is strongly influenced by folk and fairy tales, especially those of her homeland.
Title: Why I chose to use pastels in "Dog Women"
Listeners: Catherine Lampert
Catherine Lampert is an independent curator, art historian and Visiting Professor at the University of the Arts. She was director of the Whitechapel Art Gallery (1988-2001) and has been a model for Frank Auerbach since 1978. Her recent projects include exhibitions of Rodin (Royal Academy 2006) and Lucian Freud (Dublin, Denmark and The Hague 2007-2008) as well as a book on Francis Alys (Turner Libros) and a catalogue raisonné of Euan Uglow's paintings (Yale University Press 2007).
Duration: 3 minutes, 10 seconds
Date story recorded: August 2007
Date story went live: 17 July 2008