NEXT STORY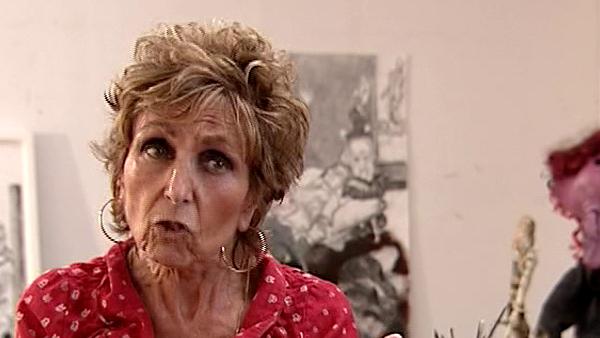 The Father Amaro series: Amongst the Women and Mother
My last year at The Slade
1
2
3
4
5
6
What happened towards the end of The Slade, was that I... I didn't... I didn't go on with enthusiasm. What happened was I actually took refuge in the print room. In the print room you didn't have to do art, you see. You could do drawings, and then reproduce them and stories. You didn't have to do art. And so I took refuge in there, and... and Tony Gross, who was teaching there, didn't advise you to do aquatint, which was a mis... big mistake, he said you could do everything with line, and later on I learned with Barto dos Santos how to do aquatint, which was of course, was a new discovery, but I always found print... print making enormously good, because it gets you... it gets your...it frees your imagination, you see, and you can do as many things as you want, whilst... you can also free your imagination if you're doing drawings from your head, which I did lots of studies for The Dance, and lots of studies for various things for The Family and all those early pictures. And then later on I began to do it less and less, although I... I did do a series, from my head... when you're very intense about something, and you want to put something across, which is quite personal, and quickly, in secret... a secret, you draw it... draw it. And I did a thing... thing called Misericordia, which is about an old lady being... having her bottom cleaned and being looked after and all that. And I did that, I came in here, I did that just... just as my mother was dying. It was about her. And I thought, well, I will never... never show this. This is completely private. This is, you know, which of course it is. But then you get kind of show-offish, and then you, and then after a bit the meaning of it, and the intensity seems to... to not to be so... so private any more. And then you show it... show it to somebody, you know, close to you, and they say, well... I showed it to Alberto, as a matter of fact. I remember. Oh, he liked it, you know, and so... and so that's very, very private things. I do very, very private things. I draw from my head. Yeah. I do. But then, other things I don't draw from my head. And I began to draw from figure, for two reasons. For giving up smoking and having to hold the... the drawing board and drawing with my... my right hand. You don't do anything with your left hand, you draw from looking at, you see. I could never... I could never draw trees and things. I did try once, for characters... in Estoril. I went into... they've got very gnarled trees there. But all... The wind, all blown over by the wind, and I did do some drawings of those, which I used in the pictures. But I find it very difficult. And I did... and I... and I drew, I copied what I saw. I copied what I saw. And that happened with the pastels as well. It became entirely that. Entirely. The scenes were set up and I'd copy them. But that's how it is, even now, you see.
Portuguese painter Paula Rego (1935-2022) became part of the London Group in 1965, was shortlisted for the Turner Prize in 1989 and became the first Associate Artist of the National Gallery in London in 1990. Her work is strongly influenced by folk and fairy tales, especially those of her homeland.
Title: My last year at The Slade
Listeners: Catherine Lampert
Catherine Lampert is an independent curator, art historian and Visiting Professor at the University of the Arts. She was director of the Whitechapel Art Gallery (1988-2001) and has been a model for Frank Auerbach since 1978. Her recent projects include exhibitions of Rodin (Royal Academy 2006) and Lucian Freud (Dublin, Denmark and The Hague 2007-2008) as well as a book on Francis Alys (Turner Libros) and a catalogue raisonné of Euan Uglow's paintings (Yale University Press 2007).
Duration: 3 minutes, 32 seconds
Date story recorded: August 2007
Date story went live: 17 July 2008