NEXT STORY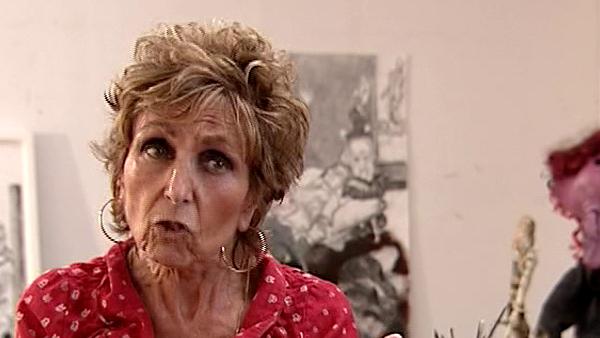 Black-and-white drawings
Metamorphosis
1
2
3
4
5
6
I've done him several times, and later on he was actually in my Metamorphosis, that picture where he's naked, and because...who was it? Marina... Marina Warner asked me, 'Could you do Ovid Metamorphoses?' 'Oh, God, I can't do Ovid at all,' I said, 'the... the gods are so unpredictable, my goodness, there's never any...' anyway, I couldn't. So... so Fiona said... Fiona Bradbury said to me, 'Oh, you can't. You can do Kafka'. 'Of course. Of course'. So I thought: well, I'll make Metamorphosis when he becomes a creature, a kind of beetle with a carapace, and he wakes up and he's immensely uncomfortable, and... and his parents are so embarrassed by him, everybody's embarrassed by him, you know, he only gets thrown in food in by his sister, and he ends up hiding under a chair. It's... it's hilarious, and immensely cruel. Oh. And so I then got Tony... he's... 'Oh of course we'll do it'. So I got him... I... I had to rig him up. It was quite extraordinary; it looked like a prison in here. I had to hang ropes from the... from the ceiling to hold up his hands, and hold up his legs, and so on, because they're all... he's... he's flapping around, like an insect. He's... he is become an insect. I did two pictures of those, and drawings. He's flapping around like an insect. And... and it took quite a long time to do, because then the floor; I wanted the floor in perspective, with squares, so that it would go out of the door at the end. And that took ages to do. But it was... he was very good at... at drawing. He was very, very good. It took quite a long time to do that, because it was naked flesh. It's always much more difficult to do than clothes. So he had to be naked, because he was a beetle.
Portuguese painter Paula Rego (1935-2022) became part of the London Group in 1965, was shortlisted for the Turner Prize in 1989 and became the first Associate Artist of the National Gallery in London in 1990. Her work is strongly influenced by folk and fairy tales, especially those of her homeland.
Title: "Metamorphosis"
Listeners: Catherine Lampert
Catherine Lampert is an independent curator, art historian and Visiting Professor at the University of the Arts. She was director of the Whitechapel Art Gallery (1988-2001) and has been a model for Frank Auerbach since 1978. Her recent projects include exhibitions of Rodin (Royal Academy 2006) and Lucian Freud (Dublin, Denmark and The Hague 2007-2008) as well as a book on Francis Alys (Turner Libros) and a catalogue raisonné of Euan Uglow's paintings (Yale University Press 2007).
Duration: 1 minute, 59 seconds
Date story recorded: August 2007
Date story went live: 02 October 2009