NEXT STORY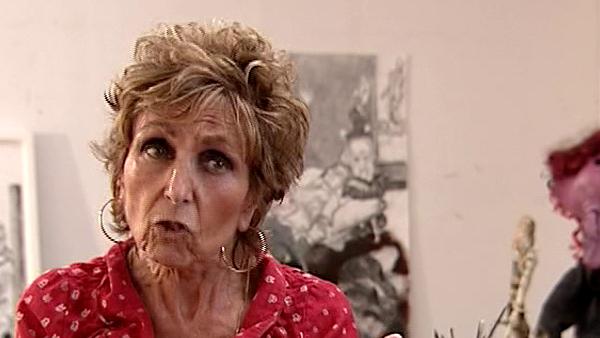 Poverty in rural Portugal
Life in Portugal during the war
1
2
3
4
5
6
When I'm doing a picture and I've got the story and I don't know where to put it, like, you know, the background, the setting for it, I go back to a place I knew as a child and I remember the room. I draw in the furniture and the room and then put the story in there. So I've got... it's like a stage set. So I've got... I've got these memories of rooms where I put... where I put the story in... And the proportion of who's tall and who's small and... Yeah... yeah. And my... when we moved into the new house there was... You see, my father was working in Marconi in Lisbon, that's broadcasting. It had a lot to do with broadcasting and he was involved, I think, with a lot of propaganda that the British, you know, put across and everything. And I think he did... I know he worked for the British because he flew to England during the war. In fact, he took the plane before the one that was shot down with Leslie Howard in it. And they say they thought Churchill was in it but in fact poor Leslie Howard got shot down, and my father had taken the plane before. And I remember my mother being so worried; she even made me sleep in the bed with her, which was... anyway, yeah, and they used to... they used to go to the casino a lot and there was a woman in the casino called Miss Cook, who played the piano. And, you know, she taught us tap dancing and I met her the other day, do you know, after all these years? I... I met her once more and it... it was quite extraordinary seeing her again. She was quite important and she... she's in one of my pictures called Wall, at the bottom. Anyway, they used to go to the casino, they used to come... They'd never gamble; I think they just drank and they danced. They danced a lot in those days.
Then all these refugees... all these refugees turned up; a lot of girls turned up from places like Poland and... and they were very much admired by the Portuguese men because they were blond, tall, and they would sleep with them, you see, where the Portuguese wouldn't, anyway not officially, and then the Portuguese men were crazy about these blonds. And they would be hired to teach children. I did a picture, as a matter of fact, called... what's it called? It's got Toni dressed up as a girl. What's that called? I can't remember. Oh, I know, I know, I know. A recent picture. Yeah, a very recent picture which... because recently I went back to... to relive those... those... because I was doing The Pillowman which is a recent picture. I began to... I did a lot... do a lot of research about Portugal during the war, because I realised, at one point, that The Pillowman — which is the play by Martin McDonagh that I... I loved — had a great deal to do with my... with my father... The Pillowman? Yes, it did. Talking to Marco I thought... it suddenly came to me that it was something to do with... so I... I went to the Imperial War Museum and did up a lot of reading on Portugal and the refugees during the war and the amount of people that passed through Portugal, Saint-Exupéry, Stefan Zweig, Thomas Mann, Max Ernst, immense amount of people. Some stayed for a little while. Saint-Exupéry stayed for a little while, gambled a great deal I believe, and the others just... it was just a way through to America really. And they were... they would catch the... the boats to go to America, the ships, where in the... you had... to have a special permission to be able to leave the country. And a friend once needed permission, had to go to Lisbon to get permission. He'd just arrived; he was a refugee from France; he'd been a resistance fighter. And he'd gone to Lisbon to get a permit and as he was coming towards the quay to catch the boat, there'd been a strike going on with the steve... stevedores in port... in... protesting agai... against the low wages and everything they got. And he saw... as he was getting near, he saw all these men gathered together and shouting and singing and he also saw the Guardia Republicana, which is the guard police on horseback, coming and shooting everybody. They must have shot 300 people. Just flattening, to get through, yeah. And he went on and got in the boat and left as quickly as possible. Not a word of it in the newspapers of course, because there was a great deal of censorship. There was always censorship; all you talked about was... was football. You talked about football but nothing else actually, really. And they say they talked about the Fado, which is our national song, but they... I don't remember them talking about Fado. And Fatima, you know, the apparition, but I don't remember. I remember them talking about football and there wasn't allowed anything. It was terribly censored, no political information, so the word of... by word of mouth people got to... to hear things, you know. And my father knew a lot of things because he'd meet his friends for lunch in the café etc, and they would know, you know what was going on, etc. And this was terrible... a terrible feeling of... of unease and unrest and so-on, but all covered up. It was all going... going on, but all covered up. Then you'd have the smart ladies in Estoril; they would play canasta, sit around tables, play canasta, have... have cocktails, you know, and all this was going on at the same time; this misery and this unbelievable poverty.
Portuguese painter Paula Rego (1935-2022) became part of the London Group in 1965, was shortlisted for the Turner Prize in 1989 and became the first Associate Artist of the National Gallery in London in 1990. Her work is strongly influenced by folk and fairy tales, especially those of her homeland.
Title: Life in Portugal during the war
Listeners: Catherine Lampert
Catherine Lampert is an independent curator, art historian and Visiting Professor at the University of the Arts. She was director of the Whitechapel Art Gallery (1988-2001) and has been a model for Frank Auerbach since 1978. Her recent projects include exhibitions of Rodin (Royal Academy 2006) and Lucian Freud (Dublin, Denmark and The Hague 2007-2008) as well as a book on Francis Alys (Turner Libros) and a catalogue raisonné of Euan Uglow's paintings (Yale University Press 2007).
Duration: 6 minutes, 47 seconds
Date story recorded: August 2007
Date story went live: 17 July 2008