NEXT STORY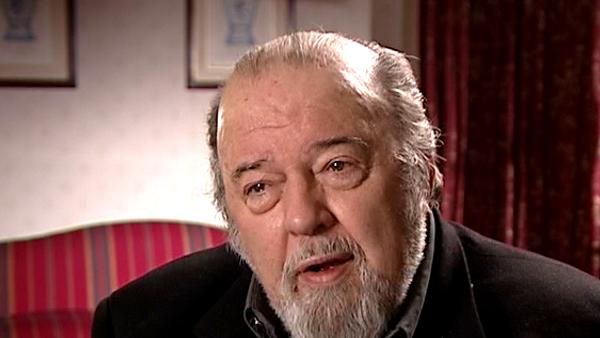 Opera vs Cinema
'I still don't know why an actor accepts a part'
Peter Hall
Theatre director
1
2
3
4
I've told the story of the formation of the RSC [Royal Shakespeare Company] as if it was all roses and it wasn't. It started wonderfully because I asked Peggy Ashcroft, who I'd worked with and who'd become a friend, if she would be the first member of the company and sign on for three years, and without hesitation she said yes and I… I think one owes an enormous debt to her and to her memory and she remained loyal to the company to the end of her days. And where she led, others followed, so that was an enormous help. But there were all other sorts of problems. I mean, actors have to be respected for their changes of mood and their… and their whims. I still don't know why an actor accepts a part. Time and again it happens to me. It happens to me now. I think, well, this part he'll absolutely love to do, and you send it to him and he rings up and he says: 'Are you mad? I don't want to do that'. That's it, the relationship of the actor to the part is so personal and so quirky and so secret, so private. I thought I was in wonderful shape because I set off to start the RSC in 1960, not only with Peggy Ashcroft, but I thought I had Paul Scofield, too. He was going to play Shylock, Petruchio and throw in Thersites in Troilus and Cressida and all was agreed, and all was signed, and all was well. And not long before we started rehearsal for the season – I think it was about three months – I had a letter from Paul, extremely courteous, saying: 'I'm terribly sorry, I know I said I'd come, I know I said I'd do it, I know I've signed a contract but I just don't want to do it. You'll have to forgive me'. Well, one's first reaction, of course, is fury and solicitors and waving contracts, but, you know, you have to be mature enough to understand that you have that reaction and you say, I will never work with Paul Scofield again until I work with him again. And I worked with Paul many times thereafter and had a very happy relationship, so, it… it didn't sour things permanently but it suddenly meant there I was with my first season with no star. Boom! I had just been to Bristol Old Vic and seen a young actor play Hamlet who I thought was one of the most astonishing talents I had ever seen and his name was Peter O'Toole. So I thought, deep breath, let's ask Peter O'Toole to do this line of parts. He was 26, I think. He said yes. First day of rehearsal he arrives for the Merchant of Venice, playing Shylock, and this… this man who had been characterised as having the most wonderful hooter had a tiny, little nose. He'd had his nose fixed, and I said to him: 'What are you… what are you doing?' He said: 'I've had my nose fixed'. I said, 'But you're playing Shylock' and he said: 'I'm going to be a movie star'. So that's how we started the season. He was a sensation. A sensation, I mean, people were queuing up all night to see him and all of that and it was such a… an extraordinary thing that I managed to persuade Anouilh – Jean Anouilh – who was still with us at that time, had just written a play which was frightfully successful in Paris called Becket, about the famous martyr. I persuaded him to let me have the rights of it over the heads of West End managers, as part of our opening season at the Aldwych, because we had our London theatre at that time and it was going to star Peter O'Toole and Eric Porter. And I was thrilled to bits, and halfway through the summer, Peter came into my office and said: 'I've been offered the part of Lawrence of Arabia and I've got to do it'. So one tried to fix that it went later, that he went later, one tried to cajole, one tried to do… Nothing worked and… and Peter went off and became a film star and the rest, as they say, is history. Fortunately, Christopher Plummer, an eminent Canadian actor, jumped into the breach and played Becket wonderfully and therefore although one tells these stories which really don't make for an equable or easy life, there is always somebody else. There always is, and if you're bold enough and courageous enough, I won't say they're often better, but they're often as exciting in a quite different way. And it happens all the time and you have to, you have to… There's a disease which directors are liable to catch, which is casting paranoia, you know, when people say, 'I'm… I'm not going to do it' and they think, 'What's wrong with me? Doesn't he want to work with me?' I wonder… I have to say that only once in my 53 years of directing, have I got the first choice of actors in a play with absolutely no problems whatsoever.
[Q] Your first choice?
My first choice, yes. There were only four characters in the play and there was No Man's Land, Harold Pinter's play. I sent it to John Gielgud who had it one evening, rang me up the next morning and said, 'You're asking Ralph, of course' and I said, 'Of course', and I sent it around to Ralph Richardson and he said, 'Is Johnny doing it?' And I said yes, so then we'd got the two of them. Then we got Terence Rigby and Michael Feast and it was Friday and we were all ready to go into rehearsal in a couple of months' time. But that almost never happens. All of us can cast plays by thinking wouldn't he be good, or wouldn't she be good, but he or she has their own views on whether they want to do it or not. And it's to do with money, where you're doing it, how you're doing it, how often you rehearse, all those sorts of things. But there's still that mysterious area, the no-go area where you simply don't understand why an actor doesn't want to play a part. I think a director also has a similar area. I mean, I… I know that if I get a new play of… of modest competence at the worse, shall we say, if I read it four or five times, I could persuade myself to do it because I… I've thought, well, you could fix that, you could do this, you could do that, you could do that – disaster. You must read the play once and if you, when you finish it, you say, 'I would like to see that' – then do it. And if you haven't got that naked impulse, no. May be a very good play, but doesn't matter. Nerve triggers. No, it's… it's gut instinct, actually.
British-born theatre director, Sir Peter Hall (1930-2017), ran the Arts Theatre where, in 1955, he directed the English-language premiere of 'Waiting for Godot' by Samuel Beckett. He also founded the Royal Shakespeare Company when he was only 29, and directed the National Theatre from 1973 to 1988. He was at the Shakespeare Memorial Theatre in Stratford-on-Avon for two season from 1957-1959. He also directed 'Akenfield' for London Weekend Television and ran the Peter Hall Company, which has 40 productions worldwide to its name. In 1963, he was appointed Commander of the Order of the British Empire (CBE) and in 1977 was knighted for his contribution to the theatre. In 1999, he was also honoured with a Laurence Olivier Award.
Title: 'I still don't know why an actor accepts a part'
Listeners: John Goodwin
Head of Press at the National Theatre (1974-1988), and earlier at the RSC (1960-1974), John Goodwin is the author of a best-selling paperback, A short Guide to Shakespeare's Plays, and co-author of Trader Faulkner's one-man show, Losing My Marbles. He is also editor of the play, Sappho, based on Alphonse Daudet's novel, and editor of a number of successful books, among them, Peter Hall's Diaries, and, British Theatre Design - the modern age.
Tags: RSC, Royal Shakespeare Company, 1960, Troilus and Cressida, Bristol Old Vic, Merchant of Venice, Paris, Becket, West End, London, Eric Porter, Aldwych Theatre, Lawrence of Arabia, No Man's Land, Peggy Ashcroft, Paul Scofield, Shylock, Petruchio, Thersites, Hamlet, Peter O'Toole, Jean Anouilh, Christopher Plummer, Harold Pinter, John Gielgud, Ralph Richardson, Terence Rigby, Michael Feast
Duration: 7 minutes, 2 seconds
Date story recorded: February 2006
Date story went live: 24 January 2008