NEXT STORY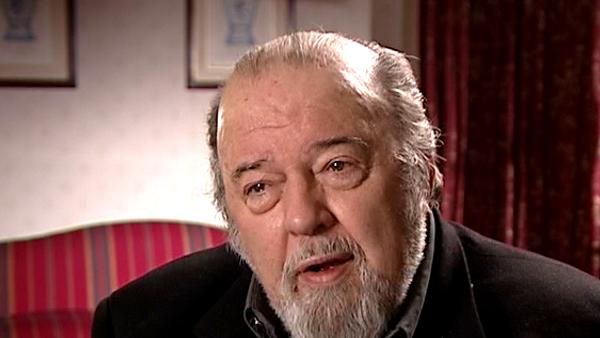 Lucky to be 'lumped' near Cambridge
'Surrounded by adults, adults, adults'
Peter Hall
Theatre director
1
2
3
4
I was born in 1930, at Bury St Edmunds market town in Suffolk. My father was a very low paid railway clerk and I was the only child of my family, not only in the sense of my mother and father, but the whole family. There weren't other... any other little children, so certainly for the first 15, 16 years of my life, Christmases and Easters and all that, were surrounded by adults, adults, adults, adults. Most of my family on both sides were still connected with farms, with farm labouring and with the mechanical things, looking after tractors, things like that. I had an uncle who was a wizard with engines – great for a small boy. Then, when I was about five, we moved to Barnham which is a tiny place between Thetford and Bury St Edmunds, where my father became, for the first time, a fifth grade station master and he had four trains a day, passengers, and one goods train at lunchtime. And there was a staff of three: a signalman, an odd job man, a booking clerk and him. And I think he led quite a happy life with very little money. Our living conditions – this is in the '30s – were not good. No electricity, no gas, oil lamps, outside loo, tin bath for a bath once a week in the kitchen, and I used to travel on the train to Bury to school. So, I tell all that story because there's absolutely nothing about it which relates to the theatre or what I finally became or wanted to become. The only thing that one could say was that my father was a bit of a singer and he had sung Guiseppe in The Gondoliers in 1926 when the old Theatre Royal at… at Bury was closed. So famously in the family, he was the man who closed the theatre. This is a theatre that, when I was 14, 15, I broke into through a window in order to go and look at because it was then a… a beer store for barrels, the Green King, the brewery. It's now, thank God, a beautiful Regency theatre of 500 seats active in Bury. It's been saved, but I first met it full of beer. Anyway, my father was keen on Gilbert and Sullivan and… and he therefore, when I was about six, I was presented with a very bad piano, because they didn't have much money, and piano lessons which cost sixpence each week from a man in the village. And I started to learn the piano and I spent a good deal of my childhood accompanying my father in Gilbert and Sullivan which has induced in me an absolute hatred of Gilbert and Sullivan which lasts to this day. I think they've done great damage to English culture. They're facetious and sexless and really not very original and I think they've taken the place of opera, taken the place of drama in too many people's heads for too long. Offenbach is raunchy and sexy and somehow real. Sullivan is rather effete, beautiful tunesmith, but effete.
British-born theatre director, Sir Peter Hall (1930-2017), ran the Arts Theatre where, in 1955, he directed the English-language premiere of 'Waiting for Godot' by Samuel Beckett. He also founded the Royal Shakespeare Company when he was only 29, and directed the National Theatre from 1973 to 1988. He was at the Shakespeare Memorial Theatre in Stratford-on-Avon for two season from 1957-1959. He also directed 'Akenfield' for London Weekend Television and ran the Peter Hall Company, which has 40 productions worldwide to its name. In 1963, he was appointed Commander of the Order of the British Empire (CBE) and in 1977 was knighted for his contribution to the theatre. In 1999, he was also honoured with a Laurence Olivier Award.
Title: 'Surrounded by adults, adults, adults'
Listeners: John Goodwin
Head of Press at the National Theatre (1974-1988), and earlier at the RSC (1960-1974), John Goodwin is the author of a best-selling paperback, A short Guide to Shakespeare's Plays, and co-author of Trader Faulkner's one-man show, Losing My Marbles. He is also editor of the play, Sappho, based on Alphonse Daudet's novel, and editor of a number of successful books, among them, Peter Hall's Diaries, and, British Theatre Design - the modern age.
Tags: 1930, Bury St Edmunds, Suffolk, Barnham, Thetford, The Gondoliers, 1926, Theatre Royal, Gilbert and Sullivan, WS Gilbert, Arthur Sullivan, Jacques Offenbach
Duration: 3 minutes, 46 seconds
Date story recorded: February 2006
Date story went live: 24 January 2008