NEXT STORY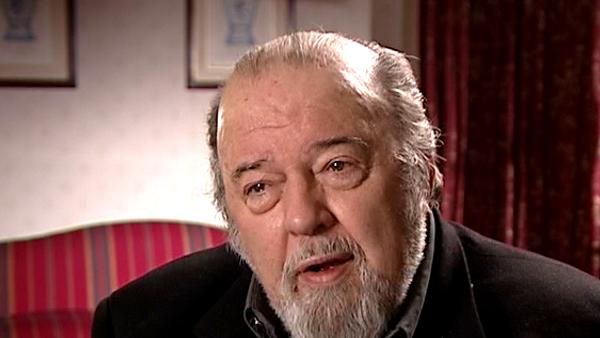 Blocking the last scene of Cymbeline
The role of a theatre director
Peter Hall
Theatre director
1
2
3
4
The myth is that singers won't do... won't do acting, won't... won't be directed. It's not true at all. The problem with most singers is that they're too directable, you know, whereas you say... 'Well, why don't you stand on that table over there and sing it' and they stand up and they sing it. And then you say, 'No, it's a silly idea, sorry', and they say, 'What's the matter, isn't that what you wanted?'. And I say, 'Look, it's not what I want; it's what you want as the performer of this character singing this music at this particular time. It's not right, is it?'. 'Oh no' they said, 'It's not right'; whereas an actor would probably say, 'Silly idea, don't want to do that' and not do it. See what I mean?
I remember there... there was a celebrated Ring at... Covent Garden a few years ago when John Tomlinson who's one of the great Wotans of our age is supposed to be carrying a spear and he... instead of carrying the spear he appeared to be carrying a... a lollipop, one of those things that people — you know, black and white — and I said to him, 'Why were you... why were you carrying that?'. He said, 'I don't know, I was asked to'. And I said, 'Yeah but it's... it's nonsense'. He said, 'Yes I know, but you know, you don't want to be difficult'. And I said 'Well, if I was doing a... a play of The Ring and I said to my Wotan, here's your lollipop stick, he'd say: "Bloody isn't, not for me'. Actors wouldn't do it. I mean in a sense because of that man with a stick, singers are much more biddable than actors, but that mean... gives... brings me to the... the very large question whether you're dealing with opera or plays, what is a director? Because it's a hideously inept word. I mean a director is somebody who says you are to do this. Don't argue, do it, direct. And that is so far away from what this work really is. I don't think anybody, you know, I... I remember when I was... was 27 or something... 28... people said to me, 'How can you tell Laurence Olivier how to act?'. And I said: 'That's not what a director does. You don't tell people how to act. You actually provoke them to act and then edit, criticise and help them select what they've acted'. It's... it's not dirigiste, it's not telling, it's not insisting... at all. The old idea that, you... you know... you go into rehearsal and you say here's your costume design, there's your wig over there and here's the set and all the actors feel we're in a revival and we're probably not as good as the original cast. They have no contribution to how they look or what the set is like and therefore you've already sold the past to some extent.
I think the best time I've ever had almost in the theatre, was when I did Antony and Cleopatra at the National with Judi Dench and Tony Hopkins... Michael Bryant; because we had 12 weeks rehearsal. And for the first six weeks, we examined each scene, tried various physical shapes for it while Alison Chitty, the designer, sketched and at the end of six weeks as a unit, as a company again —same word — we had evolved what we wanted on our stage. Now that's not to say that a director doesn't say occasionally, I don't think we should do that, I think we should do that. There is an editorial function, which gets more and more acute as you get nearer to the first night because you... you know, it may be nice but it may not be necessary. It... it may be very misleading because of its indulgence, its richness. I mean, you've got to... you've got to be the editor but... that happens, you know, if you put a group of actors into a room with no director, a director will emerge, someone that everybody appeals to, saying how do you think that was? It's very interesting. You can't do it without.
British-born theatre director, Sir Peter Hall (1930-2017), ran the Arts Theatre where, in 1955, he directed the English-language premiere of 'Waiting for Godot' by Samuel Beckett. He also founded the Royal Shakespeare Company when he was only 29, and directed the National Theatre from 1973 to 1988. He was at the Shakespeare Memorial Theatre in Stratford-on-Avon for two season from 1957-1959. He also directed 'Akenfield' for London Weekend Television and ran the Peter Hall Company, which has 40 productions worldwide to its name. In 1963, he was appointed Commander of the Order of the British Empire (CBE) and in 1977 was knighted for his contribution to the theatre. In 1999, he was also honoured with a Laurence Olivier Award.
Title: The role of a theatre director
Listeners: John Goodwin
Head of Press at the National Theatre (1974-1988), and earlier at the RSC (1960-1974), John Goodwin is the author of a best-selling paperback, A short Guide to Shakespeare's Plays, and co-author of Trader Faulkner's one-man show, Losing My Marbles. He is also editor of the play, Sappho, based on Alphonse Daudet's novel, and editor of a number of successful books, among them, Peter Hall's Diaries, and, British Theatre Design - the modern age.
Tags: The Ring, Covent Garden, Royal Opera House, Antony and Cleopatra, National Theatre, Judi Dench, John Tomlinson, Wotan, Laurence Olivier, Tony Hopkins, Michael Bryant, Alison Chitty
Duration: 4 minutes, 22 seconds
Date story recorded: February 2006
Date story went live: 24 January 2008