NEXT STORY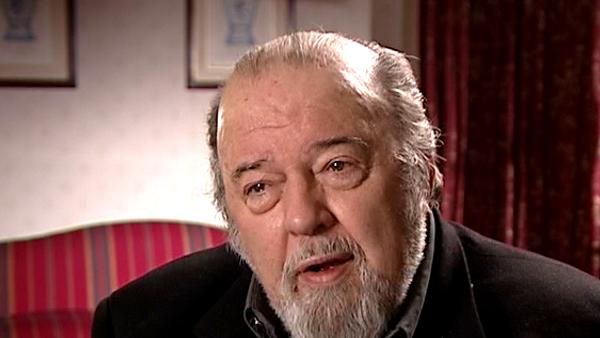 Directing a play more than once
Blocking the last scene of Cymbeline
Peter Hall
Theatre director
1
2
3
4
The last scene of Cymbeline has 37 anagnorisis. Anagnorisis is a Greek word first encountered in Greek drama where somebody says, 'Well, if that is so, then you must be my father' and then somebody else says, 'Then I'm your daughter'; 'Then I'm your uncle' and it goes… recognitions. Now he's been a real buggar, Shakespeare, in this scene because I… I worked it out once, I think if you put number 36 at number three, he didn't need any of the rest. I mean he's deliberately made it so you recognize him… you recognize… go on as long as possible. The consequence is that it's dreadful to stage because you suddenly find, you know, that I'm here and my uncle's over there because I've just had my aunt here, I mean, and it… it's, so I'd worked it all out as one did in those days, you used to have soldiers on models and you'd block it out and you'd give the actors.. Monday morning you read the play, Monday afternoon you began blocking it, which is this is where you move, this is where… so you gave them moves and people wrote them down. And on Friday afternoon, doing Cymbeline at Stratford in '57, I was working with Peggy Ashcroft for the first time in my life and a great star, a really great star for the first time in my life and… Friday afternoon, I'm in the last scene of Cymbeline blocking it out and I say, 'Peg, on that line, you walk right across the stage.' 'Right', she said, and she walked right across the stage and I went on and then she suddenly said, 'Pete, that's a dreadful move.' I said, 'Is it?' She said, 'Yes, dreadful'. And I thought what the hell am I going to do? Do I say you've got to do it because if you don't the whole scene is rubbish. It won't work. Do I say I'm the director, you must, or please, or do I shout, do I scream, do I cry, what do I do? And I finally said 'You're quite right. Could we just all sit down for a moment', and we all sat down, and I said: 'We're going to start redoing this production on Monday morning and I'm never going to block a play again'. And that's true, and I never have – lie, I always do in case the actors don't – you have to have a… a fallback but if you use it, you've failed. If you've got the right atmosphere and the right understanding the play will stage itself.
British-born theatre director, Sir Peter Hall (1930-2017), ran the Arts Theatre where, in 1955, he directed the English-language premiere of 'Waiting for Godot' by Samuel Beckett. He also founded the Royal Shakespeare Company when he was only 29, and directed the National Theatre from 1973 to 1988. He was at the Shakespeare Memorial Theatre in Stratford-on-Avon for two season from 1957-1959. He also directed 'Akenfield' for London Weekend Television and ran the Peter Hall Company, which has 40 productions worldwide to its name. In 1963, he was appointed Commander of the Order of the British Empire (CBE) and in 1977 was knighted for his contribution to the theatre. In 1999, he was also honoured with a Laurence Olivier Award.
Title: Blocking the last scene of "Cymbeline"
Listeners: John Goodwin
Head of Press at the National Theatre (1974-1988), and earlier at the RSC (1960-1974), John Goodwin is the author of a best-selling paperback, A short Guide to Shakespeare's Plays, and co-author of Trader Faulkner's one-man show, Losing My Marbles. He is also editor of the play, Sappho, based on Alphonse Daudet's novel, and editor of a number of successful books, among them, Peter Hall's Diaries, and, British Theatre Design - the modern age.
Tags: Cymbeline, Stratford-upon-Avon, 1957, William Shakespeare, Peggy Ashcroft
Duration: 2 minutes, 42 seconds
Date story recorded: February 2006
Date story went live: 24 January 2008