NEXT STORY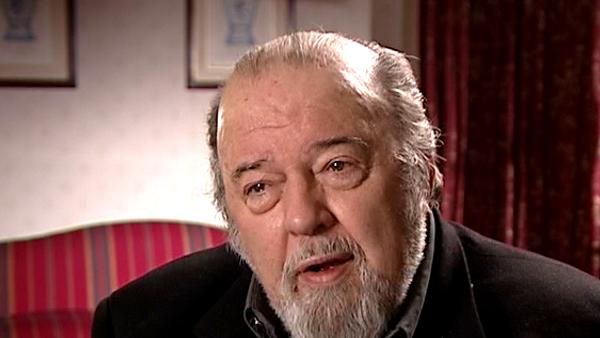 What do you do with a casting mistake?
Final polishing of a play
Peter Hall
Theatre director
1
2
3
4
Once you get to the latter stage in rehearsal as a director, if you've observed the form and you've generated the feeling, there's then a period which is almost practice, when the actors simply have to run the play and... and try and make an emotional journey inside themselves which sustains it and which is accurate and makes them feel comfortable. Then comes the last stage — the fourth or fifth stage — which is entirely about editing, where you say that was very nice but we don't need it, or that pause has got to go, or that isn't, you know. And now we look at the whole thing we don't need... And that can be quite worrying to the actor because bits get pulled out; cuts are very difficult always, but if they're right, they heal terribly quickly. If they're wrong they go on bleeding; you know you've got to be very careful. But none of us know in this business — actor or director — what we've done until we ask the audience. I mean when I'm directing a comedy I think I know where the laughs are, but I don't. Maybe I get 40% of them right.
[Q] And nor do the actors actually.
Nor do the actors, no, no. So that the first... the first time a group of actors meet an audience with a comedy is absolutely terrifying because it goes off like a great uncontrolled beast with laughter... muffles and distorts the next line which the actor speaks into the laugh, so you miss the next laugh because they haven't heard the payoff. Most comedic acting, you know, is... is about having a clear establishment, a clear feed. The payoff only works if the feed is really understood. That's why, if you... if you talk to people like Morecambe and Wise they say that the thing that matters is the straight man not the clown.
Clowns are of course, another... another thing altogether and a very great problem in Shakespeare because he did have clowns – two great clowns – in his company. And... I mean a clown, by definition, is someone who, when they walk on the stage, makes the audience laugh without doing anything. And you can't say it's because he walks funnily, because that's not why they laugh; it's just because he just is funny.
[Q] It's like Tommy Cooper.
Yeah, Tommy Cooper, absolutely, absolutely. And I... I know from bitter experience that actors who try and act clowns are not funny, but somebody who is a... is a clown, given Shakespeare's texts, gets laughs when the audience don't actually understand quite what he said. Because the writing is so meticulous in order to present the audience with the possibility of laughter that they laugh. But you need to have it delivered by a clown.
So once you've met the audience and you've seen what they tell you, you then go to work again.
[Q] Arthur Lowe doing Stefano.
Arthur Lowe doing Stefano, absolutely, absolutely.
[Q] He was an incredibly funny character.
Absolutely and that wonderful guy I had last...
[Q] The fall guy.
The guy I had at Bath last year in Much Ado playing Dogberry.
[Q] Oh him, yes.
Oh, what's he called? He was wonderful because he just was funny. He didn't have to work at it. No. But the period once you've started... I mean it's something... I... I'm told I started previews, that they didn't exist...
[Q] Yes, you did. You started them at Stratford.
Yes, because it seemed to me...
[Q] By John Barber [sic], now dead.
Yes, because it seemed to me absolute nonsense that, you know, you had a dress rehearsal on Monday at Stratford and then you opened on Tuesday. And usually there was... the critics said, you know, 'This is rather a restrained evening, it doesn't quite work' and, if you ever got them to come back and see the plays way on to the season, they were transported with joy to find that it was alive. I mean every... every production needs a week of running in... and work during the day.
[Q] Playing to an audience.
Playing to an audience. And it's not just simple things like how do we get a laugh here. It's just being absolutely sure that you're telling the story. The primary act of an actor standing on the stage is to tell a story to an audience, and if at any moment the audience don't understand the story or don't know where it's gone, you've lost them and that's it.
British-born theatre director, Sir Peter Hall (1930-2017), ran the Arts Theatre where, in 1955, he directed the English-language premiere of 'Waiting for Godot' by Samuel Beckett. He also founded the Royal Shakespeare Company when he was only 29, and directed the National Theatre from 1973 to 1988. He was at the Shakespeare Memorial Theatre in Stratford-on-Avon for two season from 1957-1959. He also directed 'Akenfield' for London Weekend Television and ran the Peter Hall Company, which has 40 productions worldwide to its name. In 1963, he was appointed Commander of the Order of the British Empire (CBE) and in 1977 was knighted for his contribution to the theatre. In 1999, he was also honoured with a Laurence Olivier Award.
Title: Final polishing of a play
Listeners: John Goodwin
Head of Press at the National Theatre (1974-1988), and earlier at the RSC (1960-1974), John Goodwin is the author of a best-selling paperback, A short Guide to Shakespeare's Plays, and co-author of Trader Faulkner's one-man show, Losing My Marbles. He is also editor of the play, Sappho, based on Alphonse Daudet's novel, and editor of a number of successful books, among them, Peter Hall's Diaries, and, British Theatre Design - the modern age.
Tags: The Tempest, Much Ado About Nothing, Bath, Theatre Royal Bath, Stratford-upon-Avon, RSC, Royal Shakespeare Company, Tommy Cooper, William Shakespeare, Arthur Lowe, Stefano, Dogberry
Duration: 5 minutes, 6 seconds
Date story recorded: February 2006
Date story went live: 24 January 2008