NEXT STORY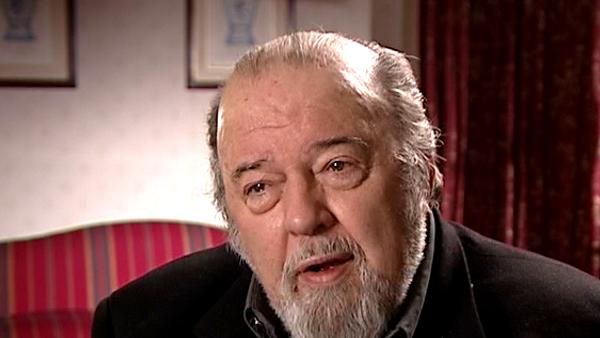 Lord Chamberlain tries to censor my work
State support for culture
Peter Hall
Theatre director
1
2
3
4
I believe strongly that we've got… how we look after culture, seriously wrong in this country. I mean it does seem to me that if you believe — which I do and I think most people do — that there should be state support for education, for medicine, for transport, for the essentials, then way, way down the list and peanuts, comes culture. And culture doesn't get its due, never has from either political party. My experience of a lifetime of arguing with Whitehall is that the… the party that's not in power is always very, very keen on culture and supremely indifferent to it once it's in power. And it seems to me that we have a very rich culture which is actually part of our educational picture; it's almost like a continuation of our education. It would help our young for culture to be higher up the agenda… not culture in the sense of highbrow, effete, elitist but culture in the sense of a bloody good story, bloody well told, in whatever medium. That's a help to life, that's a help to living and I've always believed, ever since I was a teenager and the Arts Council was founded, that we ought to pay for it and look after it. I mean if instead of spending a billion pounds on the Dome, we'd spent a billion pounds on the theatres and concert halls of the country, this country would have been transformed, internationally as well as nationally, no question. We are a supremely imaginative race, we're supremely creative. We have very little regard for our creative people and we don't nurse what we've got. And one of the worst things, of course, was with the coming of Thatcher and that insidious idea that the only thing that mattered was the market and the only thing that mattered was monetarism. The very fragile structure of subsidy was destroyed, by them forcing us to go into private sponsorship, the argument being that we live in a mixed economy, therefore culture should be supported by mixed economy. Now I… I just do not believe that. I think, if we were properly rewarded and properly backed, productivity would be much better, standards would be much better and what the nation is given right across the board, not just London but the whole country, would be much better. We're talking about almost nothing, instead of which most of the organisations now have huge departments of 20, 30, 40 people whose only job is to raise money, raise sponsorship. It distorts the subsidy levels and it really means that we're out with a begging bowl. It… it's not secure, it changes very much from year to year and it also means, I think, that you have to keep one eye on what you're doing. Now, you… because, you know, whatever happens I think the man who pays the piper, to some extent, always wants to call the tune. I'd much sooner Government be calling the tune myself, than I would all the various sponsors who are looking eagerly at the size of their advertising type and all the rest of the chicanery that goes on. I… I think that to…to look after things properly, we need… we need to believe that there are votes in the arts and of course politicians don't. They don't go to the theatre very much anyway; they're down at the Houses of Parliament and they don't really concern themselves with it as a living force. And, if they did, I think we might get some… some action. That, I think, is my single biggest failure in life that, you know, I went out on a limb, I tried very hard to organise opinion and I made a lot of noise. And my Chairman at the National kept saying to me, do shut up, you're not helping. But I believed I was and I still believe I was. I mean I don't see the point of living in a democracy if you can't say what you think.
British-born theatre director, Sir Peter Hall (1930-2017), ran the Arts Theatre where, in 1955, he directed the English-language premiere of 'Waiting for Godot' by Samuel Beckett. He also founded the Royal Shakespeare Company when he was only 29, and directed the National Theatre from 1973 to 1988. He was at the Shakespeare Memorial Theatre in Stratford-on-Avon for two season from 1957-1959. He also directed 'Akenfield' for London Weekend Television and ran the Peter Hall Company, which has 40 productions worldwide to its name. In 1963, he was appointed Commander of the Order of the British Empire (CBE) and in 1977 was knighted for his contribution to the theatre. In 1999, he was also honoured with a Laurence Olivier Award.
Title: State support for culture
Listeners: John Goodwin
Head of Press at the National Theatre (1974-1988), and earlier at the RSC (1960-1974), John Goodwin is the author of a best-selling paperback, A short Guide to Shakespeare's Plays, and co-author of Trader Faulkner's one-man show, Losing My Marbles. He is also editor of the play, Sappho, based on Alphonse Daudet's novel, and editor of a number of successful books, among them, Peter Hall's Diaries, and, British Theatre Design - the modern age.
Tags: UK Parliament, Arts Council, Millenium Dome, London, Houses of Parliament, National Theatre, Margaret Thatcher
Duration: 4 minutes, 32 seconds
Date story recorded: February 2006
Date story went live: 24 January 2008