NEXT STORY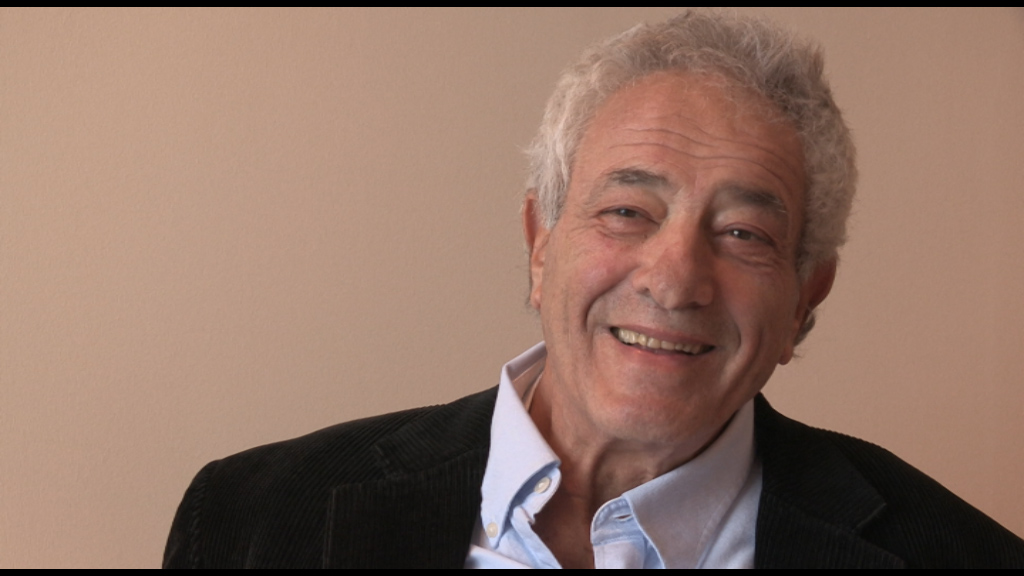 Learning about book publishing
Milton Glaser: an artist, a genius and my best friend
1
...
3
4
5
6
7
...
10
[Q] Do you want us to just talk more about Milton Glaser. I'd really like to know about what he meant to you and about your involvement with him.
Curiously, Milton is my best friend in the world and I would include, Shirley, his wife in that. They have lived through all my accidents and my misadventures with various women who I've undoubtedly always failed or been a failure at, and they've picked me up off the ground figuratively, metaphorically and literally because I've had accidents on the road in which we live. So I've now said that they're my neighbours also and we both live in Woodstock and that was a curiosity, something I certainly didn't know when Myrna took me over to Milton's office. And at first I rented in Woodstock and then I later bought a house in Woodstock. The house I now… the house I still have, and by accident it was only 200 yards, the next house literally down the road, or almost the next house, down the road from my house that's where Shirley and Milton lived who I had met in New York and kept up, but I didn't presume to be their great friend. I wasn't, but over time and in publishing we had some common friends.
My friend, Mimi Vang Olsen knew Milton and Seymour Chwast worked with Milton and Myrna, of course, worked with Milton and there were others too, Stan Landsman. So we were more friends when we discovered, or when I discovered, that the house I bought was so close to his house in the same village! So, but we also lived very close to each other three or four streets away in New York. And later on, when I moved uptown for a period, for quite a long period to 67th Street, they had either just before me or just after me also bought an apartment on 67th Street. So our lives were always somewhat intertwined, although we saw each other rather more in the country where we both had more time where we three always had more time, four because sometimes I was married, and I had a daughter, and this relationship has not ended and I suspect it will end with our deaths, but it's a lifelong thing.
And one day, I was having dinner at their house and I was a paperback publisher at Avon Books and we had become, as I've mentioned, as a team very successful, and I'd never published hardcover books before and I said over dinner to, Milton, you know, some day, Milton, somebody should do a big visual book of your work. And he looked at me and said, 'Ask me'. So I didn't quite… I heard that but I didn't quite say, well, what does he mean? I don't publish hardcover books, I don't publish illustrated books. And he could see me in a quandary and he said, 'Ask me!' I said, are you suggesting that I ask you, that… I don't know anything about publishing visual books and big illustrated books. He said, 'I'll help you'. I said, okay, consider yourself asked. And that was the first visual book I ever did 35 years or 40 years later it's still in print. It is a great I think seminal book in the area of graphic design and I don't know too many graphic designers who have gotten the Presidential Medal [of Freedom], and been honoured by the Smithsonian by the...
He had an enormous one man show at MOMA, which was very unusual because Milton has never aspired to high art. The word is not aspired. He doesn't like, nor do I, the hierarchies of art that if you work on canvas or display your work in galleries that is somehow superior than being in the world. Milton is in the world and wants to be part of the world, so he's always done products and designs and restaurants and he's a pretty much… an all round designer. He sees design as solving problems and making the world better in some way. He won't… he wouldn't take on the advertising for any brand of cigarettes that I smoked. He's a very ethical man. He's politically sensitive, too, to the currents, and has given himself to being an illustrator and designer for all sorts of things that he feels strongly for, and he does a lot of pro bono work for charities for the town of Woodstock and so on. And the important thing is he's my best friend, but he's a great artist, a great genius.
Peter Mayer (1936-2018) was an American independent publisher who was president of The Overlook Press/Peter Mayer Publishers, Inc, a New York-based publishing company he founded with his father in 1971. At the time of Overlook's founding, Mayer was head of Avon Books, a large New York-based paperback publisher. There, he successfully launched the trade paperback as a viable alternative to mass market and hardcover formats. From 1978 to 1996 he was CEO of Penguin Books, where he introduced a flexible style in editorial, marketing, and production. More recently, Mayer had financially revived both Ardis, a publisher of Russian literature in English, and Duckworth, an independent publishing house in the UK.
Title: Milton Glaser: an artist, a genius and my best friend
Listeners: Christopher Sykes
Christopher Sykes is an independent documentary producer who has made a number of films about science and scientists for BBC TV, Channel Four, and PBS.
Tags: Woodstock, Milton Glaser
Duration: 7 minutes, 34 seconds
Date story recorded: September 2014-January 2015
Date story went live: 12 November 2015