NEXT STORY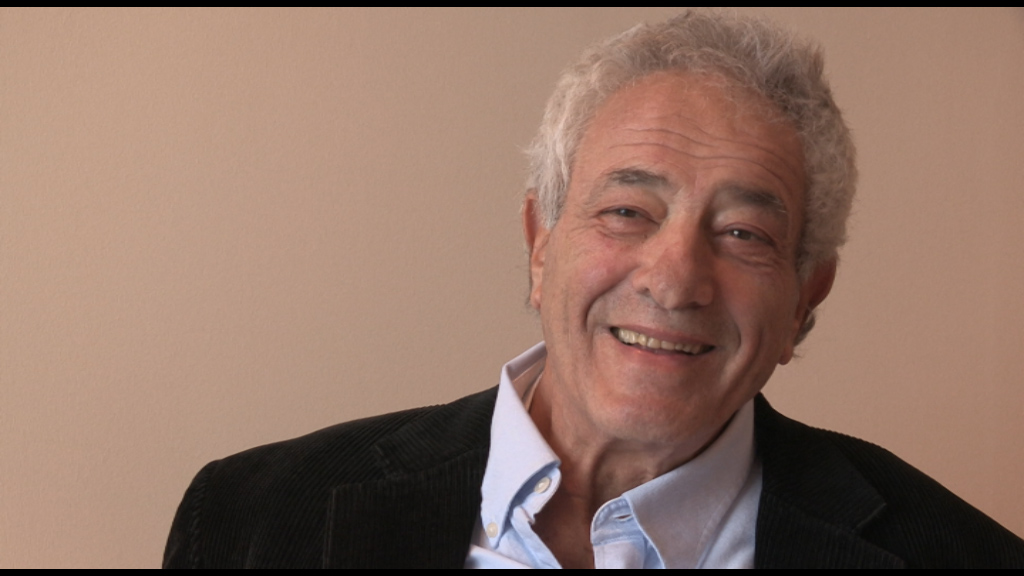 Head-hunted to run Penguin Books
1
...
3
4
5
6
7
...
10
The name Overlook comes from the mountain or large hill that I live on in Woodstock, New York. But the logo, the elephant with wings, comes from an experience I had reading, I think it was the last issue of LIFE magazine, in which two German photographers were following at great distance with telescopic lenses a herd of elephants to see where the elephants went to die, to put to rest a certain mythology and legend that they disappeared somewhere or whatever. And they noticed that there was one elephant, a female, I think they're called cows, who was getting very weak in their knees. And elephants actually bend their knees in the reverse way from our own knees, so they bend the other way, which I don't think many people know or care about, why should they?
But they do, and this cow, this old elephant, her knees were beginning to buckle and she could not continue through the savannah with these 20 other elephants. Finally, after a day – and the two German photographers were always one or two miles away in a tree photographing them – the other elephants got on the side of this cow, and holding her up on either side they sort of knew she was weak and couldn't go forward. And they propped her up and they kept moving forward but finally her age, her weakness, her enormous weight, and she collapsed.
And she was still alive. And then all the elephants went around and with their tusks and with their trunks they tried to rouse her – get up, get up, we're going on – but she couldn't get up anymore. And then they made a circle around her and they started trumpeting: get up, get up! But she couldn't. And then after a while they just left her there still alive and continued forward.
Well, that's not the end of the story because in the LIFE magazine article some journalist asked the photographers why do you think the elephants do that? And one of the photographers said I don't know, I think elephants just like elephants.
Well, I thought about that as I turned the page, and the next page in this LIFE magazine issue was the US in Vietnam. It was the Viet Cong and the US, and there were five, six, ten or 12 whatever number of bloody pages, what the Americans were doing to the Viet Cong, what the Viet Cong was doing to the Americans and their Vietnamese allies. And it was horrible. And I, sort of, remembered that at the time, elephants like elephants, but you know, human beings don't really like human beings.
Well, I filed that away in my head and when I was looking for a logo for the Overlook Press, I thought of 'elephants just like elephants', that's a good backstory. And when Milton Glaser designed the Overlook elephant, since you asked me the other day about Milton Glaser, he put wings on the elephant and he said, 'Peter, if you can make an elephant fly you can do anything', so that's the story.
Peter Mayer (1936-2018) was an American independent publisher who was president of The Overlook Press/Peter Mayer Publishers, Inc, a New York-based publishing company he founded with his father in 1971. At the time of Overlook's founding, Mayer was head of Avon Books, a large New York-based paperback publisher. There, he successfully launched the trade paperback as a viable alternative to mass market and hardcover formats. From 1978 to 1996 he was CEO of Penguin Books, where he introduced a flexible style in editorial, marketing, and production. More recently, Mayer had financially revived both Ardis, a publisher of Russian literature in English, and Duckworth, an independent publishing house in the UK.
Title: Making elephants fly
Listeners: Christopher Sykes
Christopher Sykes is an independent documentary producer who has made a number of films about science and scientists for BBC TV, Channel Four, and PBS.
Tags: Overlook Press, LIFE magazine, Vietnam, Milton Glaser
Duration: 4 minutes, 14 seconds
Date story recorded: September 2014-January 2015
Date story went live: 12 November 2015