NEXT STORY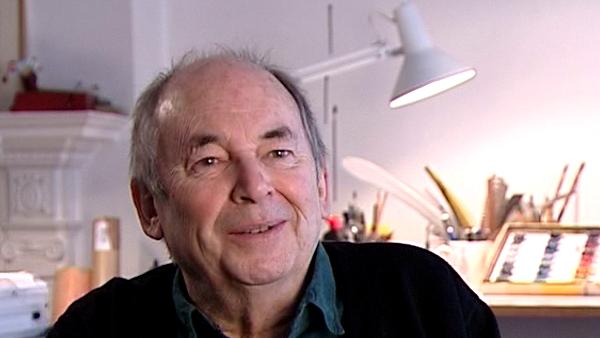 National service: illustrating my first book
Performing in The Alchemist in front of Alec Guinness
1
2
3
4
5
...
7
Archie would give lectures about… he always wore a kilt, and he only had one… he'd lost one arm, and he wore this sort of Scottish beret, and a kilt, because he was in The Black Watch, and he'd give lectures about the Bible and the army, or Shakespeare and the army, and things like this, and he was very interested in everything that happened, and we spent a long time producing... one of the lieutenants who taught there produced Ben Jonson's The Alchemist in which I played the part of the Alchemist, with a grey bald wig, and I never quite learned all the words, I don't think, it's a very long part, and helped paint the scenery. Two of us painted the scenery, I think, and there were a lot of things like that went on, and I suppose we must have learned how to be education sergeants at the same time, and he… Wavell was… he was very interesting. I mean when we put this play on in one or two halls, he would get there in the front row was… because he knew a lot of people, the front row was Alec Guinness, because Alec Guinness had been in a production of The Alchemist, and there was session also where we all sat round in some kind of mess building, and Guinness was sat on his own in the middle to answer questions, which was something he couldn't bring himself to do. He was really frightened by this, and but poor Alec Guinness having to watch this, and he played the part of Abel Drugger, and the young man who played that said to him how did he interpret it? And Guinness said, 'Oh, very much the same as you did'. But there was lot of I mean you could do some drawing as well, and fact Wavell asked me to go and draw a portrait of him. 'I'm very vain, I'm afraid', he said… and… I couldn't, I didn't do it very well. I did a better drawing of him when he wasn't there than when he was there. I suppose I was more inhibited. But he was very he was someone who was very interested in everything that was happening, and he said he would actually speak to you in an uninhibited fashion, which was unusual for an officer, but he was so much more I suppose, secure, and I remember him saying, 'Well I know, I was educated at Sandhurst, so I'm probably rather insensitive'.
And… who else did he get? Cecil Day-Lewis, who was the… and his wife, Jill Balcon, who was the Poet Laureate of the time came to read, and so it was a very strange it was a kind of it was a kind of an education. And he was very interested in everything that and he was just rather he must have known about my drawings because the ones that had been printed because he was rather disappointed they were so small. I think he ought to have done better later, but he came to see a number of people included at Cambridge after we'd gone there and I had one or two very good letters from him, which have disappeared, and strangely I lost them, and one I know, was in a book, which I lent to a friend, and he saw a mention to himself, about himself… tore it up, in a fit, but there was a letter; he was killed, in Africa, Wavell, and wouldn't have been looking after himself, you know, but I did have one or two very nice letters from him, but I they're all gone now. But he did take an interest in people individually, and I remember at Christmas, once, going home on 48 hours leave, or something like that. He was driving out of the camp, and I was just going off to the station. He stopped, and said, 'Where are you going?' And I said, 'Well I'm going to Sidcup'. And he said, 'Oh I'm going to see my mother in Reigate. It's just down there', you know, and so he drove me home. And came in for a glass of sherry, and went off afterwards, but it was a shame that he was killed, but I think he wasn't someone who would take care of himself, you know, I mean he would just go all out.
Quentin Blake, well loved British writer and illustrator, is perhaps best known for bringing Roald Dahl's characters to life with his vibrant illustrations, and for becoming the first ever UK Children's Laureate. He has also written and illustrated his own books including Mr Magnolia which won the Kate Greenaway Medal.
Title: Performing in "The Alchemist" in front of Alec Guinness
Listeners: Ghislaine Kenyon
Ghislaine Kenyon is a freelance arts education consultant. She previously worked in gallery education including as Head of Learning at the Joint Education Department at Somerset House and Deputy Head of Education at the National Gallery's Education Department. As well as directing the programme for schools there, she curated exhibitions such as the highly successful Tell Me a Picture with Quentin Blake, with whom she also co-curated an exhibition at the Petit Palais in Paris in 2005. At the National Gallery she was responsible for many initiatives such as Take Art, a programme working with 14 London hospitals, and the national Take One Picture scheme with primary schools. She has also put on several series of exhibition-related concerts. Ghislaine writes, broadcasts and lectures on the arts, arts education and the movement for arts in health. She is also a Board Member of the Museum of Illustration, the Handel House Museum and the Britten-Pears Foundation.
Tags: The Black Watch, the Bible, the British Army, The Alchemist, Abel Drugger, The Royal Military Academy Sandhurst, Poet Laureate of the United Kingdom, Cambridge University, Christmas, Africa, Reigate, Sidcup, Archibald Wavell, William Shakespeare, Ben Jonson, Alec Guinness, Cecil Day-Lewis, Jill Balcon
Duration: 5 minutes, 1 second
Date story recorded: January 2006
Date story went live: 24 January 2008