NEXT STORY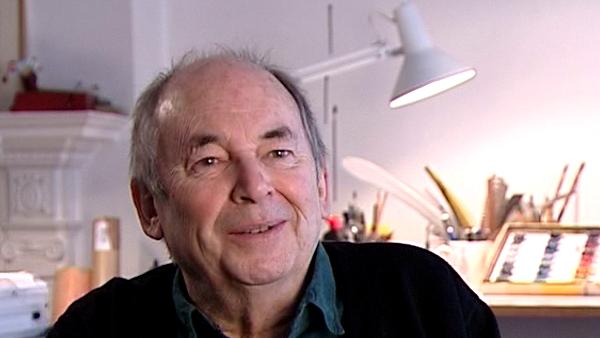 Brian Robb: getting a job teaching at Chelsea College of Art
Brian Robb: life classes at Chelsea College of Art
1
2
3
4
5
...
7
I saw an article in a [sic] art newspaper, about Brian Robb, and I already had this… probably more than one of his books, but I certainly had Tristram Shandy. And he was somebody whose work I admired, and I thought, oh he's a… he's an illustrator, he was a cartoonist, and he was a painter, and I thought those were all the things that I was interested in. So I… so I went to Chelsea, looking for him, and he… got me to… in those days you could join a life class, just from outside, and I think it was £7 a term, or something like that. And… I joined a life class… which was… non-vocational students. It was called the Odds and Sods, you know, there would be sort of blue-rinsed ladies, and ex-pats coming back from… from foreign parts, and… and that kind of thing, all drawing at different levels, and… it was run by a man called Edward Wakeford, who smoked a kind of… a very… very good water colourist, who smoked a kind of… Sherlock Holmes pipe. We used to go outside in the intervals, and talk about the novels of Joseph Conrad, and things like that, and Henry James, were the things he was interested in, and… I remember that there's a… there was one of these middle-aged ladies saying, 'Oh, Mr Wakeford… how can you get that lovely brown, like Van Dyke?' And he said, 'You can buy a tube of Van Dyke brown'. But… but he was very… he was good about drawing, but what was good about Chelsea was that… I found that they were… they were… it was at the top of the… above Chelsea Library in Manresa Road in those days, and you were sort of accepted there as being part of it, even though I used to go for two days a week, or something like that, just to this strange life class. You… you could meet the students, and go to their parties, and… and be part of it. And… Brian Robb… he said, 'Don't join my illustration class', he said, 'it's too late for that now'. But again, he'd looked at the things I was doing, and… so I was sort of getting a tutorial from him really, and the… I went on for a couple of years doing this, a couple of days a week, and I've done lots and lots of life drawing. And it was interesting in a way because at that time, which was… the sort of late '50s, I mean, art had become very abstract, and you did basic design, and things of that kind, and where there was life drawing, it was a kind of a piety, and it was curious that… I mean I was going there because it was a… I had this appetite which needed to be fed, and you could draw from the model, and then you… you know, then you'd go away, and still I'd go on drawing, from the model, but in my head, you know. It made an enormous difference. And then I would go and… I mean I was still… because I thought I couldn't make any money, I was still living at home in suburbia, in Sidcup, but I would go home… and do paintings there. And… but after a couple of years I… I suppose I felt I'd done enough drawing there, and… but the meeting… talking to Brian Robb was… was again… I went there to look for somebody I thought would understand what I wanted to do, and you don't realise at the time you've done something quite significant. Because… I went off, and for… for two or three years, I was totally freelance, and just working for magazines, and… and started doing books, which is another subject, but… I suppose… a few years afterwards… he'd… he'd ring up once a year or something like that, or I might… I might see him, but he… he transferred from Chelsea to The Royal College of Art, where I think he took over from Edward Ardizzone who… who retired, I think.
Quentin Blake, well loved British writer and illustrator, is perhaps best known for bringing Roald Dahl's characters to life with his vibrant illustrations, and for becoming the first ever UK Children's Laureate. He has also written and illustrated his own books including Mr Magnolia which won the Kate Greenaway Medal.
Title: Brian Robb: life classes at Chelsea College of Art
Listeners: Ghislaine Kenyon
Ghislaine Kenyon is a freelance arts education consultant. She previously worked in gallery education including as Head of Learning at the Joint Education Department at Somerset House and Deputy Head of Education at the National Gallery's Education Department. As well as directing the programme for schools there, she curated exhibitions such as the highly successful Tell Me a Picture with Quentin Blake, with whom she also co-curated an exhibition at the Petit Palais in Paris in 2005. At the National Gallery she was responsible for many initiatives such as Take Art, a programme working with 14 London hospitals, and the national Take One Picture scheme with primary schools. She has also put on several series of exhibition-related concerts. Ghislaine writes, broadcasts and lectures on the arts, arts education and the movement for arts in health. She is also a Board Member of the Museum of Illustration, the Handel House Museum and the Britten-Pears Foundation.
Tags: Tristram Shandy, Chelsea, Odds and Sods, Sherlock Holmes, Joseph Conrad, Henry James, Chelsea Library, Sidcup, the Royal College of Art, Brian Robb, Edward Wakeford, Anthony van Dyck, Edward Ardizzone
Duration: 4 minutes, 39 seconds
Date story recorded: January 2006
Date story went live: 24 January 2008