NEXT STORY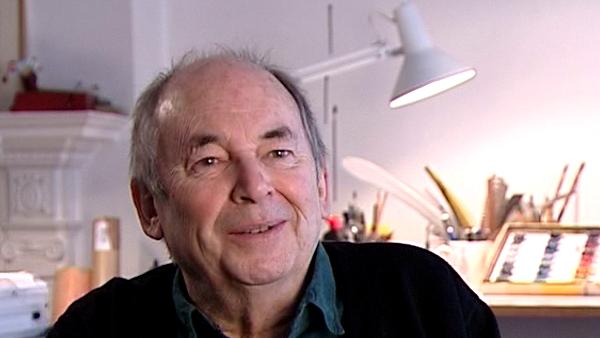 How I came to run the graphic art department
My exposure as a teacher to different styles of art
1
2
3
4
5
...
7
I really did have to learn how to do it and I may have taken… it's impossible for me to tell now… it may have taken me rather a long time to work out how to do it. When I arrived there was a group of students there who were very… they were in their third year and of course they knew a lot about art schools than I did and they were very confident. And this was 1965. They were very influenced by American illustration and knew a lot more about that than I did, I mean contemporary American illustration of a sort of Yellow Submarine type. They were perfectly nice, but I mean it was… I felt in a very strange sort of situation and it was gradually I… well, I suppose I really began to feel that I knew what I was about after the new lot of students came in and it was then three years and, when they'd gone through the works and I'd got to know them properly. I found the whole experience very interesting, very fatiguing as well. It took a lot of time. But the thing about it, really, from… I mean, selfishly, from my point of view, was that you were talking to these people at, what, most of the time was a was a very high level. I mean it was like talking to… they already had one degree and they'd come from their art school so they… many of them had got styles which were already formed and were highly skilled, not all, but I mean… because sometimes we did accept people, we took people, because we thought they might be interesting rather than because they were particularly slick and professional already. There were different reasons for accepting people onto a course like that.
The other thing that was good about it was that it was… well it was simply that they did work in so many different ways and so that you were talking to each person in the year group of ten people, worked in a different way, and you were addressing their problems on a sort of one-to-one basis mostly. I mean I was setting projects and doing general crits but really, what it came down to was this kind of tutorial principle. And I found that very interesting because I mean, although I started doing humorous drawings and humorous drawings in books and in magazines and so on, I was gradually doing more children's book illustration. And it's very important, I think, not to become herded into a little corral where you only think about that kind of thing. So I spent two days a week, and later three, talking to people about every kind of illustration and… whether it's for magazines, whether it was doing illustration almost like works of art, whether it was doing illustration of the classics and so on, all kind of things like that and in all different ways. So I think that, looked at selfishly, that was very good training for me. It really kept me amongst a lot of these people who worked in different ways and sometimes I think people assume that you like the work that looks a bit like your work and indeed, I think there are art teachers who only want to teach people who work like them. But… I didn't find that, I found that there were some people you found it difficult to talk to, but many, and… some of the people I got on with very well worked in a mode that was totally other from what I did. But it was interesting to find, I mean in that way, in talking about their work, it was good to make this kind of mental effort to put yourself in a position where you saw things, as it were, as they did. And… it kept one very much sort of more open to things and I think also it was interesting to discover how much what you can say about pictures applies to different kinds. I mean there were… things about the sequence of pictures or about the way colour is used or the way the picture is organised or whether it knows what its idea is… all of that kind of thing, a lot of it does apply… across the board to different kinds of people, but although it has to be adapted and nuanced, in certain ways.
Quentin Blake, well loved British writer and illustrator, is perhaps best known for bringing Roald Dahl's characters to life with his vibrant illustrations, and for becoming the first ever UK Children's Laureate. He has also written and illustrated his own books including Mr Magnolia which won the Kate Greenaway Medal.
Title: My exposure as a teacher to different styles of art
Listeners: Ghislaine Kenyon
Ghislaine Kenyon is a freelance arts education consultant. She previously worked in gallery education including as Head of Learning at the Joint Education Department at Somerset House and Deputy Head of Education at the National Gallery's Education Department. As well as directing the programme for schools there, she curated exhibitions such as the highly successful Tell Me a Picture with Quentin Blake, with whom she also co-curated an exhibition at the Petit Palais in Paris in 2005. At the National Gallery she was responsible for many initiatives such as Take Art, a programme working with 14 London hospitals, and the national Take One Picture scheme with primary schools. She has also put on several series of exhibition-related concerts. Ghislaine writes, broadcasts and lectures on the arts, arts education and the movement for arts in health. She is also a Board Member of the Museum of Illustration, the Handel House Museum and the Britten-Pears Foundation.
Tags: Royal College of Art, Yellow Submarine
Duration: 4 minutes, 43 seconds
Date story recorded: January 2006
Date story went live: 24 January 2008