NEXT STORY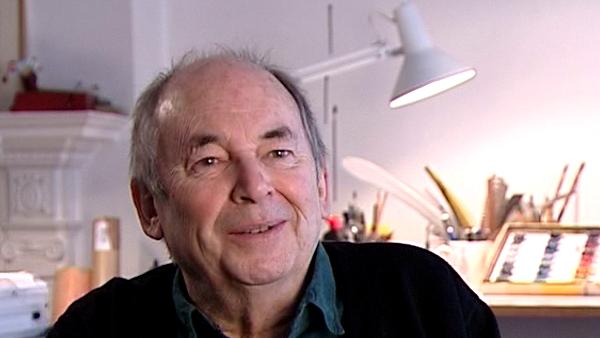 Working for Punch
Influences: Honoré Daumier, Ronald Searle and Andrï François
1
2
3
4
5
...
7
The person who was a great influence on me was Daumier. And who I bought this book of his lithographs, and I mean, he was a sort of hero then, and he still is now. And I've now got 50 lithographs or more from that I bought at one time or another from cut out of the newspapers of mid-19th century Paris. But I was also… there were people on Punch that influenced me. One, Ronald Searle was a sort of role model, if you like, and I was taken to see him when I was 20, just when I joined the army. They had a sort of programme, which was when a young hopeful went to meet a seasoned professional. Actually he was probably about ten years older than I was, really, in a rather impressive Denys Lasdun House in Bayswater. And he did wonderful caricatures, he did very funny drawings, he did satirical drawings, and I remember actually on that occasion I went to see him there was a lot of discussion, kind of initiated by the people who had taken me there from the BBC about the philosophy of drawing and things of that kind. Actually, what I wanted to ask him was what kind of pen nibs he used. And I think that is the sort of thing you want to do. Actually I had a visit from a wonderful French illustrator called Johan Sfar here, recently, and he wrote something about it in his journal, which was published afterwards. And he said, 'When you see Quentin Blake, you very quickly talk about cookery'. On parle très vite de la cuisine. We talked about how you did it. But I was frustrated that I didn't get to talk about it. But the other person who was inspiring to me was André François. André François has just recently died at the age of 89, but he was everywhere then, and in a lot in Punch, doing these covers, and occasionally doing drawings inside in other magazines, and also wonderful advertising. Very painterly pictures of crazy, you know, a rhinoceros wearing socks, or something like that, to advertise socks, you know, or something. And I remember the sort freedom with which he drew. I mean the fact that fundamentally it was very strong drawing, but it was not respectful at all, and it was kind of improvised on the page. I was trying to… I did a bit of advertising at that time. I was never very successful at it because they always wanted me to illustrate somebody else, imitate somebody else, and I almost took over a job that André François had been doing, except he suddenly got a prize for it and so they kept on with him doing it.
Quentin Blake, well loved British writer and illustrator, is perhaps best known for bringing Roald Dahl's characters to life with his vibrant illustrations, and for becoming the first ever UK Children's Laureate. He has also written and illustrated his own books including Mr Magnolia which won the Kate Greenaway Medal.
Title: Influences: Honoré Daumier, Ronald Searle and Andrï François
Listeners: Ghislaine Kenyon
Ghislaine Kenyon is a freelance arts education consultant. She previously worked in gallery education including as Head of Learning at the Joint Education Department at Somerset House and Deputy Head of Education at the National Gallery's Education Department. As well as directing the programme for schools there, she curated exhibitions such as the highly successful Tell Me a Picture with Quentin Blake, with whom she also co-curated an exhibition at the Petit Palais in Paris in 2005. At the National Gallery she was responsible for many initiatives such as Take Art, a programme working with 14 London hospitals, and the national Take One Picture scheme with primary schools. She has also put on several series of exhibition-related concerts. Ghislaine writes, broadcasts and lectures on the arts, arts education and the movement for arts in health. She is also a Board Member of the Museum of Illustration, the Handel House Museum and the Britten-Pears Foundation.
Tags: 19th century, Paris, Punch, Bayswater, British Broadcasting Corporation, Honoré Daumier, Ronald Searle, Sir Denys Lasdun, Joann Sfar, André François
Duration: 3 minutes, 12 seconds
Date story recorded: January 2006
Date story went live: 24 January 2008