NEXT STORY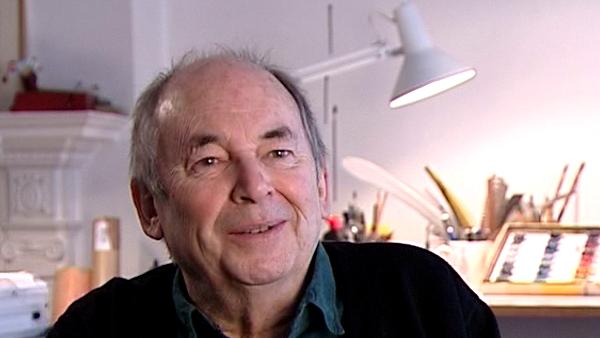 Drawing a caricature of a crocodile
Collaborating with Roald Dahl
1
2
3
4
5
6
7
The other important collaboration, which started in the mid-70s, was Roald Dahl, and that's the best known of them and I think that was about '76 or something like that. And… which is one of the questions you get asked, you know, how did that come about? Did you know him in anyway? Or something like that. And it was… in fact to begin with it was completely professional, as it were, the… I was published by Jonathan Cape. Dahl moved from his previous publishers to Jonathan Cape, and sort of brought one book with him, I think, which was Danny the Champion of the World. I think maybe that had already been commissioned, I'm not quite clear about that. But Tom Maschler, who was in charge of children's books… everything actually, at that time, at Jonathan Cape, but including children's books, I think must have suggested to him that he might write a picture book, because Roald hadn't done that before, he'd just done sort of novels for children, of different lengths. And that was The Enormous Crocodile. And then they looked for a picture book illustrator for that, and I was invited to do a sample. I think Tom thought it would be a good idea if I if I did it. Roald, I think, didn't have a view about it, and he was good about visual things, but I don't think he had a view about who would do it, except I think he thought… or at least according to Tom, which he writes in his reminiscences, his book of memoirs… I think Dahl was a bit apprehensive, because he thought it should be someone with a with a less distinctive style, which you could imagine, I mean as a point of view, but anyway, and I think probably they invited other people to try it, because… I heard from New York that somebody had been asked to do so but really I don't know about that, I just know that I did some samples, and was given the manuscript and asked to do it, and as far as we knew then, I mean it was just that book. Dahl's books previously had been illustrated by various people, some in America and some in England and so on. But it was… there were various things that were interesting about it, I mean my meetings about it were in the publisher's office, between Tom Maschler and Roald and me, but it I mean, I hadn't done a picture book quite like that. It was sharper, or whatever the word is in certain respects. I mean it was more about mean tricks, and that sort of thing. Also it was actually much longer than most of the picture books, which is a special sort of professional problem, because there's quite a lot of text on every page, if you're going to get into 32 pages, which is the normal length. I mean, some picture books are 40 or 48 pages, but the publisher is really aiming for 32 if possible, and that was quite a lot of text, and it was really... it worked as a picture book, because there are certain very kind of potent visual ideas in it, but it was still partly written as a... like a just-so story or something like that, so that there's quite a lot of text on each page, which means that not to make it look like a book with little drawings in the margin, but to look like a picture book, you have to paint in the sky very often, so that you can have an orange sky, or a pink sky, or something, with text on it… and then so that it looks like a full page drawing, but in fact two thirds of it is actually the story.
Quentin Blake, well loved British writer and illustrator, is perhaps best known for bringing Roald Dahl's characters to life with his vibrant illustrations, and for becoming the first ever UK Children's Laureate. He has also written and illustrated his own books including Mr Magnolia which won the Kate Greenaway Medal.
Title: Collaborating with Roald Dahl
Listeners: Ghislaine Kenyon
Ghislaine Kenyon is a freelance arts education consultant. She previously worked in gallery education including as Head of Learning at the Joint Education Department at Somerset House and Deputy Head of Education at the National Gallery's Education Department. As well as directing the programme for schools there, she curated exhibitions such as the highly successful Tell Me a Picture with Quentin Blake, with whom she also co-curated an exhibition at the Petit Palais in Paris in 2005. At the National Gallery she was responsible for many initiatives such as Take Art, a programme working with 14 London hospitals, and the national Take One Picture scheme with primary schools. She has also put on several series of exhibition-related concerts. Ghislaine writes, broadcasts and lectures on the arts, arts education and the movement for arts in health. She is also a Board Member of the Museum of Illustration, the Handel House Museum and the Britten-Pears Foundation.
Tags: Jonathan Cape, Danny, the Champion of the World, The Enormous Crocodile, New York, America, England, Just So Stories, Roald Dahl, Tom Maschler
Duration: 4 minutes, 26 seconds
Date story recorded: January 2006
Date story went live: 24 January 2008