NEXT STORY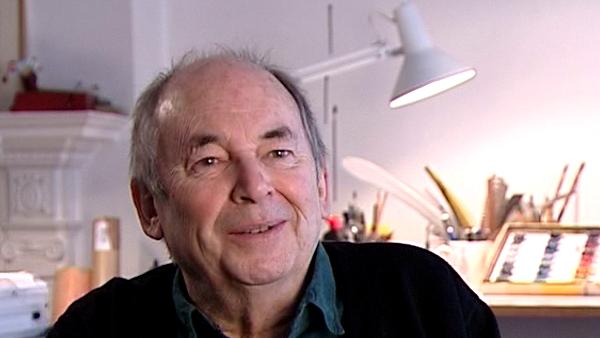 Illustrating Roald Dahl books even after his death
Roald Dahl and working on The BFG
1
2
3
4
5
6
7
This was sort of, I mean… it was maddening from one point of view, because I mean I was teaching and doing other things at the same time, but there were some advantages in it. One was that Roald wrote a whole list of things that he thought could be illustrated, which made one realise that he was involved in a way that perhaps I hadn't previously realised, and got his suggestions about it. And the other thing was that I actually started talking to him about it, in a very sort of immediate, collaborative kind of way, and taking drawings down to Great Missenden, and talking to him about it. And got to know the book better, in a way, and I think the fact that I illustrated it again, made me… I mean, I think sometimes things that are reheated or cooked twice get better, don't they?
I can't remember what they… but there are such things. And so we had talked more about it. The other thing was that I had drawn the BFG in his costume, exactly as described in the book, with an apron and wellington boots and things of that kind, and of course, if you… when an author describes something, he can say it once, you know, and he can say on page 23, and he had a ginger moustache, and he need not mention it again, during the course of the book. If you miss that, then you're... you're… I did once leave a moustache off the cover of a book by Kingsley Amis, but he didn't seem too worried about it, but these things he could mention what the giant was wearing at the beginning of the book, and he simply refers to it again later, but of course every time the giant appears, which is frequently, I have to draw them, and Roald would say, 'I don't like this apron very much, it gets in the way, doesn't it', you know, when he's jumping about and so on. And so we went into a kind of discussion there about what he should wear, and we reorganised what he what he was wearing, and we couldn't decide what he was going to wear on his feet, instead of these boots. And that was… Roald sent me this very strange brown paper parcel, very badly tied up, kind of thing, which had got one of his own sandals in it, and… which solved the problem, because that's what, if you look at the pictures, that's what the BFG wears.
But it was another one of the elements that made one appreciate how the closeness to the book, in a way, and… and one or two people have said, I made it look like Roald. It actually doesn't look like Roald. And it was partly based on… his ears were based on his gardener or something like that I think, it was a man I'd never met, but it made one have a sense the closeness and so on, so I think, on the second cooking, where the pictures followed the text more closely, I think he was more human, or you were closer to him, than one was the first time round.
And also that other thing that contributed to that was to realise that in fact Sophie, who was the little girl, was the only person in a Dahl book which is named after a member of his family, and that was his granddaughter, and I drew her from a description… well hardly a description in the book, except for her big spectacles that she wore. And… she was Sophie Dahl, and I met her later on, and it was rather strange to draw someone before you met them. And it was a reasonable likeness, actually, considering as… considering that I'd never seen her. And she changed, as she got older. But the disposition of the pictures again, having you know, what I said about picture books, how you need to decide exactly where the pictures go all the way through, it's very nice to do that in a book of text as well, so that you can actually get the pictures in the right relationship to the text. It's better than handing them over to a designer, who will put them in as near as possible, but sometimes not in quite the right place, because they can't change the drawings. Whereas if you've got the drawings, and know where they are going to go, it's quite easy. You can solve problems more easily than a designer can. Because I once did a book called Uncle, which was designed by a designer, and quite a good designer, but he had to reduce some picture and enlarge others to fit into the way the book fell, and that isn't very nice, actually, and you're conscious of something's being shrunken, and so on. Whereas if you're doing it yourself, it's quite easy to make a drawing a little bit larger or a slightly different shape, and so it's easy for you to solve problems, which are difficult for the designer to solve when it's all handed over as if finished.
Quentin Blake, well loved British writer and illustrator, is perhaps best known for bringing Roald Dahl's characters to life with his vibrant illustrations, and for becoming the first ever UK Children's Laureate. He has also written and illustrated his own books including Mr Magnolia which won the Kate Greenaway Medal.
Title: Roald Dahl and working on "The BFG"
Listeners: Ghislaine Kenyon
Ghislaine Kenyon is a freelance arts education consultant. She previously worked in gallery education including as Head of Learning at the Joint Education Department at Somerset House and Deputy Head of Education at the National Gallery's Education Department. As well as directing the programme for schools there, she curated exhibitions such as the highly successful Tell Me a Picture with Quentin Blake, with whom she also co-curated an exhibition at the Petit Palais in Paris in 2005. At the National Gallery she was responsible for many initiatives such as Take Art, a programme working with 14 London hospitals, and the national Take One Picture scheme with primary schools. She has also put on several series of exhibition-related concerts. Ghislaine writes, broadcasts and lectures on the arts, arts education and the movement for arts in health. She is also a Board Member of the Museum of Illustration, the Handel House Museum and the Britten-Pears Foundation.
Tags: Great Missenden, The BFG, Uncle, Roald Dahl, Kingsley Amis, Sophie Dahl
Duration: 5 minutes, 19 seconds
Date story recorded: January 2006
Date story went live: 24 January 2008