NEXT STORY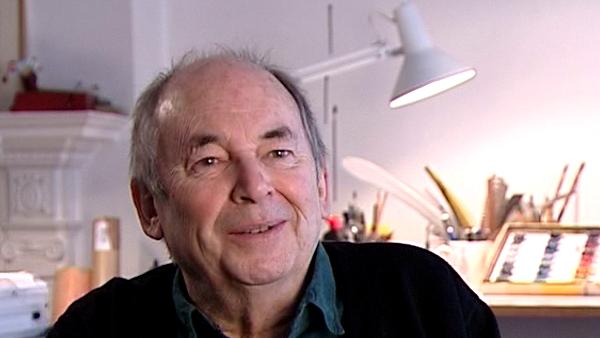 Illustrating Esio Trot by Roald Dahl
Illustrating Roald Dahl books even after his death
1
2
3
4
5
6
7
By then we were sort of taken with the habit, and… I think a couple of books later… Roald actually required that I should illustrate it, as it were, and he did… I mean I discovered that he did actually like drawings, and he expected drawings to do part of the work, and when we came to do George's Marvellous Medicine, there were actual bits in the manuscript, which says, here you draw da-da-da, kind of thing. So that there are moments when, you know, the chicken gets larger, or the pig gets… I mean things change size. And… the… you're required to do that, and that was interesting, because it meant, it was clear when you'd had a few of those conversations that he was concerned about the effect of the book. And he would… although he was conscious of the important of his own manuscript, and wouldn't want somebody else to be fiddling about with it exactly, at the same time he would change it if he thought the mixture of the pictures and the words would make it better, you know, so could do that.
And then the other books followed from that, over, I think it was 15 years. And… what was… another thing that was very good about working on them was that you were not into a series. There are some that have… I mean The BFG is a bit like The Witches, because he did ogres, and then he did… he thought he'd do witches, kind of thing, and… but George's Marvellous Medicine was a bit different, and then Danny, the Champion of the World is a much more realistic book. It's a book which, with a bit of stretching, could have happened, about you know, poaching in the woods, poaching pheasants in the Cotswolds. And in fact that book, I re-illustrated, because I did all the books up to the time when Roald died, in 1990, and then Jonathan Cape had published all the new ones, Penguin's Puffin Books published them all in paperback, and they contrived to buy the first six titles, which were done before Jonathan Cape, to bring them into paperback with the others, and asked them to… asked me to… to illustrate them as well. So there was this rather strange situation in which, after Roald had died, occasionally people… you know, you'd meet, and they would say, oh, no Roald Dahl to illustrate now. What are you doing? Sitting there with your hands in your lap I suppose? Or something like that, which I wouldn't have been doing anyway, but in fact… I did what was it? Five or six books in two or three years, actually, so that I did Charlie and the Chocolate Factory, Charlie and the Great Glass Elevator, The Magic Finger, Fantastic Mr Fox, and James and the Giant Peach, all to bring them into sequence.
Quentin Blake, well loved British writer and illustrator, is perhaps best known for bringing Roald Dahl's characters to life with his vibrant illustrations, and for becoming the first ever UK Children's Laureate. He has also written and illustrated his own books including Mr Magnolia which won the Kate Greenaway Medal.
Title: Illustrating Roald Dahl books even after his death
Listeners: Ghislaine Kenyon
Ghislaine Kenyon is a freelance arts education consultant. She previously worked in gallery education including as Head of Learning at the Joint Education Department at Somerset House and Deputy Head of Education at the National Gallery's Education Department. As well as directing the programme for schools there, she curated exhibitions such as the highly successful Tell Me a Picture with Quentin Blake, with whom she also co-curated an exhibition at the Petit Palais in Paris in 2005. At the National Gallery she was responsible for many initiatives such as Take Art, a programme working with 14 London hospitals, and the national Take One Picture scheme with primary schools. She has also put on several series of exhibition-related concerts. Ghislaine writes, broadcasts and lectures on the arts, arts education and the movement for arts in health. She is also a Board Member of the Museum of Illustration, the Handel House Museum and the Britten-Pears Foundation.
Tags: George's Marvellous Medicine, Jonathan Cape, The BFG, The Witches, Danny, the Champion of the World, Cotswolds, 1990, Puffin Books, Penguin Books, Charlie and the Chocolate Factory, Charlie and the Great Glass Elevator, The Magic Finger, Fantastic Mr Fox, James and the Giant Peach, Roald Dahl
Duration: 3 minutes, 24 seconds
Date story recorded: January 2006
Date story went live: 24 January 2008