NEXT STORY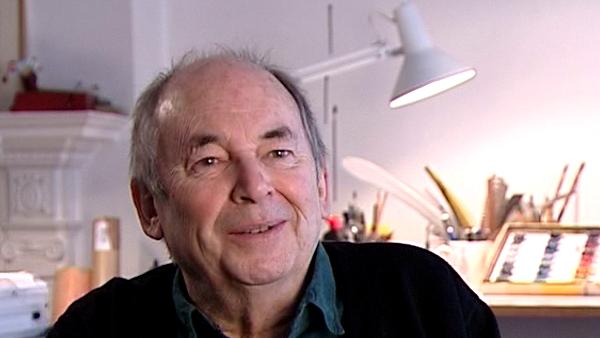 Zagazoo
The Green Ship
1
...
3
4
5
6
7
The book The Green Ship started at the same time as Clown, but it… in a different way, and it was a… I had a… a sort of an idea of a ship made out of trees and… and branches, like a kind of topiary, as it were, and I did a little drawing of it, and I couldn't see what use there was in it. I mean I couldn't see that it had a story, and it just sort of hung around the place for quite a while, and eventually I thought, well, you know, I… I really should make an effort to think what the story is, and it did come to light. And it is kind of… it's written in a kind of… it takes place in a… in the world of children's book stories, almost, you know, it's somebody… it's somebody writing it who remembers what was happening as a child, and how he and his sister climbed over the wall, into this big jungley sort of garden, and they find this… this ship. And it's been built by a middle-aged lady, and partly in memory of her husband who had been lost at sea, so it's a little bit like The Dancing Frog, it's a sort of parallel story. And what was interesting to me about it was that you could see it, as it were, from her point of view and from the children's point of view. So that, from the children's point of view it was something that hadn't happened to them yet. They got on to this ship, and they imagined they were travelling to places that they hadn't ever been to… to Egypt and the Antarctic and so on, and they… it was… it was the world of play in fact, so they were… they were sort of practising for life, even if they never went to those places, I mean it was sort of an adventure playground, in which they lived these experiences. The… for the woman who'd had the ship arranged, it was a different involvement, in that it was… a sort of vicarious sharing with the experiences of her husband, who'd been at sea, and had been lost at sea, and then these things come together, or they sort of come together when there's a storm on, and the ship is in a storm, and you draw the ship as though it looks as though it is at sea, and… this is a kind of… cathartic experience… because she goes through the storm, the children fall asleep, they don't know what is happening, and they come out the other end, and she's able to, sort of, abandon the ship, and she ties it up, at… at as it were in port, and carries on, and then you see the children, over a couple of double page spreads. They are growing up into adolescents, and looking back on this experience, and the trees are growing out, so that the… the ship disappears, and it just becomes trees and bushes. And so there's a kind of double action, in that the… the text is rather going… it's kind of diminuendo, in that it says, in… that… that there's… it's rather sadly… the… the ship is no longer a ship, and soon nobody will be able to remember that it was ever a green ship, and so on. Whereas at the same time, the trees are growing away cheerfully, and sort of… as… as it says in Jane Austen, 'Meaning to have spring'. So that there's… you get a… you do get a sort of… tension between the… the words and the pictures, and I think it's… and I was… you know, I wondered whether… that would be… the fact that it would appeal to… or not appeal, but could… could… would have something slightly separate to say to an adult reader, was a disadvantage or not. But it seemed to work alright, and I got some letters about it, and I got one letter from a… a parent, a mother, who said, instead of going on holiday one year, we bought a little wood somewhere in the west of England, or Oxfordshire, or somewhere like that. And… her five-year-old son was going to build a green ship in this wood, and she sent me his drawing of what it was going to be like, so… obviously you could get that message alright, I think.
Quentin Blake, well loved British writer and illustrator, is perhaps best known for bringing Roald Dahl's characters to life with his vibrant illustrations, and for becoming the first ever UK Children's Laureate. He has also written and illustrated his own books including Mr Magnolia which won the Kate Greenaway Medal.
Title: "The Green Ship"
Listeners: Ghislaine Kenyon
Ghislaine Kenyon is a freelance arts education consultant. She previously worked in gallery education including as Head of Learning at the Joint Education Department at Somerset House and Deputy Head of Education at the National Gallery's Education Department. As well as directing the programme for schools there, she curated exhibitions such as the highly successful Tell Me a Picture with Quentin Blake, with whom she also co-curated an exhibition at the Petit Palais in Paris in 2005. At the National Gallery she was responsible for many initiatives such as Take Art, a programme working with 14 London hospitals, and the national Take One Picture scheme with primary schools. She has also put on several series of exhibition-related concerts. Ghislaine writes, broadcasts and lectures on the arts, arts education and the movement for arts in health. She is also a Board Member of the Museum of Illustration, the Handel House Museum and the Britten-Pears Foundation.
Tags: The Green Ship, Clown, The Story of the Dancing Frog, Egypt, Antarctic, Jane Austen, Oxfordshire, England
Duration: 4 minutes, 36 seconds
Date story recorded: January 2006
Date story went live: 24 January 2008