NEXT STORY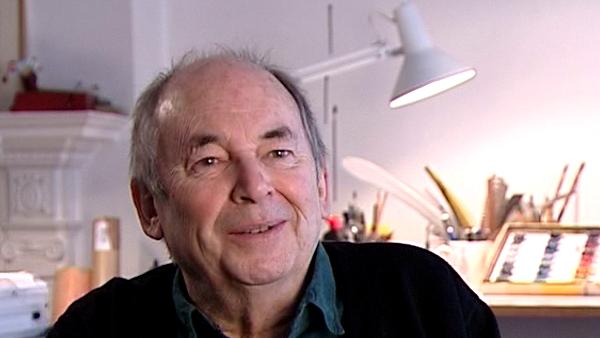 Travels with my art
1
...
3
4
5
6
7
After the two years were over, I did a sort of diary of it, called Laureate's Progress, and I counted up, and I realised I'd actually done nine books in the two years although I wasnt supposed to be doing anything. One of them was a book called Laureate's Party, which was a paperback that my publishers asked me to do, which was about favourite children's books. And of course I discovered that my favourite children's books were hopelessly out of date, and some of them you couldnt even get, and so I had to develop new children's books, and it wasnt really my… I mean My 50 Favourite Books was what it was called, but in fact it was a review of books that might be interesting, which went from the youngest through to one or two actually adult books.
That was one activity, which I found was much more to do than I'd imagined. And I did, it was the moment to bring to completion a book that I'd been fiddling about with and doing some work on for some years, which was Words and Pictures, which again was about illustration, but entirely in terms of my own work, but looking at different… you know, designing books, telling stories, adapting to atmosphere, using colour and things of that kind. So I had brought that together. And perhaps in the end, the most interesting aspect of it was suggesting an exhibition, which you know about. But it was suggesting an exhibition, that I wanted to get some illustration into the National Gallery, and so I suggested that the idea of the exhibition was… when I say, the National Gallery, we suggested it to about three or four galleries, but the National Gallery were the ones that responded most positively. And the idea was to have an exhibition of pictures in alphabetical order of the artist, so that in fact, there was no difference between the old master, the modern painter or the illustrator, and we took that idea to several galleries. The National Gallery responded immediately, and had the room in which we could do it, available at the right time, and so we set about doing that. And what developed from that was also the fact that there was a meeting with… you Ghislaine and with Michael Wilson, the Director of Exhibitions, in which he said, 'I think we can only have one artist under each letter, otherwise its going to make too many'. And I said, 'That could be a bit of a problem for me, because under B, is it me, or Botticelli, or Bruegel, or someone like that.' And he said, 'Well I dont think youre in it, actually'. Shock. But he said, 'There's quite a lot of room on the walls, you could draw between the other pictures'. And I said, 'Are you allowed to do that?' And… he… Michael Wilson said, 'We want it to look as little like the National Gallery as possible'. So that was a whole… that was in a sense the first step in doing a lot of… not a lot, but some work in curating exhibitions, which set me off again. First of all it was that, and then there have been other exhibitions, which have followed in the same spirit. We hadn't done anything… I don't think anybody had done anything quite like that before, and we got the exhibition up, and I remember saying to my friend, John Yeoman, who… with whom I've done many books, ''Well now we just have to wait and see if anybody comes'. And he said, 'Never mind about that, are they any good at crowd control?' And his estimate of it was the nearer, because they… they were queuing up the steps of the National Gallery, and 250,000 people came in the four months that the show was on. And other shows, in fact, have followed on from that.
Quentin Blake, well loved British writer and illustrator, is perhaps best known for bringing Roald Dahl's characters to life with his vibrant illustrations, and for becoming the first ever UK Children's Laureate. He has also written and illustrated his own books including Mr Magnolia which won the Kate Greenaway Medal.
Title: My 50 favourite books
Listeners: Ghislaine Kenyon
Ghislaine Kenyon is a freelance arts education consultant. She previously worked in gallery education including as Head of Learning at the Joint Education Department at Somerset House and Deputy Head of Education at the National Gallery's Education Department. As well as directing the programme for schools there, she curated exhibitions such as the highly successful Tell Me a Picture with Quentin Blake, with whom she also co-curated an exhibition at the Petit Palais in Paris in 2005. At the National Gallery she was responsible for many initiatives such as Take Art, a programme working with 14 London hospitals, and the national Take One Picture scheme with primary schools. She has also put on several series of exhibition-related concerts. Ghislaine writes, broadcasts and lectures on the arts, arts education and the movement for arts in health. She is also a Board Member of the Museum of Illustration, the Handel House Museum and the Britten-Pears Foundation.
Tags: Laureate's Progress, My 50 Favourite Books, the National Gallery, Words and Pictures, Sandro Botticelli, Pieter Bruegel, Michael Wilson, John Yeoman
Duration: 5 minutes, 2 seconds
Date story recorded: January 2006
Date story went live: 24 January 2008