NEXT STORY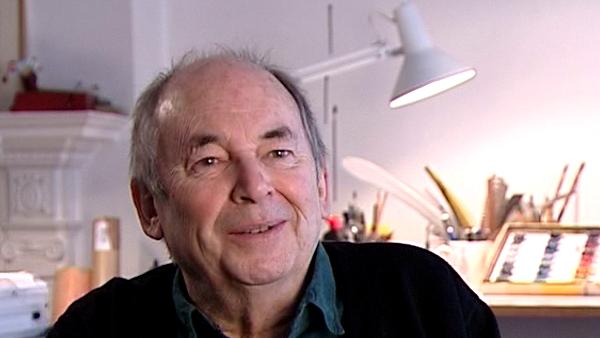 Rejections from Fougasse at Punch
Getting help from my Latin teacher and her husband
1
2
3
4
5
...
7
Two people were very good and helpful to me. One was not in the school, at all, but came to me through the school, because this was... part of the time was during the war, and so a lot of the male teachers had gone off to join the services, and a lot of part time people and retired people and so on, and Latin was taught by Mrs Jackson, who was a… well, she was very good, but that's another story altogether. But her husband, well, she saw my drawings, I did some drawings of her as well, as a matter of fact, and her husband was a painter and a cartoonist, and he had drawings in various magazines, including Punch at the time. And he was a painter, rather of the school of Modigliani, I would say, roughly, and she said to me, this is would be when I was about 13 or 14, would I like to go round and see them, and take some drawings to show him? And I used to go round to see Alf Jackson, about every six months or something like that, I suppose. And he would play the violin. He was a small, very sort of bright-eyed man, smoking a pipe, and the ash would drop on your drawings but he was very, I mean I realise now, that, you know, it was a tutorial actually, you know, I hadn't the concept at the time. And he would go through them and he was very good at talking about I mean he didn't distinguish one thing from another, in a way, because he would talk about Michelangelo or he would talk about who was in Punch that week, or he would talk about Modigliani, or someone like that. And he took it all perfectly seriously on the same level, and talked about drawing, and it was he who, he said to me, 'Do you ever have any ideas?' I thought, ideas? What, you know, I don't. And what ideas meant joke ideas, you see, and so I thought I hadn't… I had better go and have some. Because I mean that was the strange thing that I… drawing was also mixed up with funny things really as well. I mean when I went to that school, I was 11, 12. I was friends with two boys, one of whom I still know now, he's a white-bearded patriarch, but and we what was that called? We were a sort of society, the sort of thing that… children at school… and I think it was the III, I seem to remember it was Idiotic Inventions Incorporated, I think. And we had a book that we drew things in, and I think, you know, how to make blancmange fingers, you know, stick your hand in a basin full of blancmange. And other drawings, and I can't remember them now. It was an exercise book that we used for that purpose. But I started… I thought I'd better have some of these joke ideas. And I tried to do that, and I started sending them to Punch, because I was told how to do it, and you did drawings, or you did rough drawings.
Quentin Blake, well loved British writer and illustrator, is perhaps best known for bringing Roald Dahl's characters to life with his vibrant illustrations, and for becoming the first ever UK Children's Laureate. He has also written and illustrated his own books including Mr Magnolia which won the Kate Greenaway Medal.
Title: Getting help from my Latin teacher and her husband
Listeners: Ghislaine Kenyon
Ghislaine Kenyon is a freelance arts education consultant. She previously worked in gallery education including as Head of Learning at the Joint Education Department at Somerset House and Deputy Head of Education at the National Gallery's Education Department. As well as directing the programme for schools there, she curated exhibitions such as the highly successful Tell Me a Picture with Quentin Blake, with whom she also co-curated an exhibition at the Petit Palais in Paris in 2005. At the National Gallery she was responsible for many initiatives such as Take Art, a programme working with 14 London hospitals, and the national Take One Picture scheme with primary schools. She has also put on several series of exhibition-related concerts. Ghislaine writes, broadcasts and lectures on the arts, arts education and the movement for arts in health. She is also a Board Member of the Museum of Illustration, the Handel House Museum and the Britten-Pears Foundation.
Tags: Latin, Punch, Chislehurst & Sidcup Grammar School, Alf Jackson, Amedeo Modigliani, Michelangelo
Duration: 3 minutes, 35 seconds
Date story recorded: January 2006
Date story went live: 24 January 2008