NEXT STORY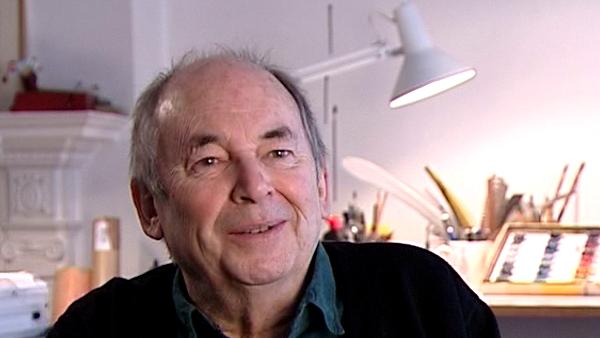 Moving from the museum tunnels to museum walls
The Campaign for Drawing and The Big Draw
1
...
3
4
5
6
7
I think one of the things I like about children's book illustration is that it's illustration. I mean, I don't… I try not to think of it as a completely separate activity. I mean I think that you… there are certain things that you have to think about. There are certain modes of thought that you have to go into to do it, but fundamentally the drawing the drawing that I do in children's books, is radically difficult… different from the that I started off doing for adults. And in a sense the difference between one children's book and another children's book and that children's book and a book for adults the distances between them may be about the same. I mean in each case you're adapting drawing to a different situation, you're relating to the words of the book, either your words or the writer's words, so whether it's… Roald Dahl or Cervantes, or someone else, those… you're making those modifications of drawing. And it's sort of drawing that it goes back to, I think. One of the other overflows that I've been involved in is not particularly for adults or children, which is the Campaign For Drawing, and that started about four or five years ago. And it was an initiative to celebrate the centenary of John Ruskin, and it was primed initially by… with some money from the Guild of St George, which is something founded by Ruskin during his lifetime. And that was to promote drawing, to encourage people to draw, or to make them feel that they were allowed to draw if they wanted to. And, the it… it's for the whole population, and it was started by Julian Spalding, and the project is run by Sue Grayson Ford, and I was one of the patrons from the start, and we… their proposal was that there should be… everything should happen at one weekend in October. But two or three weeks beforehand, there would be a day, one event, which would be called The Big Draw, and to publicise the event beforehand, and then the actual Campaign For Drawing itself happens all over countryside. The first year I think there were 300 different museums and art schools and things of that kind, who… who invited the public in to do it. But there was… I can remember at that first occasion, they said, we're going to do something called The Big Draw. And I remember saying that I think if you were going to have a day called The Big Draw you really needed a big drawing. And the idea that someone came up with was to draw in the underground passage, which leads from South Kensington underground station through to the museums in Exhibition Road. And so we papered that, and… lots of people turned up to draw, and artists, and people from museums, and we were… we involved the public as well, in drawing, and it's a dismal passage, actually, normally, and it was fascinating to see how by four o'clock in the afternoon it had sort of transformed itself into a lot of people working together, side by side, in a cheerful spirit, and had turned it into a sort of… studio almost, really. That was the first move. It was also relatively cheap, because all it needed was drawing materials, and those we had given to us by the people that manufactured them, so we got off the ground then… I think it was about 300 different institutions did it.
Quentin Blake, well loved British writer and illustrator, is perhaps best known for bringing Roald Dahl's characters to life with his vibrant illustrations, and for becoming the first ever UK Children's Laureate. He has also written and illustrated his own books including Mr Magnolia which won the Kate Greenaway Medal.
Title: The Campaign for Drawing and The Big Draw
Listeners: Ghislaine Kenyon
Ghislaine Kenyon is a freelance arts education consultant. She previously worked in gallery education including as Head of Learning at the Joint Education Department at Somerset House and Deputy Head of Education at the National Gallery's Education Department. As well as directing the programme for schools there, she curated exhibitions such as the highly successful Tell Me a Picture with Quentin Blake, with whom she also co-curated an exhibition at the Petit Palais in Paris in 2005. At the National Gallery she was responsible for many initiatives such as Take Art, a programme working with 14 London hospitals, and the national Take One Picture scheme with primary schools. She has also put on several series of exhibition-related concerts. Ghislaine writes, broadcasts and lectures on the arts, arts education and the movement for arts in health. She is also a Board Member of the Museum of Illustration, the Handel House Museum and the Britten-Pears Foundation.
Tags: Campaign For Drawing, Guild of St George, The Big Draw, South Kensington, Exhibition Road, Roald Dahl, Miguel de Cervantes, John Ruskin, Julian Spalding, Sue Grayson Ford
Duration: 4 minutes, 23 seconds
Date story recorded: January 2006
Date story went live: 24 January 2008