NEXT STORY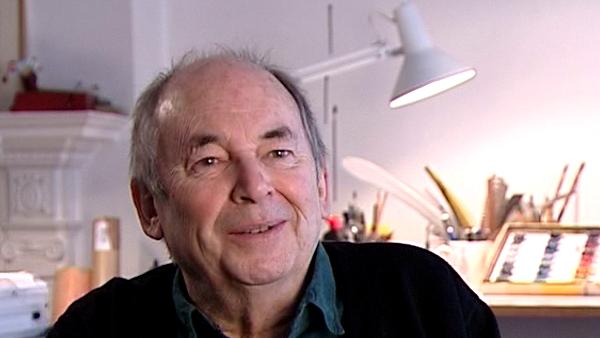 Drawing for adults
Illustrating The Hunchback of Notre Dame
1
...
3
4
5
6
7
Because I've done a lot of children's books and a lot of them have stayed in print, I mean there are quite a lot of them and that is a very, sort of, powerful area of publishing. One tends to get, you know, described as a children's book illustrator; that's fair enough. I mean that's why people know who I am as far as an illustrator is concerned. But I mean, as it links to what I was talking about, teaching illustration, and it is a… it isn't a separate activity. You have to have a notion about children and a notion about your readers but you're really doing those books both for children and their parents and, of course, you're doing them for yourself as well so that you're thinking about the drawing and you're thinking about the design of the book and you're thinking about the sequence. And you're thinking about a whole lot of things… which apply to any book. I mean the children's books, particularly the picture books, are very interesting because you have complete control over the whole thing and, in fact, the text goes into your pictures rather than your pictures being added to the text. But… I mean I started off drawing for adults and of course, because a lot of it is humorous, it crosses the age ranges without much trouble. I mean that's what helps. But I have done a number of books for adults; I mean there were some humorous books… I did a number of Patrick Campbell's books in the '60s and so on. And I've also done some for the Folio Society over, again, probably 30 years. The first one that I did was we're not quite sure whether it's a children's book or a book for adults, which was The Hunting of the Snark and that gave them the opportunity to design the whole book and drop the text into it, and there you have to do a complete design of the book so that you can tell the sequence of the story. But I've done other books for them and I've done a couple of books by Evelyn Waugh… where it's not hard to adapt to the mood of those books, although it's a slightly frustrating experience because he is so funny that and there's so much going on in a very concentrated way in the text. That it's quite hard to draw something which is kind of a rather lame edition to what is happening. And, in fact, what… a few years ago Joe Whitlock Blundell, who commissions the pictures for the… and designs the books, wrote to me and said we would like to do another four Evelyn Waugh books together in a box; would you like to illustrate them. And I mean I'd enjoyed doing Evelyn Waugh, but I didn't want to do four. And I wrote back and said… no, I didn't think… what I really would like would be something with… where there was more dressing up, you know, like The Hunchback of Notre Dame or something like that. And I… this is… I've never read The Hunchback of Notre Dame, I just seized this name out of the air almost as something where there was a lot of fancy dress going on. And I got a letter back, almost by return of post, saying, 'What a good idea, let's do The Hunchback of Notre Dame'. And then I had to read it and it was… and I did do it. But again it was a book that was very difficult to get hold of and of course you can't… where the illustrations are… you know, you cannot have that sort of freight of illustration that you get in a picture book so you've got to spread it out. You've still got to do the same thing of picking the right moments, the appropriate moments, but it's… if you're rationed in that way, of course it is quite difficult to do it. And I found it very hard to get started on that book and, in fact, I did a lot of drawings and I don't know how it was… I really only got going when I decided that they would be full pages which bled off the edge of the page. And I don't know why that was; I think it was because, perhaps, because they are very atmospheric, I mean, you know, there's Paris at night, all of this, you know, things of that kind, and… narrow streets. And perhaps it's easier to create that atmosphere if you've got a whole page where you're drawing the whole scene.
Quentin Blake, well loved British writer and illustrator, is perhaps best known for bringing Roald Dahl's characters to life with his vibrant illustrations, and for becoming the first ever UK Children's Laureate. He has also written and illustrated his own books including Mr Magnolia which won the Kate Greenaway Medal.
Title: Illustrating "The Hunchback of Notre Dame"
Listeners: Ghislaine Kenyon
Ghislaine Kenyon is a freelance arts education consultant. She previously worked in gallery education including as Head of Learning at the Joint Education Department at Somerset House and Deputy Head of Education at the National Gallery's Education Department. As well as directing the programme for schools there, she curated exhibitions such as the highly successful Tell Me a Picture with Quentin Blake, with whom she also co-curated an exhibition at the Petit Palais in Paris in 2005. At the National Gallery she was responsible for many initiatives such as Take Art, a programme working with 14 London hospitals, and the national Take One Picture scheme with primary schools. She has also put on several series of exhibition-related concerts. Ghislaine writes, broadcasts and lectures on the arts, arts education and the movement for arts in health. She is also a Board Member of the Museum of Illustration, the Handel House Museum and the Britten-Pears Foundation.
Tags: 1960s, The Hunting of the Snark, Folio Society, The Hunchback of Notre Dame, Paris, Patrick Campbell, Evelyn Waugh, Joe Whitlock Blundell
Duration: 4 minutes, 41 seconds
Date story recorded: January 2006
Date story went live: 24 January 2008