NEXT STORY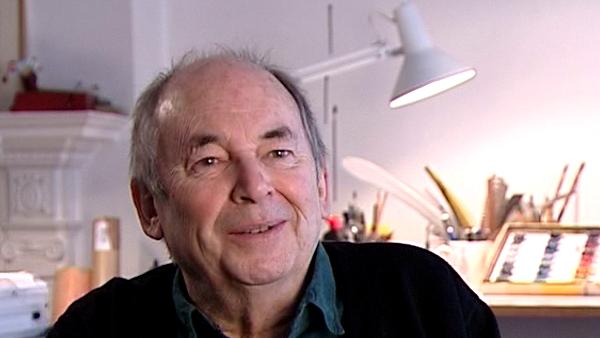 A visit to the office of Punch and my first publication
Rejections from Fougasse at Punch
1
2
3
4
5
...
7
Every couple of months, I managed to produce half a dozen, and I sent them in to the Art Editor, and then a few days later I got them back, with a rejection slip, and I got a wonderful collection of rejection slips. I may still have them. And the Art Editor at that time was Kenneth Bird, and he was Fougasse. He was a very popular artist at the time, and very good, and the first time I got one of these, it says, 'Room could unfortunately not be found for this, and it was therefore returned with our compliments and thanks'… very polite. And there was a little pencil, said, 'Sorry, not quite', from Kenneth Bird. And I took this to see Alf Jackson, and he said, 'Oh no. That means he quite likes it', you know, kind of thing. Otherwise he would have said nothing. So after a while… a year or two, I got a splendid collection of these things, which said, 'Sorry, not quite', on them, and then I thought perhaps I can do something else. And… going to London was, I mean although it was only half an hour on the train, it was something you didn't do very often. But I was going to… I think I was going to London with… another teacher, who was very important to me because he… he was an English teacher and a neighbour who lived across the road, he was called Roland Rahtz and that seemed significant to me, because he was actually called Roland Quentin Rahtz, which… and there weren't many people called that, so he and his wife were sort of not pseudo parents, but kind of pseudo… kind of intellectual parents, as it were. I mean my parents didn't have anything, didn't have books or art books, or anything like that, but they did, and they lived just lived across the road, and would go over and turn up on their doorstep for no particular reason except just to talk to them and look at books. But he was taking a school party to see Donald Wolfit in King Lear, and so I must have written to the Art Director, and said, I've sent 70 drawings I think I referred… in the past couple of years, could I I come, bring and show you some more? I think Alf Jackson must have put me up to that, I think.
Quentin Blake, well loved British writer and illustrator, is perhaps best known for bringing Roald Dahl's characters to life with his vibrant illustrations, and for becoming the first ever UK Children's Laureate. He has also written and illustrated his own books including Mr Magnolia which won the Kate Greenaway Medal.
Title: Rejections from Fougasse at "Punch"
Listeners: Ghislaine Kenyon
Ghislaine Kenyon is a freelance arts education consultant. She previously worked in gallery education including as Head of Learning at the Joint Education Department at Somerset House and Deputy Head of Education at the National Gallery's Education Department. As well as directing the programme for schools there, she curated exhibitions such as the highly successful Tell Me a Picture with Quentin Blake, with whom she also co-curated an exhibition at the Petit Palais in Paris in 2005. At the National Gallery she was responsible for many initiatives such as Take Art, a programme working with 14 London hospitals, and the national Take One Picture scheme with primary schools. She has also put on several series of exhibition-related concerts. Ghislaine writes, broadcasts and lectures on the arts, arts education and the movement for arts in health. She is also a Board Member of the Museum of Illustration, the Handel House Museum and the Britten-Pears Foundation.
Tags: King Lear, London, Cyril Kenneth Bird, Fougasse, Alf Jackson, Roland Quentin Rahtz, Donald Wolfit
Duration: 2 minutes, 43 seconds
Date story recorded: January 2006
Date story went live: 24 January 2008