NEXT STORY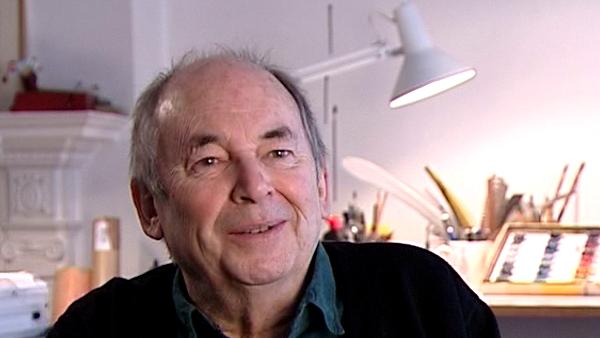 Pictures for South Kensington and Chelsea Mental Health Care Centre
Painting different sequences: children and dogs and The Life of Birds
1
...
3
4
5
6
7
I've done other sequences of pictures which are either in books or not. I started doing quite a long sequence of children and dogs and I'm not quite sure, they're obviously… I've exhibited some of those and when I had that show at… Dulwich Picture Gallery that was a very good opportunity to show a set of about 20 of these. And they're… again they're quite big. I'm not quite sure what they're about… I mean they're about, in a sense, about children in unfortunate situations, so I mean I think there was a little feeling about, you know, you see so much about children in Russia or South America or India who live on railways or in sewers or, you know, and in complete… poverty and deprivation. And I think there was a little bit of an idea about that in it but I… it's not quite entirely about that and I'm not quite sure what the dogs are because they got very big… unnaturally large, and so I think there is some kind of relationship between… these children and… sometimes they're reacting to the dogs. You can see sometimes they're doing some kind of a little theatre act with them or they're… they're drawing them, or something like that. I'm not quite sure where this is happening or what is going on, but I think it's something more about the children's… I don't think it's documentary. I think it's about the children's relationship to… other things which might be protective or which might be threatening, or which might have something to do with the way that they're going to develop. I think it may be something like that. And… but anyway that's… a sort of separate… again, there's a sort of implied narrative but not a specific narrative. And then I've done another sequence; I started doing some pictures of birds as people. No, I think I mean people as birds, so that they've got birds' heads and feet and tails and wings. But they're wearing suits or pullovers or dresses or they're dressed as we are and they're doing the things that we do. And there's quite a long sequence of those pictures and there's about 60 of them in a book now, which is called The Life of Birds which… and that's got an introduction by Peter Campbell who designed the book, and he writes about art for the London Review of Books and does the cover of the London Review of Books. But… and his introduction is quite interesting because it's about… again, there's… there's a bit of this sort of seeking for the story involved in the pictures. And he also writes very interestingly about drawing, about the act of drawing, and… which he says… I mean he feels very much as I do, I think, that, you know, you can have interesting abstract drawing, abstract marks, but it's when they… when that gesture incorporates some gesture from real life or some movement or activity or so on that it becomes more significant. That's certainly what I feel like when I'm doing it. And these are… these birds are doing, you know, they're… some are people in penury, some are rich, some are librarians, some are children mucking about in the playground and there are a few, kind of, symbolic ones. There are half a dozen where there are people on… what do you call that thing? A slack wire really, rather than a tightrope, who are in the sort of situations in life… as a single mother and as a rather insouciance, sort of, aunty, you know, who's managing perfectly well on the slack wire, and a very aged figure where you wonder a bit whether it's… you know, whether he's going to get to the other side or not. So they're… again that's a way of drawing… everyday life which I think I couldn't do… I wouldn't… I don't know whether it's a… it probably is a limitation but, I mean, I don't think I could go and draw a tramp on a street corner in a documentary way or I would find it difficult to relate to that as a picture and it makes it easier for me to do it when they become the sort of parallel world. And the French version of that book which is called Nous les Oiseaux also had a separate and different introduction by the French novelist, Daniel Pennac, and he wanted to find the stories as well. In fact, he started writing dialogue for the pictures. But his introduction says, quite interestingly, that they're not… he says they're not… they're not illustrations, they're… he says they're visions actually, he says, and the words would be, if we wrote the words, that would be the illustrations. So that he says you could… you know, you could open them out, you could write a short story about any of them, almost. So they have got a lot of narrative in them, although you have to do the work yourself to decide what that man is talking to that woman about, that big bird to that smaller bird, you know. And I think there perhaps may be more things like that that I want to do which are… which have got narrative in them. Those… pictures, the pictures, are in a book, but some of them tend to be, sort of, coming out of books. I'm not sure that the children and dogs would actually… would make a book, I think. But it's in a sort of area that I've moved, in a way, out of books into that.
Quentin Blake, well loved British writer and illustrator, is perhaps best known for bringing Roald Dahl's characters to life with his vibrant illustrations, and for becoming the first ever UK Children's Laureate. He has also written and illustrated his own books including Mr Magnolia which won the Kate Greenaway Medal.
Title: Painting different sequences: children and dogs and "The Life of Birds"
Listeners: Ghislaine Kenyon
Ghislaine Kenyon is a freelance arts education consultant. She previously worked in gallery education including as Head of Learning at the Joint Education Department at Somerset House and Deputy Head of Education at the National Gallery's Education Department. As well as directing the programme for schools there, she curated exhibitions such as the highly successful Tell Me a Picture with Quentin Blake, with whom she also co-curated an exhibition at the Petit Palais in Paris in 2005. At the National Gallery she was responsible for many initiatives such as Take Art, a programme working with 14 London hospitals, and the national Take One Picture scheme with primary schools. She has also put on several series of exhibition-related concerts. Ghislaine writes, broadcasts and lectures on the arts, arts education and the movement for arts in health. She is also a Board Member of the Museum of Illustration, the Handel House Museum and the Britten-Pears Foundation.
Tags: Dulwich Picture Gallery, Russia, South America, The Life of Birds, London Review of Books, Nous les Oiseaux, Daniel Pennac
Duration: 6 minutes, 42 seconds
Date story recorded: January 2006
Date story went live: 24 January 2008