NEXT STORY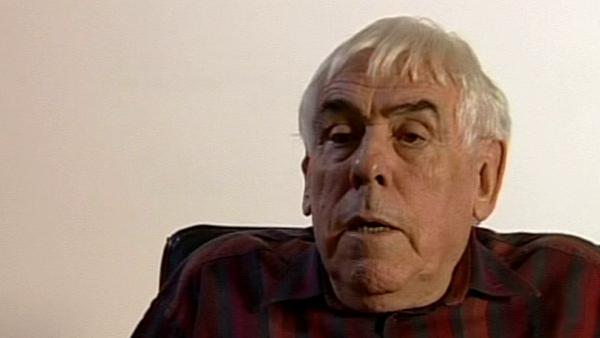 Jean-Pierre Mocky
1
...
7
8
9
10
11
...
18
And we start filming, so Janscó... so he... No directing elements. You have to sort it out yourself. So he had ways, he always wanted things to move...
[Q] While filming?
Yes, yes. No, but wait, but I wasn't the one who did it, I wasn't working in it.
[Q] Ah, you didn't finish the film?
Ah... but not at all, I barely started it.
[Q] Ah, you barely started it? Because Suzanne Schiffman was the assistant on that film?
Yes, it was Suzanne.
[Q] Who also left?
I think so. She left, yes, yes. She told me why. Yes, yes, but wait. So eventually we start filming, so there was that drunk... Still a good actor.
[Q] Léotard?
Léotard, who kept on telling me, 'Better Coutard then Léotard' or I don't know what, something were he played on words like that, better Léotard than Coutard or I don't know what. Since he was drunk, he was drunk from noon, it was unbelievable. I know I worked with him. But still a good actor. And even a charming guy. Very nice. Very nice, with obviously the dose of alcohol. And afterwards we do a scene, since he doesn't say anything, I mean it needs to be there, there, the camera needs to be set up, etc. So... but how do you want us to do it? As you want, you have to do everything for these guys. So that, it was already starting to annoy me.
In addition, we didn't have the equipment needed for those rapid motions, we had the big Dolly, the crab, which weighs 200 kilos so I mean to do rapid motions it isn't exactly fun. So... and at one point we're filming a night section, and after a while film a day section. And what do I hear? I hear a guy saying a text, I was still going by my stupid screenplay, I'd noticed that some things weren't the same, so once in a while he gave rectification of what he was going to do. And I hear a guy saying, 'Yes, like those English bastards who are worse than the SS', etc. So I say, 'Wait, what are you saying?' And I go see Suzanne, I say, 'But what are they saying?' 'Well, it's the new text'. I say, 'The new text, so I want to see it straight away', I mean I'm not filming this. It's out of the question that the English who went all out during the war to fight the SS, that for one film we start calling them SS. I mean... it isn't because it's a French film that I'm going to spit in the face of the English.
So, we stopped, we did something else, and as a result I said... so it must have been a Saturday or something like that, the next day I said to Evelyne July, 'Listen, we need to meet up, because I have to talk to you'. And I literally wanted to tell her, 'Listen, it isn't complicated, if we continue on that subject, you do it with someone else, there's no way that I will do something like that. It gets my back up'. So it's true that... I mean, when you go back to the text, when you go back to the way the English behaved themselves in Israel, it wasn't easy for the Jews. But I mean...
[Q] Yes, but they weren't SS.
No, no. So we have lunch, we talk things over. So first of all he starts telling me he isn't happy at all with the way I was doing the lighting, that it wasn't how he'd imagined it. The night scene I had done, that we had done. So I listened to how he wanted it to be done, I say, 'All right, we'll rectify it for the rest'. And then I'm about to tell him, 'On the other hand, there's something I wanted to talk about', at that point a guy comes in completely... Something dreadful, Léotard just broke his arm. That's it.
[Q] How did it happen?
He was playing football and since Léotard drank Pastaga, it was five shots of pastis for one shot of water, his bones must have been... he must have had osteoporosis, and so when catching the ball, paf! Broken wrist. So we stopped the film and since I couldn't finish it, because it stopped for a month and a half, so the film stopped, I was paid and than I left. But I would have gone anyway.
Et puis on commence à tourner, alors Jancsó, alors lui... Aucun élément de mise en scène. Faut que tu te démerdes. Alors il y avait des trucs, il voulait toujours que ça bouge...
[Q] Et ça tournait toujours?
Oui, oui. Non mais attends, mais ça c'est pas moi qui l'ai fait, j'étais pas là-dessus moi.
[Q] Ah, tu n'as pas fini le film?
Ah, mais pas du tout, j'ai à peine commencé.
[Q] Ah, tu as à peine commencé? Alors... Parce que c'était Suzanne Schiffman qui était assistante sur ce film?
Oui, c'était Suzanne.
[Q] Elle est partie?
Je pense aussi. Elle est partie, oui oui. Elle m'a dit pourquoi. Oui, oui, mais attends. Alors finalement on tourne le film, on commence à tourner le film, alors il y avait cette espèce de pochetron de... Bon comédien quand même...
[Q] Léotard?
Léotard, qui arrêtait pas de dire, 'Mieux vaut Coutard que Léotard', ou je sais pas quoi, un truc où il faisait des jeux de mots comme ça, 'Mieux vaut Léotard que Coutard' ou je sais pas quoi. Comme il était rond, il était rond à partir de midi lui, c'était pas croyable... Je sais j'ai travaillé avec lui. Mais bon comédien, quand même. En plus charmant personnage. Très gentil. Très gentil avec forcément la dose de pétrole... Et après on fait une scène, comme il dit rien, je veux dire il faut que ce soit là, là, faut que la caméra soit en place, etc. Bon mais tu veux qu'on fasse comment? Comme tu veux, faut tout mâcher pour ces mecs-là. Bon alors ça, ça commençait déjà à me taper sur le cigare.
En plus, on n'avait pas le matériel qu'il fallait pour faire ces mouvements rapides, on avait la grosse Dolly, le crabe, qui pèse 200 kilos alors pour faire les mouvements très rapides je veux dire c'est pas de la rigolade. Bon... et puis à un moment donné on tourne une partie de nuit, et puis après à un moment donné on tourne un truc de jour. Et qu'est ce que j'entends? J'entends le mec qui dit un texte, moi j'en restais toujours avec mon scénar à la con là, je me rendais bien compte qu'il y avait des choses qui n'étaient pas les mêmes, alors de temps en temps il donnait des rectifications de ce qu'il allait faire. Et j'entends un mec qui dit, 'Oui comme ces salauds d'Anglais qui sont pires que les SS', etc. Je dis, 'Attendez, qu'est-ce que vous êtes en train de raconter là?' Alors je vais voir Suzanne, je lui dis, 'Mais qu'est-ce qu'ils sont en train de raconter?' 'Ah, bah, c'est le nouveau texte'. Je dis, 'Le nouveau texte, alors maintenant je veux le voir tout de suite', moi je tourne pas ça je veux dire. Il n'est pas question que les Anglais qui se sont fait chier pendant toute la guerre pour taper sur la gueule des SS on vienne pour un film les traiter de SS. Alors je veux dire c'est pas parce que c'est un film français que je vais cracher sur la gueule des Anglais.
Alors, on a arrêté, on a fait autre chose et du coup j'ai dit, alors ça devait être un samedi ou un truc comme ça, le lendemain j'ai dit, 'Bon, écoute, Evelyne July je lui dis écoute il faut qu'on se voit, parce qu'il faut que je te parle'. Et je voulais carrément lui dire, 'Ecoute c'est pas compliqué, si on continue sur ce sujet, vous faites avec quelqu'un d'autre, il est hors de question que je fasse un truc comme ça. Ça me hérisse le poil'. Alors c'est vrai que, je veux dire quand tu reprends le texte, quand tu reprends la façon dont les Anglais se sont conduits en Israël, c'était pas de la rigolade avec les juifs. Mais enfin...
[Q] Oui, c'étaient pas des SS quand même?
Non, non. Bon alors on va déjeuner, on parle de choses. Alors déjà lui il commence par nous dire qu'il n'est pas content du tout de la façon dont j'avais fait ma lumière, que c'était pas comme ça qu'il la voyait. La scène de nuit que j'avais faite, qu'on avait faite. Alors j'écoute comment il voulait que ça se fasse, je lui dis, 'Bon, d'accord, on va rectifier pour la suite'. Et puis je vais pour lui dire, 'Par contre il y a autre chose dont je voulais te parler', à ce moment là il y a un mec qui arrive complètement. Un truc épouvantable, il y a Léotard qui vient de se casser le bras. Voilà.
[Q] Comment ça s'est passé?
Il jouait au ballon et comme Léotard il buvait du Pastaga, c'était cinq volumes de pastis et un volume d'eau, il devait avoir les os, faire de l'ostéoporose, le gars en rattrapant le ballon, paf! Poignet cassé. Donc on a arrêté le film, et comme je pouvais pas le finir, le reprendre parce que ça s'est arrêté pendant un mois et demi, bon le film s'est arrêté, on m'a payé mon truc et puis je me suis barré. Mais je serais parti de toute manière.
French cinematographer, Raoul Coutard (1924-2016) was twice nominated for the César Award for best cinematography which he won in 1978 for 'Le Crabe-tambour'. He made over 75 films and documentaries, including 'À Bout de Souffle', Le Mépris' and 'Band à Part'. He was the most acclaimed French cinematographer of his generation and one of the key figures of the New Wave.
Title: Philippe Léotard
Listeners: Bernard Cohn
Benard Cohn is a French filmmaker and writer, who has directed five films as well as numerous documentaries and television series. As an assistant director, he worked with many important filmmakers, including Luis Buñuel, François Jacob, Otto Preminger and Woody Allen. He was a founding member of the Ciné-Qua-Non cinema club and has acted as editor and translator for various publications on the world of cinema.
Bernard Cohn est un réalisateur et écrivain français, ayant réalisé cinq film ainsi que de nombreux reportages et séries télévisées. En tant qu'assistant réalisateur, il a travaillé avec plusieurs grands cinéastes, notamment Luis Buñuel, François Truffaut, Otto Preminger et Woody Allen. Il fut membre fondateur du ciné-club Ciné-Qua-Non et a participé à la rédaction et traduction en anglais, de plusieurs ouvrages sur le cinéma.
Tags: Dawn, Suzanne Schiffman, Miklós Jancsó, Philippe Léotard, Evelyne July
Duration: 4 minutes, 58 seconds
Date story recorded: October 2004
Date story went live: 24 January 2008